The global hospital services market is estimated to grow from USD 9.29 trillion in 2022 at a 9.15% CAGR (2022-2032) to reach an estimate of USD 21.27 trillion by 2032.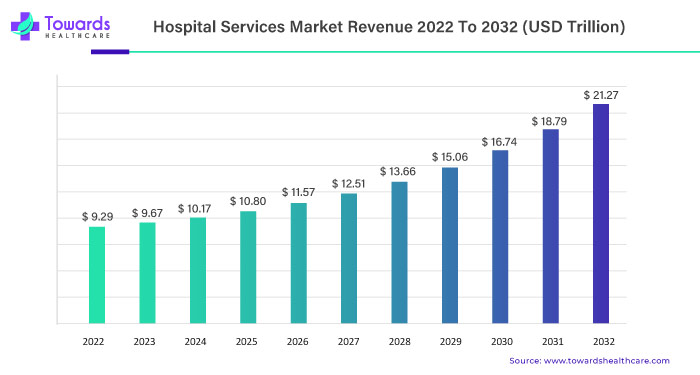 Unlock Infinite Advantages: Subscribe to Annual Membership
Hospital services typically defined as all services that are made to patients, inpatient or outpatient, have gained tremendous traction over the last few years and are expected to continue due to the increasing prevalence of various diseases & illnesses as well as rising awareness among these patients to avail treatment. A study published by Towards Healthcare states.
The rising prevalence of cardiovascular diseases, cancer, and other long-term terminal and non-terminal illnesses have been driving the growth of the global hospital services market for the past few years and are expected to continue. However, between 2019 and 2020, the global pandemic caused due to the outbreak of the coronavirus resulted disruption to the regular hospital service practices which resulted in patients being primarily treated for coronavirus as well as emergency services. Non-emergency services such as regular check-ups for ailing patients took a backseat. However, once the pandemic was brought under control, non-emergency services resumed albeit slowly.
COVID-19 and the global healthcare industry
The outbreak of the coronavirus resulted in placing unparalleled demands on the global healthcare systems. Nonetheless, the industry has shown resilience and even brought innovations amidst the chaos. There was significant pressure on the pharmaceutical companies to produce vaccinations for coronavirus and by 2021 these companies had succeeded in commercializing the same. In fact, during the commercial production of COVID vaccination, there had been a substantial demand on pharma companies due to a supply-demand gap as there were several challenges including complex supply chains, remote working of a large workforce, new models of engagements for healthcare professionals, and numerous disruptions to clinical trials. Similarly, hospitals were short-staffed, the infrastructure needed to be changed to accommodate corona-affected patients, and several protocols were in place for taking care of patients affected by coronavirus.
Private hospitals and clinics have been experiencing a reduction in footfall of walk-in patients due to lockdowns present across various nations as well as a general fear of contracting the virus when stepping out. Furthermore, a decrease in medical service volumes, as well as inadequate utilization of healthcare services by non-emergency patients, also impacted footfall.
The majority of the non-emergency care facilities have been turned into wards specifically for corona-infected patients due to the increasing demand for isolation units and patient beds. The exponential increase in demand for face masks, hand sanitizers, personal protection equipment, and other protective gear has also affected the healthcare supply chain. All other industries have been impacted by lockdowns that lasted for a long time in different economies, and during the past year, the economy has narrowed its attention to only healthcare facilities that treat the infection.
Opportunities in COVID-19 for the global hospital services industry
The COVID-19 pandemic has had an impact on hospitals all across the world. Non-emergency services have been put on hold so that corona sufferers can receive the attention they need. This has had a tremendous impact on the hospitals' finances as well as the health of the patients the hospitals care for. Social and health services around the world are struggling to keep up. The situation is particularly challenging in fragile, low-income, and humanitarian countries where health and social services are already compromised. Numerous medical facilities are shuttering or limiting their coverage. Services for sexual and reproductive health were in danger of being reduced, which would increase maternal mortality and morbidity.
To accommodate a big patient population, China has erected new hospitals quickly.
In order to maintain their financial stability, hospitals in the United States rely on "surgeries, scans, and other well-reimbursed facilities to privately insured patients." Non-emergency care was discontinued during the epidemic, which left patients in dire financial straits. For instance, the Mayo Clinic expects to lose roughly $1 billion in 2020 due to the postponement of surgery despite having a net profit of $1 billion in sales in 2019.
The federal government passed the CARES Act, which gives hospitals around the nation $30 billion. Over 100,000 employees had been laid off or given furloughs by 261 healthcare institutions by May 2020.
Due to a lack of personal protection equipment (PPE) to use when treating patients, medical professionals in public hospitals in Africa went on strike.
Therefore, despite an increase in coronavirus infections, hospitals are experiencing severe strain with regard to their human resources, appropriate personal protective equipment (PPE), ventilators, and hospital beds, among other things.
Rising cancer incidences
One of the biggest causes of death in the world has been cancer. Cancer will be responsible for over 10 million deaths in 2020. According to the International Agency for Research on Cancer (IARC), 1 in 5 people worldwide will develop cancer at some point in their lives, and 1 in 8 men and 1 in 11 women will pass away from the condition. According to these latest projections, more than 50 million people are still alive five years after receiving a cancer diagnosis. Global aging populations and socioeconomic risk factors continue to be the main drivers of this growth. Over the next few decades, it is anticipated that cancer occurrences would rise due to changing lifestyles.
Palliative care is one of several treatments that hospitals provide. Surgery, chemotherapy, and/or radiotherapy are all required for cancer treatment. Patients and their families who are dealing with obstacles brought on by life-threatening illnesses, whether they be medical, psychological, social, or spiritual, benefit from palliative care. The standard of living for caretakers also rises. Hospitals also provide these services.
Future increases in the prevalence of cancer are anticipated to increase the demand for hospital services that maximize patient comfort both during and after treatment. Particularly the younger generation is growing more conscious of their health, taking advantage of routine check-ups. Additionally, people are deliberately choosing cancer-related check-ups and preventive operations as a result of knowledge about the heredity of certain types of cancers, which is fueling the demand for hospital services.
Increasing knee replacement surgeries
When the knee becomes injured from a variety of causes, such as arthritis or a serious knee injury, a knee replacement treatment is necessary. The demand for knee replacement surgery is mostly driven by the aging population, physical inactivity, accidents, and obesity.
Knee Replacement Procedures In Select Countries, 2019 (per 100,000 inhabitants
It is anticipated that as knee disorders become more common, more people will choose surgery to reduce pain and improve comfort when walking or engaging in other physical activities. The countries with the greatest rates of knee replacement in Europe are Germany, Austria, Finland, and Switzerland. Similar to this, there were a lot of knee replacement surgeries conducted in 2019 in the US and Canada. Given a large number of elderly people, knee replacement surgeries are predicted to rise in the coming years. In consequence, it is anticipated that this would increase demand for hospital services in the future.
Availability of next-generation stents
According to the World Health Organization (WHO), cardiovascular diseases (CVDs), which claim 17.9 million lives annually, are the leading cause of mortality worldwide. Heart attacks and strokes account for four out of every five CVD deaths, and one-third of these deaths happen before the age of 70.
Stents have improved significantly over the past few years in order to prevent both restenosis and thrombosis. Since its inception in the late 1970s, percutaneous coronary revascularization has been a cornerstone in the treatment of coronary artery disease. By enhancing early outcomes and lowering the risk of restenosis, bare-metal stents and, more recently, first-generation drug-eluting stents (DES), such as sirolimus-eluting (Cypher) and paclitaxel-eluting stents (Taxus), have further improved the outcomes of percutaneous coronary intervention (PCI). However, due to the risk of late stent thrombosis, particularly after stopping the dual antiplatelet medication, there is now disagreement over the safety of these first-generation DES. Next-generation stents are being developed by a number of firms. For instance, Abbott's latest iteration of its industry-leading XIENCE everolimus-eluting coronary stent system, XIENCE Sierra, received the CE Mark in October 2017. The sale of the device is permitted in the European Union and other nations that accept the CE Mark. This version of XIENCE, which is known for its great safety, has advanced with the addition of additional features that make it simpler for cardiologists to carry out difficult procedures, which now make up to 70% of cases.
Increased angioplasty procedures are anticipated due to rising CVD conditions, early identification, and advancements in stent technology. The market for hospital services will be driven by these reasons globally.
High cost of surgical procedures
Currently, a large number of patients have insurance coverage, which results in high coverage of these operations. However, in some circumstances, patients might not be covered by insurance companies for all conditions, particularly pre-existing ones, in which case they would be responsible for paying for their own operation. For instance, in 2020 it was predicted that there will be over 30 million uninsured Americans.
The cost of surgical procedures varies around the world, with one of the priciest methods being used in the US and Europe. On the other hand, countries like India have considerably cheaper surgery costs. Despite these aspects, surgical operations are often expensive due to a variety of factors, including the surgeons' expertise, the use of replacement components (if any), the hospital's location, and the general pre- and post-op services provided.
In the US, about 3,000 heart transplant operations are carried out a year. They are regarded as very sophisticated, high-risk operations. The typical hospital stay is 50 days, and the waiting period for a heart transplant is typically 213 days. A heart transplant procedure will generally cost between USD 1,500,000 and USD 1,750,000.
Due to sickness or the presence of a tumor, intestinal transplants are performed to replace dead intestine tissue with live tissue from a donor. A liver failure may occasionally occur in conjunction with intestinal disorders. The price range for an intestinal transplant is USD $1,000,000 to USD $1,250,000.
Patients who require such treatments frequently suffer from chronic illnesses that affect many organs. The majority of the expense associated with these surgical treatments is related to pre-and post-operative care. Reduced access to healthcare due to insufficient insurance coverage and expensive procedures has an effect on the market for hospital services.
Digital transformation in the healthcare sector to create new avenues
The healthcare industry is integrating digital technology more and more, and it will soon transform how doctors practice their craft. Especially in major hospitals with numerous locations, healthcare companies are increasingly using digital solutions and automation to enhance the patient experience as well as make it simpler for doctors and caregivers to obtain patient information.
Numerous patients are choosing digital means of communication with their doctors in order to avoid leaving their houses due to the ongoing spread of the coronavirus. New apps are being released by vendors so that patients may access hospital information. The GetWell Anywhere mobile app, for instance, was introduced by GetWell Network in March 2021 and enables patients to easily access engagement solutions on their devices in all interactive patient care settings.
Hospital-type competitive scenario in the global hospital services market
Public/community hospitals held the greatest market share in 2020 with a share of 37.1%, followed by state-owned hospitals with a share of 34.5%. Because of the advanced hospital services, they provide, both of these segments are predicted to lose market share to the private hospital category. In addition, more patients are anticipated to enter private hospitals due to the availability of super specialty operations.
TABLE Global hospital service market revenue, by hospital type, 2016 vs. 2020 vs. 2027 (USD Billion)
| | | | | |
| --- | --- | --- | --- | --- |
| Hospital Type | 2016 | 2020 | 2027 | CAGR (2020-2027) |
| State-owned Hospital | 2,408.4 | 3,300.4 | 5,619.0 | 7.73% |
| Private Hospital | 1,933.1 | 2,725.4 | 4,870.6 | 8.48% |
| Public/Community Hospitals | 2,611.8 | 3,550.8 | 5,959.5 | 7.51% |
| Total | 6,953.2 | 9,576.6 | 16,449.0 | 7.87% |
Because they have a bigger budget and are renowned for giving their patients high-quality care and attention, private hospitals are also the preferred choice. Due to the low patient-to-doctor ratio, patients rarely have to wait long for appointments. These settings frequently have substantially greater service costs, which draw wealthier customers.
The emergence of super specialty hospitals over the past few years has led to an increase in patient traffic. The general public's and patients' increasing awareness of these services is also anticipated to fuel the segment's expansion during the forecast period.
Service type competitive scenario in the global hospital services market
The market for hospital services worldwide in 2020 was made up of 59.6% inpatient services and the remaining accounted for outpatient services. During the projection period, patients are anticipated to choose outpatient services due to the high expenses of inpatient care and the restricted insurance coverage. As there is no overnight stay, outpatient services are frequently less expensive.
Employees in outpatient clinics are skilled in the services they provide. These clinics frequently concentrate on a specific operation or treatment. Most people can choose to go to an outpatient facility rather than a hospital if the desired care is offered there. Growth in the industry will also be fueled by hospitals focusing more on lowering costs by limiting readmissions. Thus, it is anticipated that the inpatient services category will lose a sizable portion of its market share to the outpatient services segment.
In 2020, diagnostics & imaging held the second-largest market share (22.1%), followed by cardiovascular services. In the entire world, cardiovascular diseases (CVDs) are the main cause of death. Some of the main causes of cardiovascular disease include an aging population, increased obesity, a decline in physical activity, and heavy smoking. The sizeable patient pool for CVDs is what is causing this market segment to grow. Additionally, increased CVD rates in the younger population are boosting market expansion.
Despite having a 12.2% market share in 2020, neurorehabilitation & psychiatry services are predicted to increase at the fastest rate due to growing patient awareness of mental health. Given the rising incidence of cancer, particularly among women, cancer care is expected to grow at the second-fastest rate.
Regional competitive scenario in the global hospital services market
North America held the biggest market share in 2020, followed closely by Europe and Asia Pacific. However, MEA will experience the fastest growth due to significant government investment in its healthcare system. Due to an aging and growing population, a rise in the prevalence of lifestyle disorders, and efforts to diversify their economy away from dependency on oil production, Gulf Cooperation Council (GCC) countries are prioritizing the healthcare sector. In the past, Gulf Cooperation Council (GCC) government bodies have invested in and operated healthcare facilities. However, as their roles have reduced to only that of policymakers and regulators, private actors have stepped up their involvement. Due to the presence of multiple emerging economies concentrating on giving their population the best possible access to healthcare, the Asia Pacific region is anticipated to experience the second-highest increase.
Competitive landscape scenario in the global hospital services market
Due to the existence of numerous big and small businesses with both a worldwide and regional focus, the market for hospital services globally is highly fragmented. Some of the biggest hospital service companies in the world with a global presence include Ascension Health, HCA Healthcare, Tenet Healthcare Corporation, Community Health Systems, Inc., and Mato Clinic.
Hospital networks for a few of these companies span both Europe and North America. These businesses have been concentrating on a variety of initiatives during the past few years, including acquisitions, expansions, and investments. However, the pandemic's negative effects have had a significant negative influence on the world economy. Due to the subsequent impact on hospital revenues, there have been numerous divestitures.
Key Strategies Adopted by Leading Players, 2018 – 2021
| | | | | | |
| --- | --- | --- | --- | --- | --- |
| Company | Divestments | Acquisitions | Partnerships/ Collaborations/ Agreements | Product/ Service Launches | Expansions/ Investments |
| HCA Healthcare | 1 | 4 | 3 | 3 | |
| Cleveland Clinic | | 3 | 16 | 5 | 8 |
| Spire Healthcare Group plc | | | 3 | 3 | |
| Ramsay Health Care | | | | 16 | 19 |
| Ascension Health | | 1 | 7 | 1 | 20 |
| Community Health Systems, Inc. | 11 | | | | |
| Tenet Healthcare | 7 | 2 | 9 | | |
| Fortis Healthcare | 1 | | | | 1 |
| Mayo Clinic | | | 1 | 1 | |
| Total | 20 | 10 | 39 | 29 | 48 |