The global artificial intelligence in drug discovery market size was estimated at US$ 1,495.28 million in 2022 and is projected to hit around US$ 14,518.68 million by 2032, registering growth at a CAGR of 20.08% from 2022 to 2032.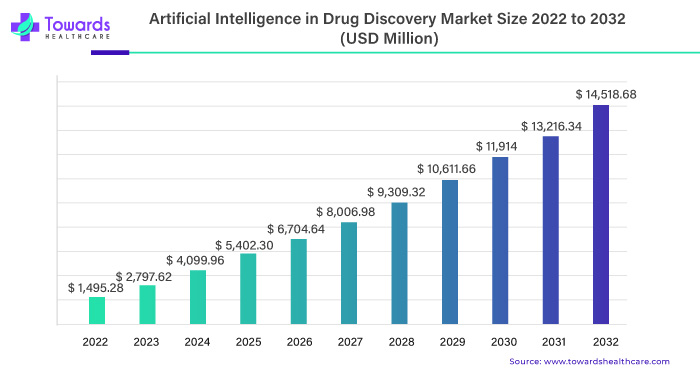 Unlock Infinite Advantages: Subscribe to Annual Membership
Implementation of AI solutions in the clinical trial process eradicates potential obstacles, reduces clinical trial cycle time, and increases clinical trial productivity and accuracy. As a result, the adoption of these advanced AI solutions in drug discovery processes is growing rapidly in the life sciences industry. It facilitates the discovery of new compounds, therapeutic target identification, and the development of personalized medications in the pharmaceutical industry. AI drug discovery platforms prove to be a feasible option for gaining insights into the discovery of drugs to treat and mitigate the severity of various chronic diseases.
Use Of AI in the Drug Discovery Industry
The primary goal of drug discovery research is to discover medicines that have a beneficial effect on the body that is, they can help prevent or treat a specific disease. Even though there are many different types of drugs, many are small chemically synthesized molecules that can specifically bind to a target molecule usually a protein involved in a disease. To find these molecules, researchers typically conduct large screens of libraries of molecules to one that has the potential to become a drug. Individuals then put this through multiple rounds of testing to a promising compound.
Further rational structure-based drug design approaches have recently become more common. These avoid the initial screening stages but still require chemists to design, synthesize, and evaluate numerous compounds to create potential new drugs. Considering that it is generally unknown which chemical structures will have both the desired biological effects and the properties needed to become an effective drug, refining a promising compound into a drug candidate can be both expensive and time-consuming. According to the most recent figures, the cost of bringing a new drug to market now averages US$2.6 billion. Furthermore, even if a new drug candidate looked promising in laboratory testing, it may still fail in clinical trials. Following Phase I trials, less than 10% of drug candidates reach the market. Given this, it's not surprising that experts are now looking to AI systems' unparalleled data processing potential as a way to accelerate and lower the cost of drug discovery.
Factors driving the AI in Drug Discovery Industry
The prevalence of chronic diseases is rapidly increasing over the world. According to the Centers for Condition Control and Prevention (CDC), six out of every ten adults in the United States suffer from a chronic disease. Furthermore, the CDC emphasizes that chronic diseases including heart disease and diabetes are the main causes of death in the United States. Such figures throw light on the increasing incidence of chronic diseases and the need to reduce the number of deaths caused by these diseases. AI drug discovery platforms may be proven to be a feasible solution for gaining insights into the discovery of medications to cure and mitigate the severity of various chronic conditions. As a result, these factors are expected to drive market growth throughout the forecast period.
AI has the potential to transform drug discovery by dramatically shortening the R&D schedule, making medication research less expensive and faster, and increasing the probability of approval. AI can also improve the efficacy of drug repurposing studies. Furthermore, the industry has been driven by an increase in cross-industry alliances and collaborations. The increasing importance of AI in drug discovery and development, as well as an increase in financing for R&D activities, including AI technology in the field of drug research, are expected to drive global market growth. As a result, the market is being driven by an increase in cross-industry collaborations and partnerships.
Polypharmacology is defined as the development of medicinal medicines capable of treating numerous disorders. The use of AI enables clinicians to virtually understand the Polypharmacology of the substances. Before drug creation in laboratories, physicians can forecast the features of substances and their probable adverse effects.
Factors Restraining the AI in Drug Discovery Industry
The global healthcare sector is confronting various difficulties, such as rising medicine and therapy costs, and society needs considerable improvements in this area. The availability of a large amount of data is critical to the success of AI since this data is used for the subsequent training provided to the system. Access to data from numerous database providers can result in additional costs for a firm. Clinical trials are six to seven years lengthy and involve a significant financial investment to establish the safety and efficacy of a medicinal product in humans for a specific disease condition. However, just one out of every ten molecules that undergo these trials is approved, resulting in a substantial loss for the industry. These failures might occur as a result of poor patient selection, a lack of technological needs, or a lack of infrastructure. As a result, rising technology costs are acting as a brake on market growth.
Opportunities of AI in the Drug Discovery Industry
Increased R&D activity and increased usage of cloud-based services and applications will give advantageous prospects for market growth. After a lengthy period of stagnation, the AI business in Biopharmaceutical is continuing to flourish. This is evidenced in the continued flow of investments as well as a rise in the number of collaborations between pharmaceutical businesses and AI companies in 2021 when compared to prior years. The active participation of big pharmaceutical businesses in AI-related investments has had a significant impact on the expansion of the Biopharma industry. Even though the number of scientific papers in the field of AI in Biopharma and research collaborations between pharmaceutical businesses and AI-expertise providers is continuously expanding, some pharmaceutical corporations remain skeptical about AI applications. The application of machine learning and artificial intelligence (AI) in the pharmaceutical and healthcare industries has resulted in the establishment of a new interdisciplinary discipline of data-driven drug discovery in healthcare. As a result, increased investment in R&D activities provides an opportunity for market growth.
The industry's growth is projected to be hampered by a scarcity of competent individuals. Employees must be re-trained or taught new skill sets to operate successfully on the complicated AI machines and achieve the desired drug results. The lack of experienced employees to manage AI-based platforms, limited budget for small firms, fear of replacing humans leading to job loss, skepticism about the data provided by AI, and the black box phenomena are all barriers to full-fledged AI adoption in the pharmaceutical industry (that is, how the conclusions are reached by the AI platform). The scarcity of expertise is a major impediment to AI-based drug research, deterring corporations from adopting AI-based machines for drug discovery.
As skill needs are too high, it has become difficult to retain and manage skill-specified specialists. Furthermore, technological innovation contributes to an increase in the demand for trained workers. There is an urgent need for professional education in AI-based technology. A lack of skilled and experienced professionals, as well as chronic skill gaps, hinder employability and access to excellent positions. As a result, the availability of experts with the necessary abilities is posing a challenge to industry growth.
COVID-19 & AI in Drug Delivery Industry
The COVID-19 outbreak had a beneficial impact on the expansion of AI in the drug discovery industry owing to its extensive use by many organizations for the identification and screening of current drugs used in the treatment of COVID-19. AI can discover active substances that can be used to prevent SARS-CoV, HIV, SARS-CoV-2, influenza virus and other diseases. During the pandemic, economies around the world depended on AI-based drug discovery rather than traditional vaccine detection techniques, which take years to develop and are equally costly, leading to market growth. Manufacturers are pursuing a variety of strategic measures to recover from COVID-19. Multiple R&D activities are being carried out by the players to improve the technology involved in the Wireless microphone. The companies will use this to bring smart and accurate AI software to the industry.
Segmental Outlook
The AI in Drug Discovery Industry is segmented based on type, application, drug type, offering, technology, and end user. Based on type, it is further segmented into preclinical and clinical testing, molecule screening, target identification, de novo drug design, and drug optimization. Based on application it is segmented into neurology, infectious disease, oncology, and others. Based on drug types, AI in the drug industry is segmented into small molecules and large molecules. Based on the offering, the industry is further segmented into Software, Services. Based on technology, AI in the drug industry is segmented into machine learning (deep learning, supervised learning, reinforcement learning, unsupervised learning, and other machine learning technologies) and other technologies. Based on end-user, AI in the drug industry is segmented into pharmaceutical & biotechnology companies, contract research organizations, academics & research, others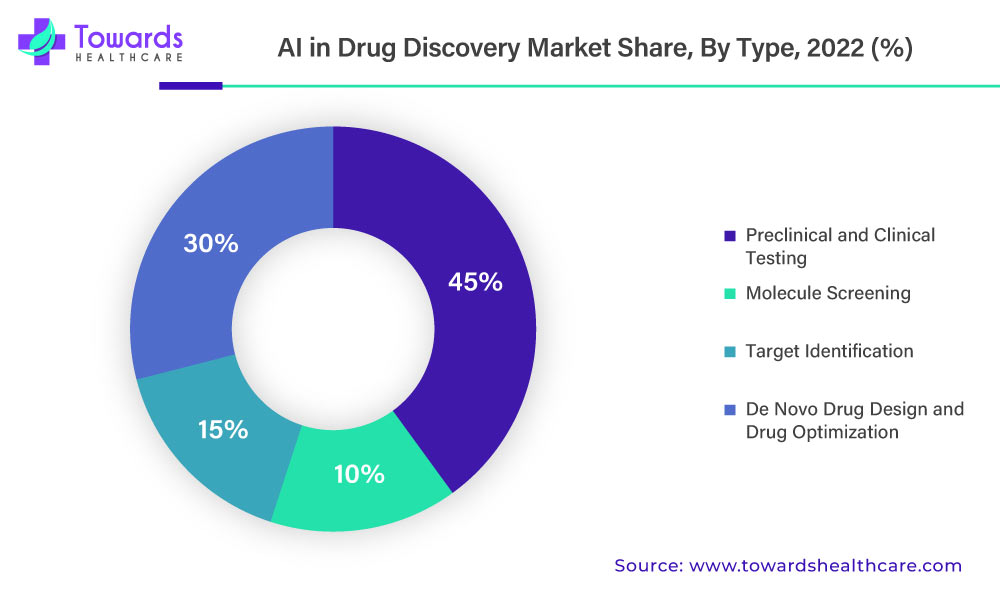 Types
The preclinical and clinical testing segment held the largest industry share in 2021, owing to an increase in the number of collaborative efforts between drug companies and AI suppliers for clinical and preclinical testing. Preclinical preliminaries are a stage of testing that precedes clinical preliminaries and collects iterative testing, significant plausibility, and medication security data for drug improvement. Preclinical research generally requires the use of examination instruments to adhere to a strict logical standard of medication research and to identify further developed beneficial possibilities for clinical trials. As a result of the increased use of AI in De Novo research, the De Novo drug plan and medication streamlining class are expected to grow at the fastest rate over the forecast period. The AI innovation area is further subdivided into profound learning and regulated learning. Other AI innovations include aided learning, support learning, and others. In 2021, profound learning held the largest share of the industry and it is also expected to grow at the fastest compound annual growth rate over the forecast period. Profound learning helps with the consistent administration of information, saves time, decreases the possibility of mix-ups in the medication improvement process, and limits the weight for end clients, which are a few of the major viewpoints driving the market expansion of this class.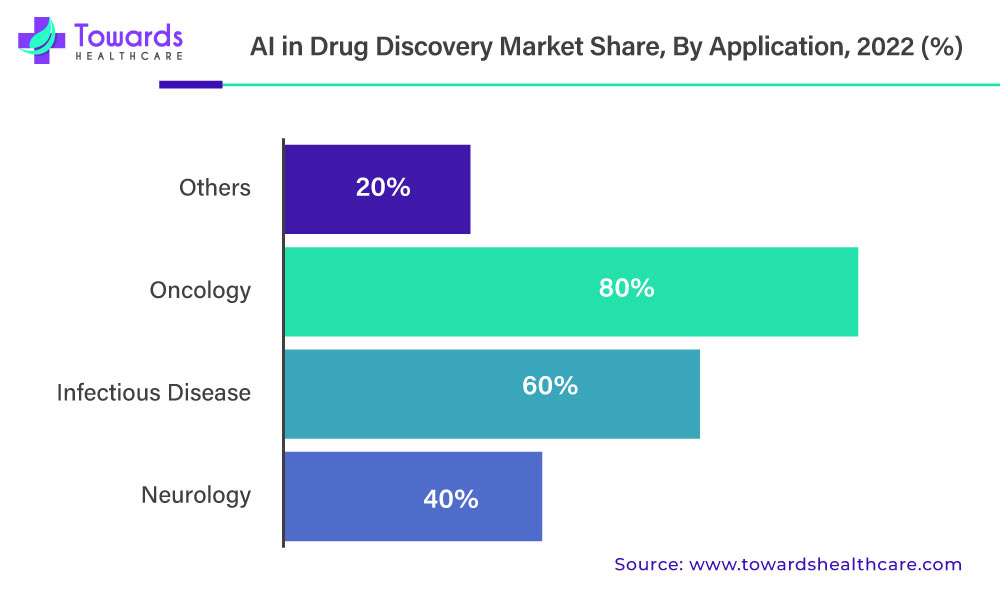 Application
The oncology segment holds the major share in 2021 owing to the increasing demand for effective cancer treatments. Even though disease diagnosis is prone to human error, using AI systems to detect diseases early can be beneficial. AI has become more accurate in identifying diseases in recent years. Lung cancer is typically detected at later stages when survival rates are very low; in this scenario, earlier detection with the assistance of AI systems can be beneficial. A Northwestern University researcher was able to successfully detect lung cancer in scans where radiologists would not find anything. By improving existing AI systems, which are designed to scan massive data sets and draw meaningful conclusions, AI can be used to provide personalized treatments to patients. Scans, along with genetic sequences and patient histories, can form a pattern for detecting cancers early and delivering medicine tailored to the patients. Furthermore, the infectious segment is expected to emerge as the fastest-growing application segment during the forecast period. Artificial intelligence (AI) and related platforms, such as the Internet of Things (IoT), are currently being used to better understand infectious diseases, their transmission, and infection mechanisms, as well as to improve vaccine design. These platforms make use of a network of connected devices such as smartphones and other medical devices, and data collected from these devices can be used to understand lifestyle patterns and anomalies for disease research. As a result of the current situation, it is more important than ever to develop methods for detecting infectious diseases and treating them.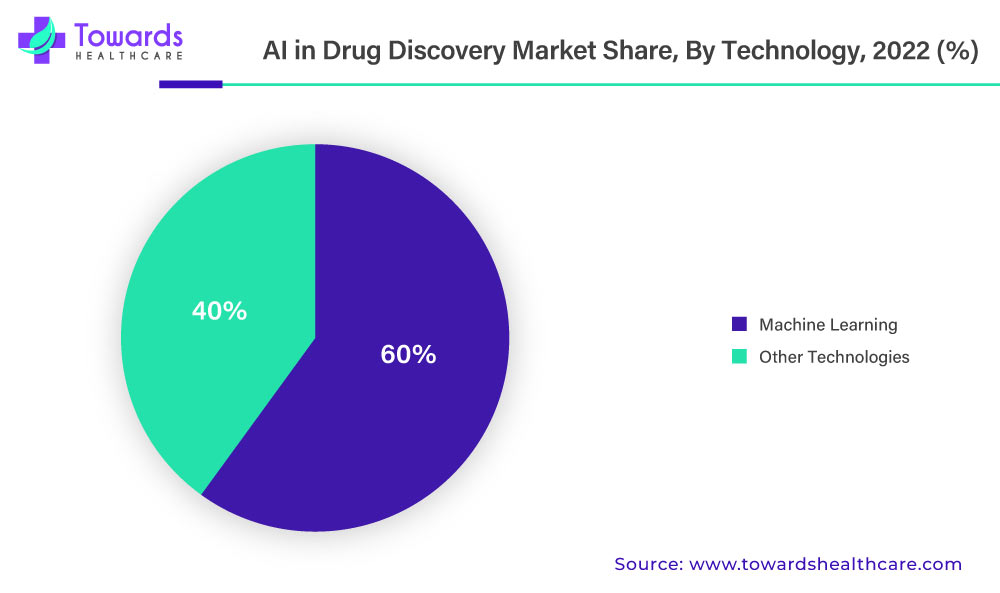 Technology
The AI sector represented the largest share of the overall industry and is expected to increase at the fastest compound annual growth rate during the forecast period. The AI innovation sector includes deep learning, administered learning, support learning, solo learning, and other AI innovations. In 2021, advanced learning comprised the largest share of the pie, and it is also expected to grow at the fastest compound annual growth rate over the same period. The high utilization of AI innovation among CRO, drug, and biotechnology organizations, as well as the limitation of these advancements to separate experiences from informational collections, which aids the medication improvement process, are some of the drivers driving the market development of this segment.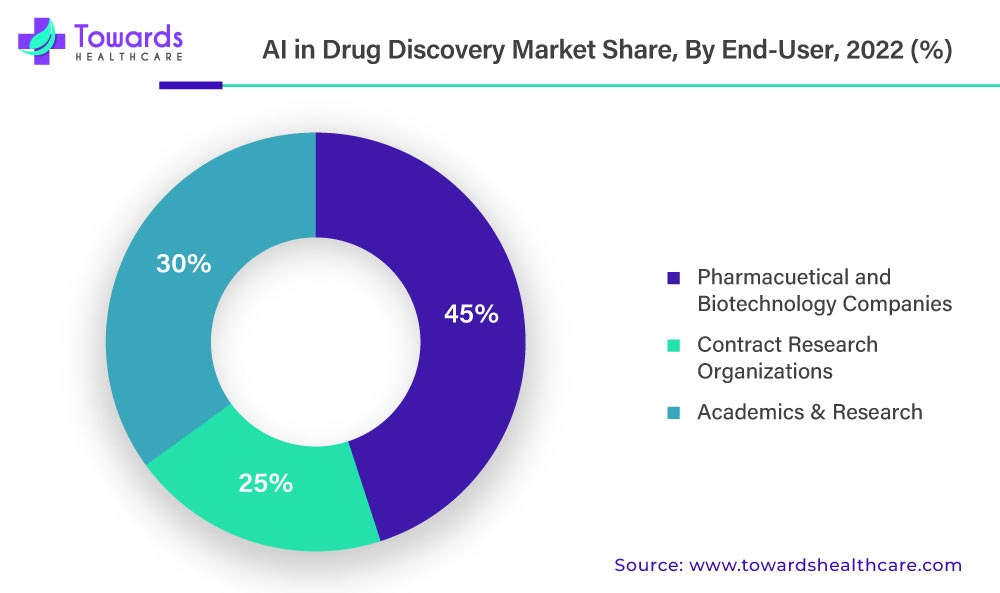 End-User
The pharmaceutical and biotechnology companies hold a major share of the industry. while research centers and university and government foundations are expected to grow at the fastest rate over the forecast period. The attractiveness of AI-based arrangements that make the entire pharmaceutical disclosure process more time and cost-effective is driving the growth of this end-client class. However, research centers and academic and government foundations are expected to grow at the fastest rate over the projection period. The growing interest in AI-based technologies to speed and reduce the cost of medication development is a significant growth factor for the drug and biotechnology end-client industry.
North America to Soar AI in Drug Discovery Industry
North America is expected to account for the largest share of the global AI in the drug discovery industry in 2021, as well as the highest build yearly development rate over the forecast period. North America, which includes Canada, Mexico, and the United States, is the largest market for artificial intelligence in drug discovery. These countries were among the first to incorporate AI technology into drug discovery and development. The presence of big-scale organizations, a well-established pharmaceutical and biotechnology sector, and a strong emphasis on research and development exercises and considerable speculation are a few of the key factors for this market's vast offer and quick expansion rate.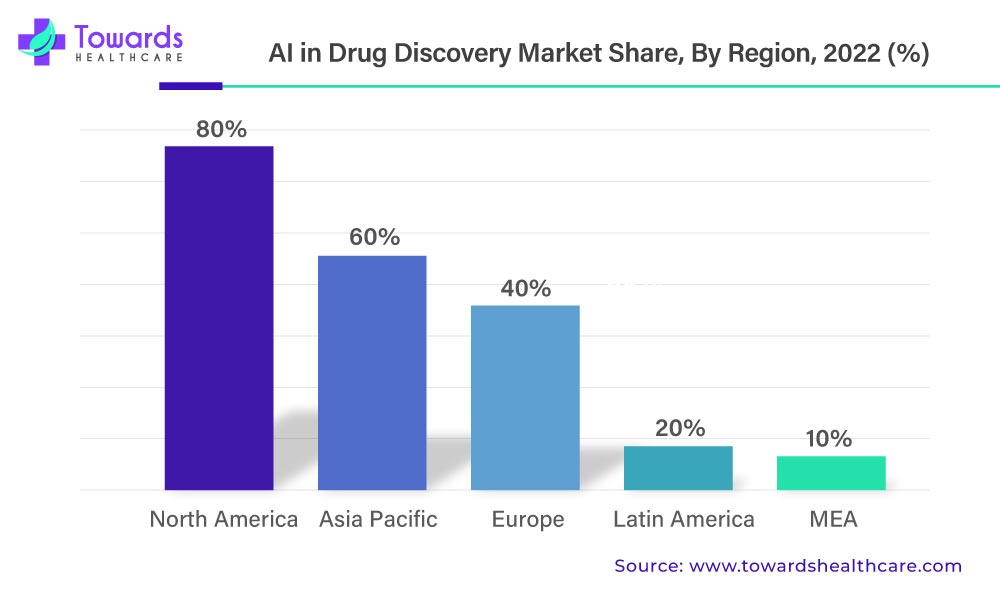 On the other hand, Asia Pacific is expected to grow at a faster rate owing to the increased demand for effective drug discovery solutions. Several startups are developing AI solutions for drug research. Among them are Mozi, Adagene, Xbiome, Accutar, Deep Intelligent Pharma, Elucidata Corporation, CaroCure, and Interprotein. With the Asian industry actively expanding, it is anticipated that AI technology will be integrated into mainstream drug discovery methods shortly.
Competitive Landscape
The need to develop better treatments faster is boosting the adoption of AI in the pharmaceutical sector for medical research and drug design in general. Major technology companies are launching steps to speed up medication discovery. Corporations such as IBM, Microsoft, Atomwise Inc., Cloud Pharmaceuticals, Benevolent AI, and BIO AGE control the majority of the global industry. Collaborations between technology companies and academic and research institutions are providing the needed impetus for the spread of AI use in the pharmaceutical industry as a whole. With the help of AI and associated platforms, better pharmaceuticals with fewer side effects can be developed, and diseases can be examined much faster and more thoroughly to uncover necessary solutions. Among the leading participants in the worldwide artificial intelligence in the drug discovery industry are:
Key Developments
AI, the AI working stage, reported the dispatch of a pay-more-only as costs rise AI stage for drug improvement in July 2021. This stage enables SMEs to gain reasonable access to cutting-edge innovation, reducing the hit-or-miss nature of medication advancement and recognizing advancement medications with speed and accuracy.
Beginning Therapeutics and Genentech announced a multi-target drug development agreement in October 2020, utilizing Genesis' chart AI capacities to uncover remedial contenders for various diseases.