The global clinical trials market size was valued at USD 48.68 billion in 2022 and is predicted to hit USD 83.55 billion by 2032 with a registered CAGR of more than 5.7% during the forecast period 2023 to 2032.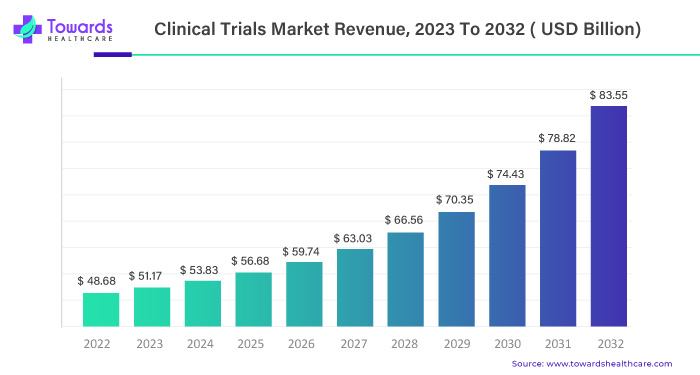 Unlock Infinite Advantages: Subscribe to Annual Membership
R&D spending on pharmaceutical companies helps in the innovation of new drug development-boosting clinical trials market.
A clinical trial is a collection and integration validation of clinical trial data. Clinical trials can be divided into five phases, with every phase playing a distinct purpose within the clinical trial. Every trial adheres to a procedure that designates what types of individuals may participate in the study. Clinical trials are conducted for many reasons to establish the effectiveness and safety of a new medicine or device for human use and research other approaches of using current, approved treatments or standard treatments to make them more usable, more effective, or have fewer negative effects, gain knowledge about how to safely provide treatment to a group for which it has not yet undergone testing, such as youngsters.
The trials also outline the exact plan of procedures, tests, medications, and doses within the trial apart from specifying the span of the study. In recent years, the costs associated with drug development have increased significantly, driving pharma and biotech companies to look for modernizations and smarter ways of conducting business. One important trend is the outsourcing of clinical research activities by manufacturers. By subcontracting their R&D activities, pharma and biotech companies are reforming the drug development facilities business. The R&D service providers have risen from just a few establishments providing restricted clinical trial facilities to big conglomerates offering an extensive range of facilities like study design, preclinical evaluations, clinical trial management and planning, autonomous safety data audit, bio-statistical analysis, and several more.
Covid Impact on Clinical Trials
Since the COVID-19 epidemic has hampered transportation and population movements all over the world, many clinical trial participants are unable to visit trial locations, while PIs (principal investigators) and other clinical staff are restricted to staying at home. As a result, the COVID-19 pandemic had a minor negative effect on the clinical trials market, 2020 saw a significant setback for the market as fewer or no people were recruited to participate in research trials to prevent contracting the virus. But shortly the sector saw a sharp increase in growth. This is due to an increase in clinical research efforts and a growth in the demand for potent and cutting-edge medications and vaccines. The COVID-19 pandemic has also caused significant changes in the market and redirected many commercial and research organizations' attention to the creation of novel COVID-19 vaccines and treatments. The expansion of COVID-19-specific services by clinical research organizations is anticipated to contribute to the market's continued growth. The market has been stimulated by large expenditures made to support the manufacturing capacities targeted at completing the necessary production of COVID-19 vaccines and medicines.
An increase in Investment in Pharmaceutical Research & Development Drives Market Growth
Most healthcare, pharmaceutical, biopharmaceutical, and medical device companies continue working on research and development and heavily invest in the development of novel drugs and devices. Pharmaceutical companies highly invest in research and development to deliver high-quality and innovative products for patients. Nowadays top pharma companies are increasing their research and development efficiencies through high investment in R&D and collaborative efforts. The increase in research and development expenditure of pharmaceutical and biopharmaceutical companies is prompting them to opt for providing fully integrated or functional outsourcing services, from the early development phase to the last phase for both drug development and discovery. Big pharmaceutical companies have enormous pressure for a fixed cost of the drugs and time limit for development as they fully involve in outsourcing drugs, most pharmaceutical and biopharmaceutical companies tend to outsource their testing functions during R&D to improve profitability, to meet the timelines involved in drug development, and save costs. The increasing number of drugs required outsourcing various drug development stages to manage capacities and access scientific and process innovations to develop cost-effective and efficient drug molecules. This trend is expected to drive the growth of the clinical trial market. The industry is expected to grow as technologically sophisticated digital solutions become more widely used with several government initiatives. Another factor driving the burden of chronic disease demand for clinical trials is the growing elderly population. With the rising prevalence of chronic diseases, pharmaceutical companies have increased their attention to creating novel treatments for rare or hereditary diseases that necessitate specialized clinical studies. This is expected to accelerate the growth of the sector.
Crucial factors accountable for market growth are:
Growing prevalence of chronic disorders
Increasing number of clinical trials in developing regions
Growing number of biologics
Increasing demand for advanced treatments such as personalized medicines
A Growing number of Clinical Trials Outsourcing services to CROs future the Market Growth
The increased uptake of cutting-edge medical technologies and the expanding demand for novel pharmaceuticals are driving up demand for the clinical trials sector. Additionally, the high costs and substantially lower approval rates of the medication development process make it exceedingly dangerous for pharmaceutical and biotechnology companies, which restricts the market growth for clinical trials. As a result, contract research organizations (CROs) are increasingly being used to conduct clinical trials, which allows sponsors to focus primarily on the development of new drugs and improves the prognosis for the market. Additionally, the size and number of clinical trials have increased as the commercialization of clinical research spreads from Europe and the US to most of the world. As a result, pharmaceutical companies are under more pressure to meet deadlines. Even huge pharmaceutical companies are finding it challenging to handle the rising workload, which is driving up outsourcing. So, during the projection period, the market is expected to grow as demand for clinical trial outsourcing rises.
Segmentation outlook
The Clinical Trial Market is segmented according to By Phase, By Study Design, By Indication, and By Region. The phases as classified as Phase 1, Phase 2, Phase 3, and Phase 4.
Phase 3 segment recorded the major market stake in the worldwide clinical trials market in 2022 and has garnered a revenue share of more than 55%. Implementation on a large scale is the major reason for the high market share of phase 3. Other factors such as high cost and the increasing trend of outsourcing are expected to boost the demand over the estimated period. The Phase 2 clinical trials are anticipated to advance at the maximum CAGR through the forecast period as an increase in pharmacokinetics and pharmacodynamics study.
Interventional Study is Projected to Dominate the Study Design Segment of the Clinical Trials Market Revenue
The requirement for clinical trials in developing diagnostic tests and vaccines for viral diseases such as SARS-CoV-2 has augmented the demand for clinical trials exponentially. Thus, the high incidence of novel viral diseases and ongoing technological improvements in clinical trials are major reasons for the high revenue share of interventional studies. The interventional study segment is expected to grow at a CAGR of 5.4% from 2022 to 2030. The interventional design segment accounted largest market share 46% in 2022.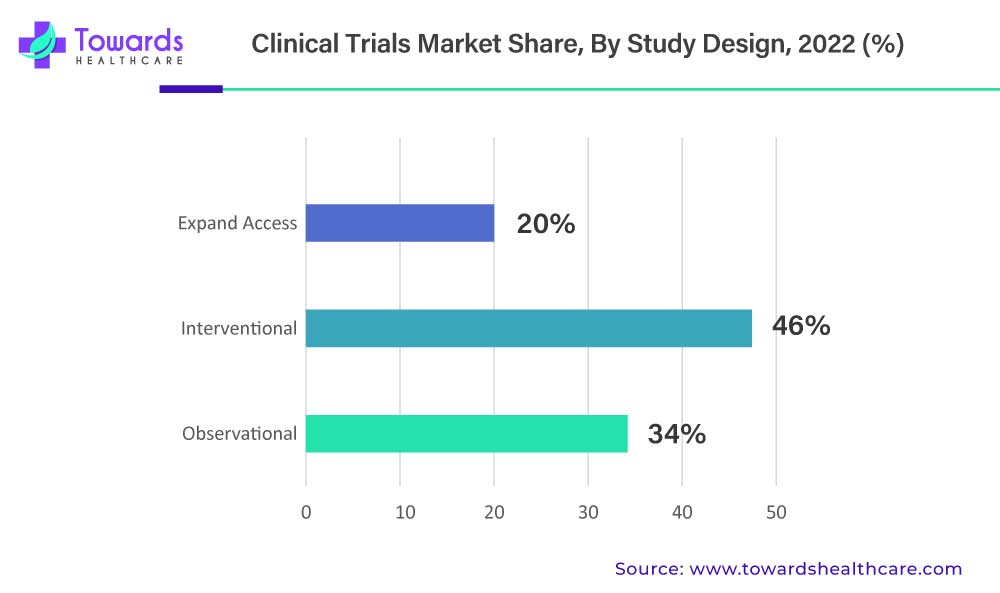 Oncology is Projected to Dominate the Indication Segment of the Clinical Trials Market Revenue
Constant research on cancer treatment and increasing demand for precision medicine are the major reasons responsible for the high market share of oncology. The oncology segment was valued at USD 25 billion by 2030. The oncology segment accounted for a revenue share of 24% in 2021 and is expected to witness growth at a CAGR of 6.4% over the forecast period from 2022 to 2030.
North America is Estimated to be the Largest Market for Clinical Trials
The research study covers key prospects and trends of clinical trial products throughout different regions including Europe, North America, Asia-Pacific, the Middle East, Africa, and Latin America. Regionally, the clinical trials market is dominated by North America due to the high incidence of chronic disorders and the presence of the latest healthcare infrastructure. The North American clinical trials market was valued at USD 24 billion in 2021. North America accounted largest revenue share 51% in 2021.
On the other hand, Asia-Pacific is anticipated to witness a rapid growth rate of 7%, on account of increasing investment by governments in research and growing awareness regarding precision medicine.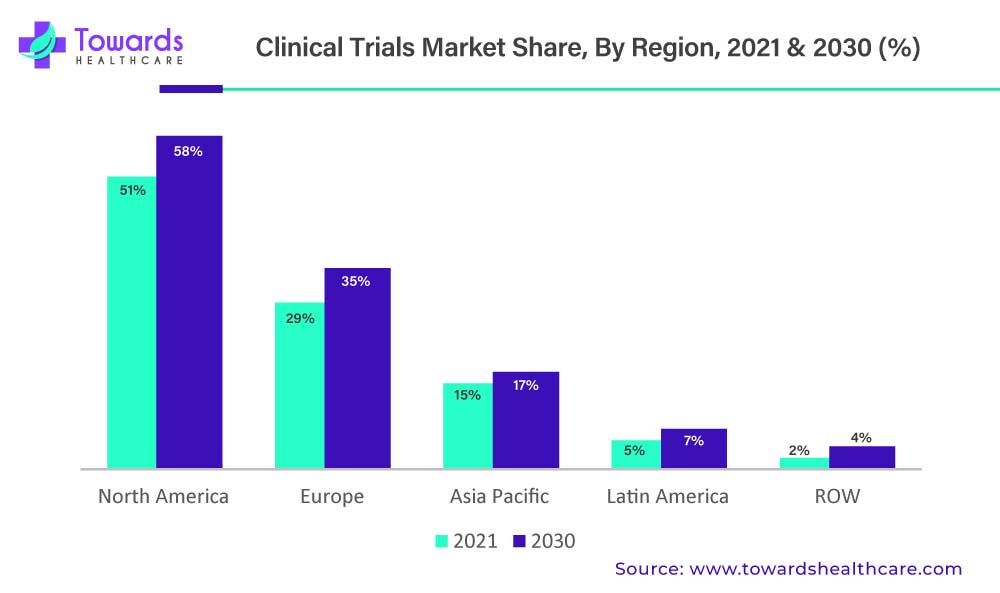 Key players in the Clinical Trial Market
The Clinical trial market is consolidated, competitive, and consists of a few significant players. The major players in the market have implemented specific strategies, like product launches, to sustain market competition. With the rising demand driven by the increasing medical applications, manufacturers are investing more in R&D, which may cause the market in the forecast period. The companies focusing on research and development are expected to lead the global clinical trials market. Leading competitors contending in the global clinical trials market are as follows.