The global biopharmaceuticals market was estimated at USD 333.1 billion in 2022 and is anticipated to reach over USD 856.1 billion by 2030, poised to expand at a compound annual growth rate (CAGR) of 12.5% from 2021 to 2030.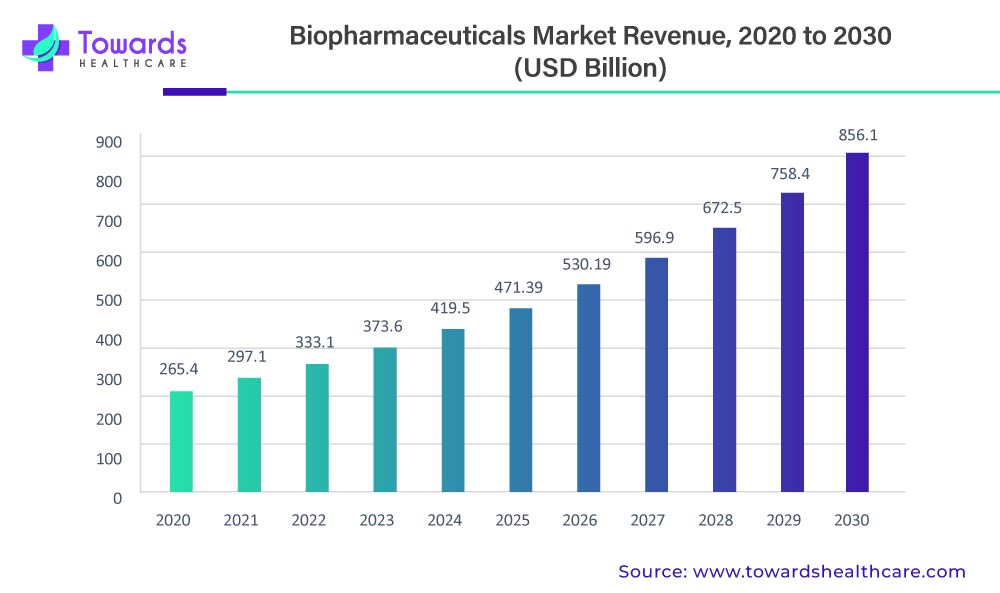 Unlock Infinite Advantages: Subscribe to Annual Membership
Biopharmaceuticals Are Complex Medicines Derived From Living Cells Or Organisms And Are Frequently Created Using Cutting-Edge Biotechnological Techniques.
A biopharmaceutical, also known as a "biologic," is a medical therapeutic (or drug) derived from a biological source, such as a cell. Biotechnology is used to directly extract proteins and nucleic acids from biological sources to produce biopharmaceuticals, which are drugs used in medicine. Transgenic organisms are genetically modified plants and animals that are used in the production of biopharmaceuticals, which are pharmaceuticals made primarily from living organisms. This controversial technology is still in the trial stage.
Influencers Fueling The Market Growth
Biopharmaceuticals are in high demand
The primary factor propelling the growth of this market is the enormous demand for biopharmaceuticals brought on by the increase in chronic diseases and the aging population. Additionally, it is anticipated that the ability of biopharmaceuticals to treat untreatable conditions will speed up the market's overall growth.
Additionally, the population's growing awareness of the efficacy and accessibility of biopharmaceuticals as well as the expanding healthcare sector is anticipated to temper market growth during the anticipated time frame. The market is expected to grow as a result of the increased efforts being made to develop the biopharmaceutical sector.
Hurdles Faced During The Market Expansion
The risk of failure and the high cost of drug development are the main things preventing the global biopharmaceutical industry from expanding. Furthermore, the market is unable to grow internationally due to strict regulatory requirements, high development costs, and the cost of biopharmaceutical drugs. Currently, biopharmaceutical companies, health professionals, and stakeholders face numerous challenges and struggles during the development of new bio drugs and prior to the commercialization of these novel products. For example, according to pharmaceutical protocols, every bio-drug undergoes numerous steps and procedures prior to marketing, including animal and clinical studies. Indeed, this new medicine would be tested on laboratory animals during the development process; however, there may be a scarcity of animal samples or restrictions on their use because there are associations and animal rights organizations that consider the use of some animals in scientific tests or other scientific purposes to be a form of torture and unethical practice.
Open Door For The Biopharmaceutical Market
Growing Investments And Research To Foster Innovation
Moreover, it is predicted that the market will benefit greatly from the increased emphasis on research and associated investments. Numerous opportunities for market expansion will also be provided by the increased government funding for the development of the biopharmaceutical industry as well as the increased investments made by market participants in the research and development of new drugs and their clinical trials.
Impact Of COVID-19 On The Biopharmaceutical Market
The development of COVID-19 has significantly strained healthcare infrastructure. The pandemic had a moderate impact on the biopharmaceuticals market. The government's implementation of the lockdown and social isolation measures to control the COVID-19 pandemic outbreak resulted in several operations ceasing, supply chains becoming disrupted, business growth slowing down, technology events being postponed, new developments being suspended, as well as having an effect on overall production and sales, which in turn constrained the market's growth. Researchers from all over the world are trying to come up with solutions to this mounting problem. As a result, it is anticipated that there will be a shortage of COVID-19-specific monoclonal antibodies. Itolizumab (ALZUMAb), an anti-CD6 IgG1 monoclonal antibody from Biocon Ltd in India, was approved by the Drugs Controller General of India (DCGI) in July 2020 for the immediate treatment of cytokine release syndrome in patients infected with COVID-19-acute respiratory distress syndrome.
Market Scope and Categorization
During the current pandemic, almost all biopharmaceutical companies in the area have been working to develop efficient COVID-19 treatments, which is anticipated to accelerate the market's growth over the pandemic.
The demand for efficient medications will increase due to an increase in research and development spending as well as an increase in the incidence of cancer over the course of the next five years. According to GLOBOCAN 2020, there will be 2,281,658 new cases of cancer in the United States in 2020, along with 612,390 fatalities. As a result of the existence of these growth-determining factors, the market is moving forward and is anticipated to experience significant growth during the anticipated period. According to estimates, the market for biopharmaceuticals will grow quickly, offering numerous income opportunities.
The largest market share is anticipated to belong to monoclonal antibodies.
The successful application of monoclonal antibodies and antibody derivatives in therapeutics is the main factor influencing the segment's quick expansion. Monoclonal antibodies have been used as treatments for cardiovascular disease, cancer, rheumatoid arthritis, and multiple sclerosis.
Healthcare systems are being heavily burdened by the COVID-19 outbreak. Researchers from all over the world are constantly working to address this growing burden. As a result, the market for monoclonal antibodies that target COVID-19 is anticipated to grow significantly. For instance, the Drug Controller General of India (DCGI) authorized the use of Itolizumab (ALZUMAb), an anti-CD6 IgG1 monoclonal antibody, in July 2020 for the urgent treatment of cytokine release syndrome in acute respiratory distress patients.
Additionally, the demand for effective options for disease prevention, treatment, and complete eradication is growing, which is contributing to an increase in pharma R&D spending. Many pharmaceutical firms are concentrating on creating more potent medicines to treat fatal illnesses and enable patients to lead healthier lives with fewer disabilities. Global healthcare spending is essentially driving up R&D activities, which is boosting the number of bio-based pharmaceutical products on the market.
A new phase of biological therapies for neoplastic disorders, infectious diseases, and multiple sclerosis has also been made possible by cytokines and interferons (IFNs). These agents mediate their biological effects indirectly, through several immunological and other cells, or accessory proteins.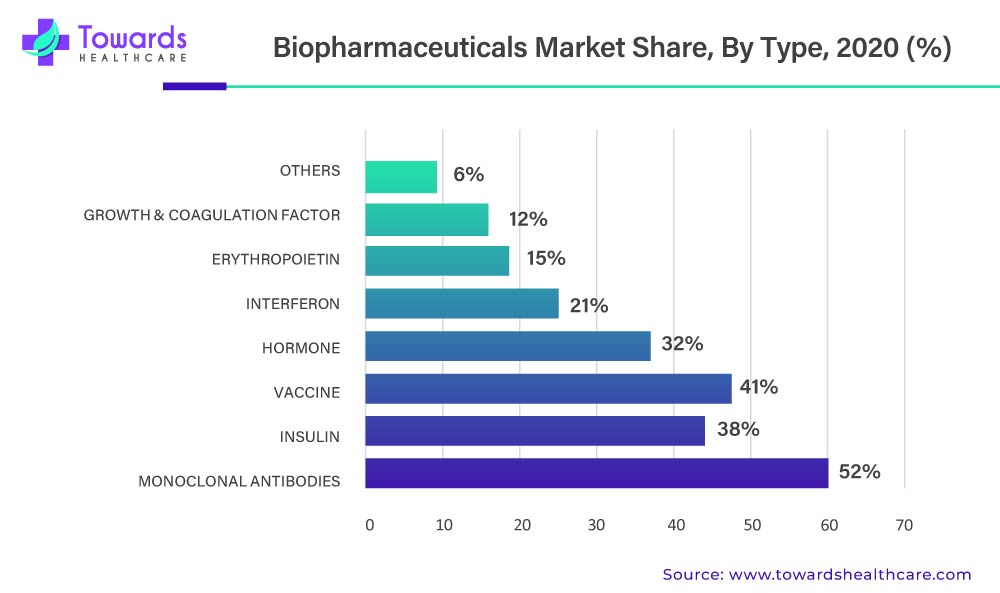 Depending on the end-use sector, the biopharmaceuticals market can be further divided into the following categories: health and care, biopharma companies, diagnostic labs, clinical research institutes, clinical research organizations (CROs), and others. In 2021, the segment representing biopharma companies held the largest market share. This expansion is mainly due to the significant advancements in modern medicine and their use in treating complex diseases. This segment's growth is currently being further fueled by the recent improvements in molecular medicines and R&D made by numerous top industry players and governmental organizations.
Additionally, the Clinical Research Organizations segment is anticipated to expand at the fastest CAGR of 9.1% from 2022 to 2027 as a result of an increase in research into the creation of new molecular drugs using molecular biology.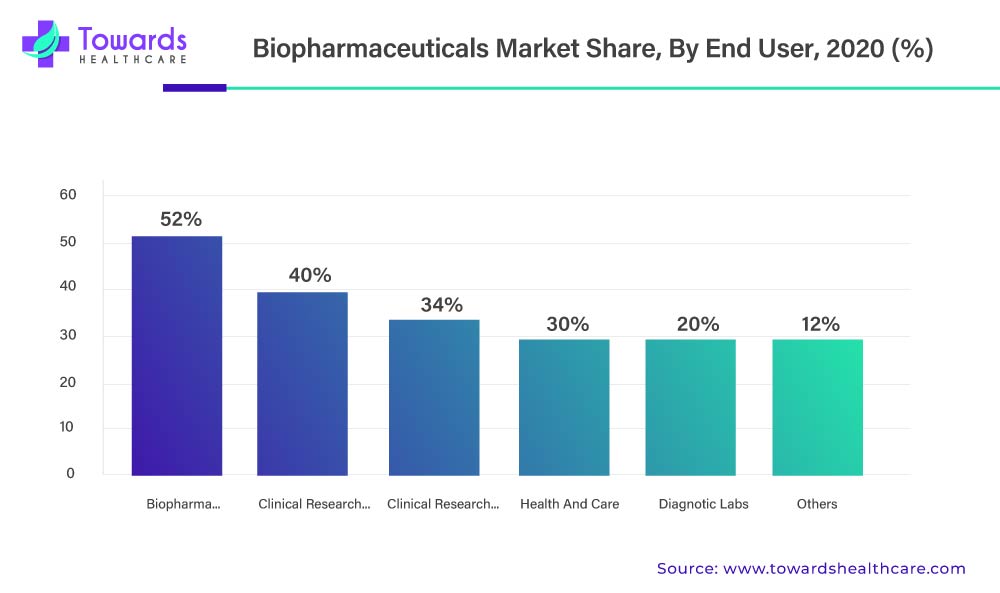 In terms of revenue, the oncology segment will dominate the global biopharmaceutical market in 2020. This is simply due to the increased use of biopharmaceuticals in the treatment of cancers such as lung cancer, breast cancer, colorectal cancer, and prostate cancer. Global cancer cases are increasing at an alarming rate. According to the International Agency for Research on Cancer, the global cancer burden is expected to reach 28.4 million by 2040, up 47% from 2020.
Cardiovascular disease, on the other hand, is expected to be the most opportunistic segment during the forecast period. According to World Health Organization, approximately 17.9 million people die each year as a result of cardiovascular diseases, accounting for approximately 32% of all global deaths. As a result, the increased prevalence of CVDs around the world, as well as rising investments by biopharmaceutical manufacturers in developing innovative CVD drugs, are expected to drive market growth during the forecast period.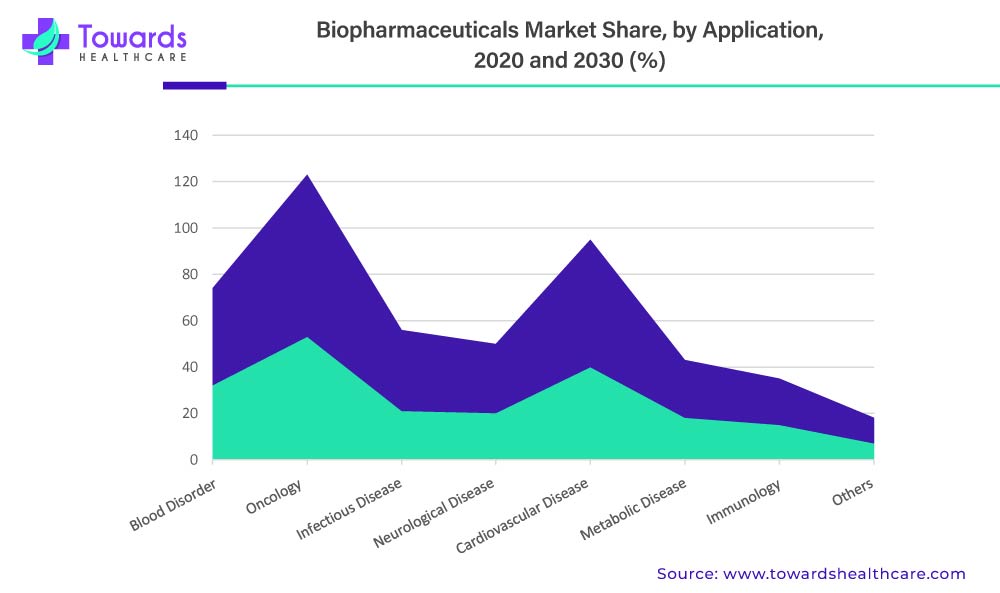 North America is projected to be the market king.
The primary drivers of the biopharmaceuticals market in North America are the rising burden of chronic diseases and rising investments in research and development activities in the United States. The world's center of life sciences innovation has long been acknowledged to be in the United States. It participates in international capital investments in biopharmaceutical startups.
The North American biopharmaceutical market is anticipated to grow as a result of the increase in COVID-19-related clinical trials. Nearly 1,750 clinical trials for the creation of vaccines and medications for the treatment of COVID-19 were ongoing as of January 2021, according to the Pharmaceutical Research and Manufacturers of America, 420 of which were based in the United States.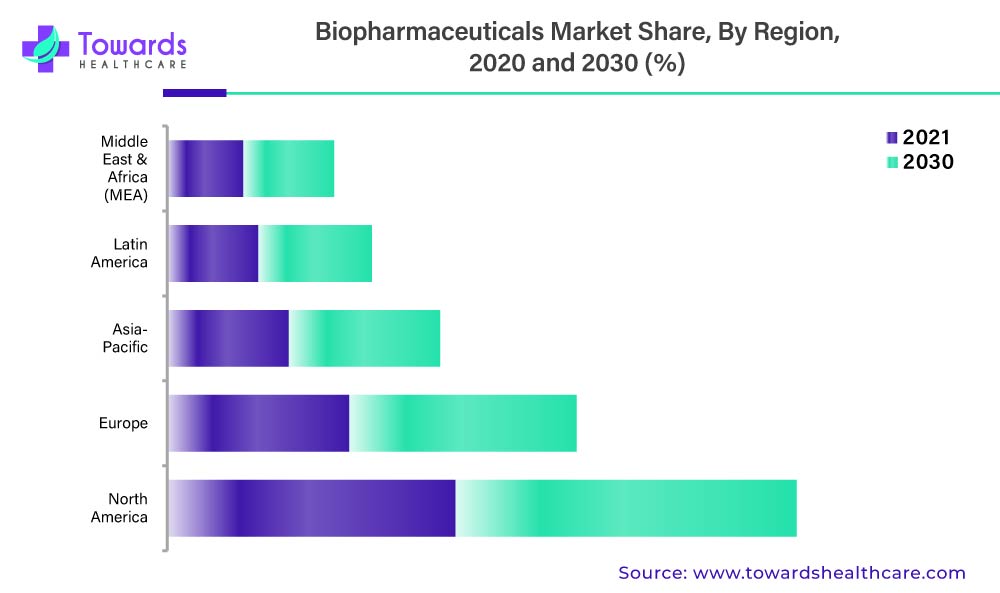 Recent Developments
Eli Lilly and Company announced in February 2021 that it had entered into a US$ 960 million strategic collaboration and license agreement with Rigel Pharmaceuticals to jointly develop and market R552, an inhibitor of the receptor-interacting serine/threonine protein kinase 1 (RIPK1) According to the terms of the contract, Rigel will receive a US$125 million upfront payment from Eli Lilly, as well as an additional US$835 million in potential development, regulatory, as well as commercial milestone payments.
Amgen Inc. announced a strategic alliance with McKesson in December 2020. The agreement will contribute to the advancement of cancer treatment in settings that provide community cancer care. By providing Amgen medication, McKesson reaches 20% of cancer patients in the US. With the aim of closing care gaps by enhancing access to cutting-edge personalized medicine and immuno-oncology in the community setting, this multiyear agreement brings together the strength and reach of the two businesses.
Roche and the Global Fund announced a partnership in May 2022 to help low- and middle-income nations build up their vital diagnostic infrastructure in the fight against AIDS, TB, and malaria. As part of this partnership, a strong procedure will be established for gathering, transporting, testing, and providing results to patients in time for clinical intervention. New strategies to lessen the financial and environmental burden of healthcare waste generated during the testing process will also be a part of the partnership.
Arena Pharmaceuticals, a company focused on creating cutting-edge potential therapies for the treatment of a variety of immuno-inflammatory diseases, was acquired by Pfizer, Inc. in March 2022. In addition to etrasimod, an oral, selective sphingosine 1-phosphate (S1P) receptor modulator currently being developed for several immuno-inflammatory diseases like ulcerative colitis, Crohn's disease, atopic dermatitis, eosinophilic esophagitis, and alopecia areata, Arena Pharmaceuticals also provides to Pfizer a portfolio of other promising development-stage therapeutic candidates in gastroenterology, dermatology.
Johnson & Johnson launched the health equity innovation challenge in September 2021 with the intention of helping to address racial healthcare disparities at the local level in Chicago, Detroit, Los Angeles, New Orleans, New York City, and Philadelphia. To find and expedite innovations with the potential to reduce those historical disparities, the company has launched the Johnson & Johnson Health Equity Innovation Challenge.
One of the most important goals of biopharmaceutical innovation is to contribute to lower mortality and premature death rates. The Manhattan Institute recently published a research study on the reasons why the average life expectancy and longevity vary from country to country. The effective contribution of new bio drugs demonstrates that the more we use new bio drugs, the more we gain longevity and provide welfare to the population. Furthermore, tailoring drug formulations to specific patients and cases leads to improved cures and reduce premature mortality, both of which are important public health goals. Since the biopharmaceutical field was further revolutionized and initiated—to develop and discover new bio drugs—we have observed that this contributes to an increase in average life expectancy6, indicating a significant impact.
Bio-pharma firms can create drugs from biological components of substances known as biologics, which include sugars, proteins, nucleic acids such as DNA and RNA, and complex combinations of components. Biologics, or their precursors or components, are isolated from living sources such as humans, animals, plants, fungi, or microbes. Because they are structurally identical, these drugs are frequently more effective and have fewer side effects.
The majority of biopharmaceuticals are derived from naturally occurring proteins. Biopharmaceuticals are also derived from recombinant proteins, which are special proteins that contain genes that scientists have manipulated. The changes cause the proteins to behave in a specific manner; because the changes are encoded in the genes, each subsequent generation of proteins carrying the modified genes will behave in the same manner.