The ambulatory surgical centers market accounted for USD 94.57 billion in 2022 and is predicted to increase to USD 167.1 billion by 2032 and is poised to grow at a compound annual growth rate (CAGR) of 5.66% from 2023 to 2032.

Unlock Infinite Advantages: Subscribe to Annual Membership
Ambulatory surgery centers (ASCs) are specialized medical facilities that offer outpatient surgical services. Outpatient refers to a patient who is not admitted to a hospital and can leave on the same day of their surgery. Before the advent of ambulatory surgery centers in the 1970s, nearly all surgical procedures were conducted in hospital settings. While hospitals can be relied on to provide quality treatment, patients seeking elective surgery face several challenges, including scheduling delays and restricted operating room availability. ASCs have been a popular alternative to inpatient hospital settings in recent decades due to their flexible scheduling options, calmer and more comfortable environments, and cheaper prices.
Factors Influencing the Ambulatory Surgical Center Industry
The shift from surgical procedures in hospitals to ambulatory settings is the factor influencing the growth of the ACS industry. Over the last decade, the number of surgical procedures performed in ambulatory surgery facilities has increased significantly. Given the factors like as shorter stays, innovative technologies, cost-effective surgical procedures, and lower infection risks, a large number of patients select these healthcare facilities for various surgeries.
Outpatient surgical volume in ambulatory surgical facilities, for instance, has increased over the last decade, according to data from the Medicare Payment Advisory Commission and VMG Health. ASCs performed nearly 60% of outpatient procedures in 2019, compared to 48% in 2010. Ambulatory surgery centers (ASCs) are redefining healthcare delivery as well as the medical device and equipment industry. ASCs can offer surgical treatments at rates 35% to 50% lower than hospitals by focusing on standard, lower-risk procedures in a more convenient location. This benefits the US healthcare system an estimated $40 billion per year while also influencing ASC growth. In 2018, 5,700 ASCs in the United States completed 23 million procedures and earned $35 billion in revenue.
Broad industry trends are driving the growth of ASCs, the first of which was established in 1970. A consistent increase in healthcare spending has put a strain on costs and margins across the industry, promoting a shift to outpatient treatment. Payers are assisting in the shift of procedures to ASCs by lowering provider reimbursements for hospitals and lowering patient copayments for outpatient procedures.
Increasing government investments toward developing new ambulatory settings are expected to drive industry growth.
Moreover, Due to weakened immunity and aging, the elderly population is more vulnerable to infectious and chronic diseases. Chronic diseases are a leading cause of disability and mortality in both developing and developed countries. This indicates a critical need for technologically advanced ambulatory surgical centers capable of providing superior patient care.
Restraining factors of the Ambulatory Surgical Center Industry
The high costs associated with advanced medical devices are a major factor hindering the growth of the ambulatory surgical center industry. The equipment required for complex surgical procedures is complex and expensive, with high costs for procurement, installation, and maintenance. Smaller healthcare facilities struggle to meet the growing demand for sophisticated technologies in neurosurgery, cardiovascular surgery, interventional cardiology, and orthopedic surgery. In the United States, a cutting-edge portable digital X-ray unit costs more than US$ 100,000 on average. Even basic medical equipment, such as an operating table, can cost more than US$ 50,000.
Over the last decade, a sizable portion of the patient population in the United States has indicated a preference for having surgical procedures performed at outpatient surgery centers. However, the market's expansion is expected to be hampered over the aforementioned term by several drawbacks associated with ASCs. Among these disadvantages are the lack of overnight accommodations, the possibility of difficulties and crises during some surgical procedures, and the lack of any contingency plans. If complications or issues arise during a surgical procedure, patients may be transferred from ambulatory surgical centers to hospitals in the surrounding area. As a result, some patients prefer to have their surgical procedures done in hospitals. According to a research report distributed by the National Center for Biotechnology Information (NCBI) in 2017, the rate of complications and adverse events as a result of orthopedic procedures performed at ASCs was between 0.05 percent and 20.0 percent.
The most common complications during surgical procedures include pain and nausea, poor recovery, and infection. The industry's growth may be hampered by these disadvantages.
Opportunity in the ACS Industry
One of the key drivers of industry growth is reimbursement. Favorable reimbursement policies are driving the Centers for Medicare & Medicaid Services (CMS) to expand the list of surgical procedures that are permitted in ASCs. Rising commercial payer initiatives to encourage physicians to perform various surgical procedures in these facilities are expected to fuel the industry in future payers. Furthermore, CMS is constantly reviewing the complications associated with surgical procedures, thereby improving patient safety when undergoing surgical procedures. For instance, according to Advisory Board CMS planned to review 38 procedures such as spine surgery, and lumbar, and cervical spinal fusions to determine if they are safely performed in ambulatory settings in September 2018.
Payers' intense focus on the safety of surgical procedures in these healthcare facilities will attract a larger patient pool throughout the United States. Thus, the favorable reimbursement scenario for procedures performed in ambulatory settings, combined with a greater emphasis on procedure safety, is expected to propel industry growth in the future.
COVID-19 & ACS Industry
The coronavirus pandemic had a significant impact on the industry of ambulatory surgical centers. COVID-19 ushered in significant operational changes in how services should be delivered. The demand for ambulatory surgical care increased at a faster rate as the incidence of covid-19 and other infectious diseases increased. The availability of these healthcare services is greatly impacted by increased demand. Given the increasing number of COVID-19 patients and the growing geriatric population, who are more susceptible to infection, it was advisable to prefer remote healthcare, which increased the demand for ambulatory surgical centers. The increasing number of patients suffering from chronic diseases, as well as the growing sedentary lifestyle and geriatric population, has increased the demand for ambulatory surgical centers. The supply chain was not spared as the world came to a halt for nearly six months due to the emergence of COVID-19. To stop the spread of the disease, governments around the world imposed a total lockdown. As a result of the border closures, the supply chain and third-party logistics came to a halt. Despite the high demand for ambulatory surgical care services, availability was hampered by supply chain disruptions, trade restrictions, and travel restrictions. The availability of raw materials was also impacted, limiting device production. Due to limited production, supply bottlenecks were anticipated. Notwithstanding, some industries overcame the obstacles and experienced rapid growth.
Segmental Outlook
The ambulatory surgical center is segmented based on the type of center, ownership, and application. Based on the type of center, the industry is further segmented into single-specialty and multispecialty. The single-specialty segment dominates the industry in 2022 and is anticipated to continue to show similar trends in the coming years. The growing incidence and prevalence of ophthalmic disorders, as well as the strong presence of single-specialty ambulatory surgical centers, account for the dominance of single-specialty settings. During the forecast period, the multi-specialty segment is expected to grow at a significant CAGR. The increasing number of surgical procedures in ophthalmology, gastroenterology, and pain management is expected to boost multi-specialty setting revenue in the coming years.
Based on ownership, the ACS industry is further segmented into physician-owned, hospital-owned, and corporate-owned. The physician-owned segment accounted for the largest share in 2022 and is expected to expand at a substantial CAGR during the forecast time. Physician-owned ambulatory settings are the most common, with doctors owning 100% of the stock. The segment's large share is also attributed to factors such as physicians' convenience in scheduling surgical procedures, which has led to an increased preference for this type of ownership in the United States.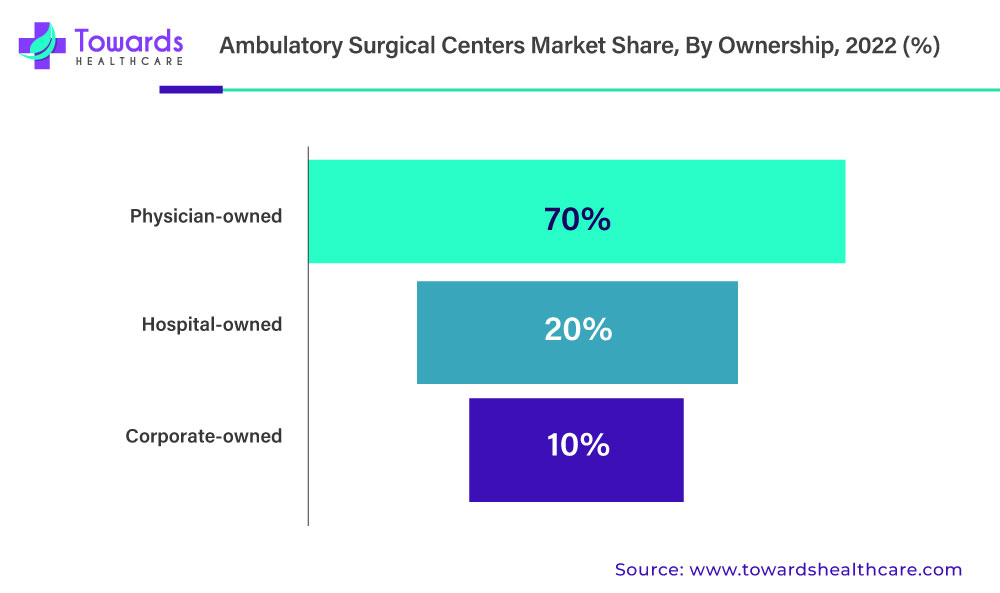 In 2022, the hospital-owned segment has the second-highest market share and is expected to grow at a significant CAGR during the forecast period. Increased employment of physician-owned practices by hospital-owned practices is expected to boost hospital-owned center revenue in the future. In the corporate-owned segment, I anticipated expanding at the highest CAGR during the forecast period. This segment's rapid growth can be attributed to the increasing focus of management companies and physicians on the formation of a common joint venture. As partnerships between corporate firms and physicians continue to emerge, the ownership model is expected to boost the revenue of corporate-owned centers in the coming years.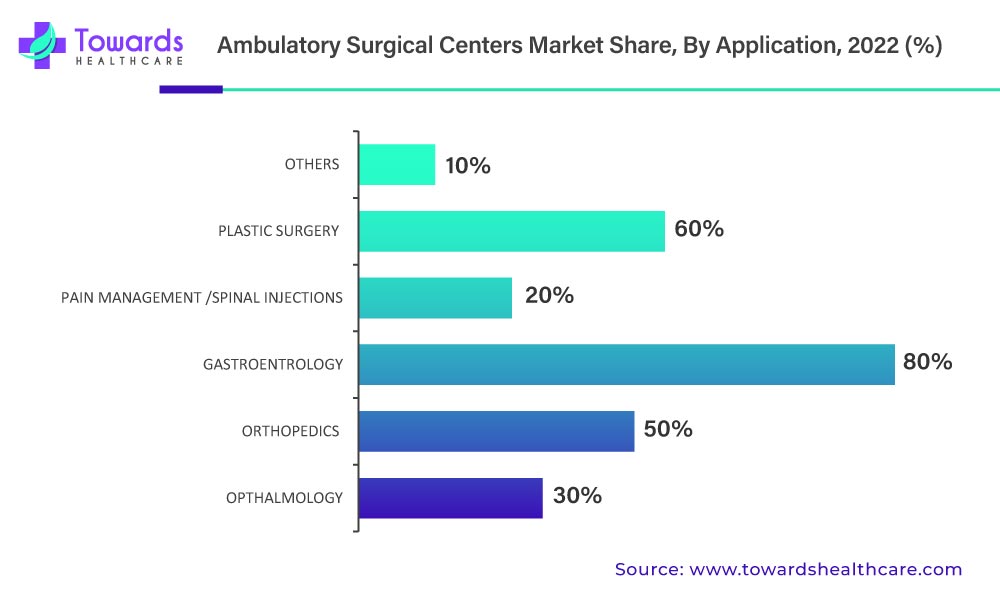 Based on application, the industry is further segmented into ophthalmology, orthopedics, gastroenterology, pain management/spinal injections, plastic surgery, and others. In 2022, the gastroenterology segment dominated the ambulatory surgical center industry, accounting for 35% of total revenue. Given its global reach, the gastroenterology segment accounted for the largest share of the global ambulatory surgical center industry. Plastic surgery, on the other hand, is expected to grow at the fastest rate in the coming years. Patients' preferences for nonsurgical and minimally invasive surgeries are expected to rise, assisting the plastic surgery segment to expand rapidly.
North America to Soar Ambulatory Surgical Center Industry
North America dominated the ambulatory surgical center market in 2022, with a revenue share of more than 48%. Increased government support for primary care services and expanded outpatient coverage are major factors driving the growth of the ambulatory surgical center market in North America.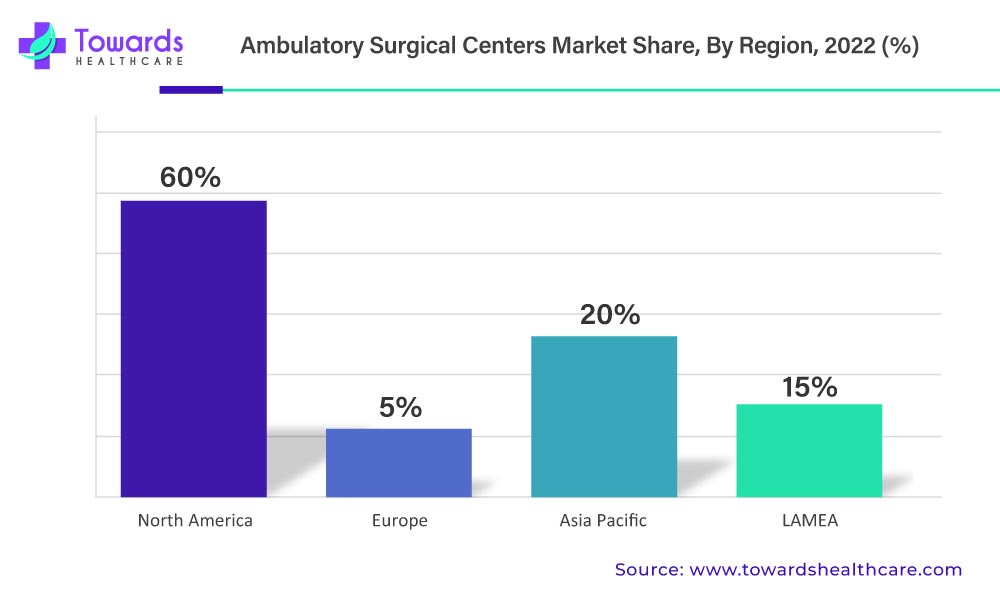 In contrast, Asia-Pacific is expected to grow at the fastest rate during the forecast period. Outpatient facility expansion has resulted from rising healthcare expenditures due to an increase in the prevalence of chronic diseases, an aging population, high healthcare expenditures, and rising hospitalization rates. All of the aforementioned factors are propelling the region's ambulatory surgical center industry forward.
Competitive Landscape
The rise of the healthcare sector is fueling demand in the ambulatory surgical center industry, which is exacerbated by an increase in research on service portfolios in mobile operative systems. The healthcare industry's major players are investing in research and development to build mobile surgery centers. Businesses primarily increase revenue through acquisitions, mergers, collaborations, and product portfolio enhancement through extensive research and development. To gain a significant market position and maintain industry rivalry in the ambulatory surgical center industry, the major market players are employing a variety of inorganic and organic growth strategies.
Key Developments
GE Healthcare released Edison Datalogue. n 2019, MEDITECH and Google collaborated to make electronic health record data available on the Google Cloud Platform. This improved patient data security as well as scalability and interoperability.
Epic Systems and Teledoc Health collaborated in 2019 to integrate Teledoc's virtual care platform with Epic's App Orchard, enabling the company to conduct telehealth video visits.
Terveystalo purchased Attendo's Finnish healthcare services in December 2018, with the combined operations set to begin in January 2019. This acquisition has helped the company establish a stronger foothold in the Finnish market.
In May 2018, AMSURG announced the acquisition of Horizon Eye & LASIK Center to add ophthalmology to its network of ambulatory surgery centers for improved patient care.
In June 2016, AmSurg Corporation announced a merger with Envision Healthcare Holdings Inc., a company that provides healthcare services with tremendous opportunities, fair treatment, and innovations that benefit patients.