The insulin pump market is projected to be valued at US$ 15.28 bn by the end of 2032 at a CAGR of 9.65% over the forecast period. The market is expected to gain traction owing to industry players' focus on the launch of technologically advanced CGM and insulin pumps.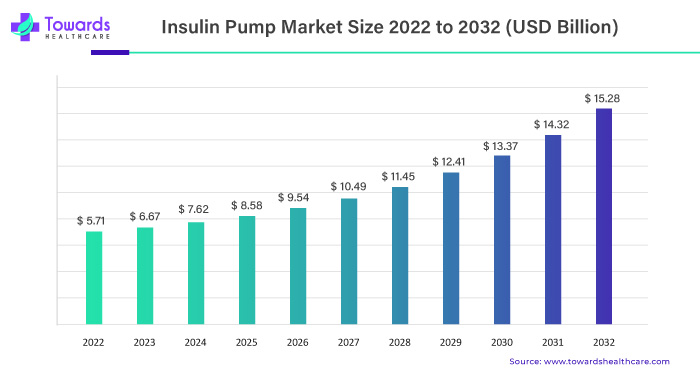 Unlock Infinite Advantages: Subscribe to Annual Membership
Insulin pumps can make it easier for diabetics to conveniently control their blood sugar levels.
An insulin pump delivers consistent insulin doses all day long to the body. This pump is handy and easy to use, and it is worn externally on a belt, in a pocket, or a pouch. A tiny plastic tube and a needle with a very small diameter connect to the insulin pump. The plastic tube containing the needle is inserted under your skin, then the needle is removed. The plastic tube will remain implanted and connected to the insulin pump for several days. The device can be set to give you insulin depending on your needs and continuously pumps insulin into your body through the tube. At mealtimes, you can administer insulin dosages to yourself using the pump.
In the USA, diabetes mellitus affects an estimated 1 in 10 persons, and both the incidence and obesity rates are on the rise. Diabetes patients are more likely to experience consequences like hospitalizations and hypo-or hyperglycemia, metabolic co-morbidities, or, as we've lately observed, more severe sickness from viruses like SARS-CoV-2. Glycemic targets recommended by the American Diabetes Association during hospitalization aid in enhancing clinical outcomes and minimizing complications. Therefore, it is crucial for the health of individuals with diabetes to maintain euglycemia in both the outpatient and the inpatient setting.
According to the IDF (International Diabetes Foundation), Atlas, 6.7 million people will die from diabetes worldwide in 2021, and by 2045, the disease will affect 51% more individuals.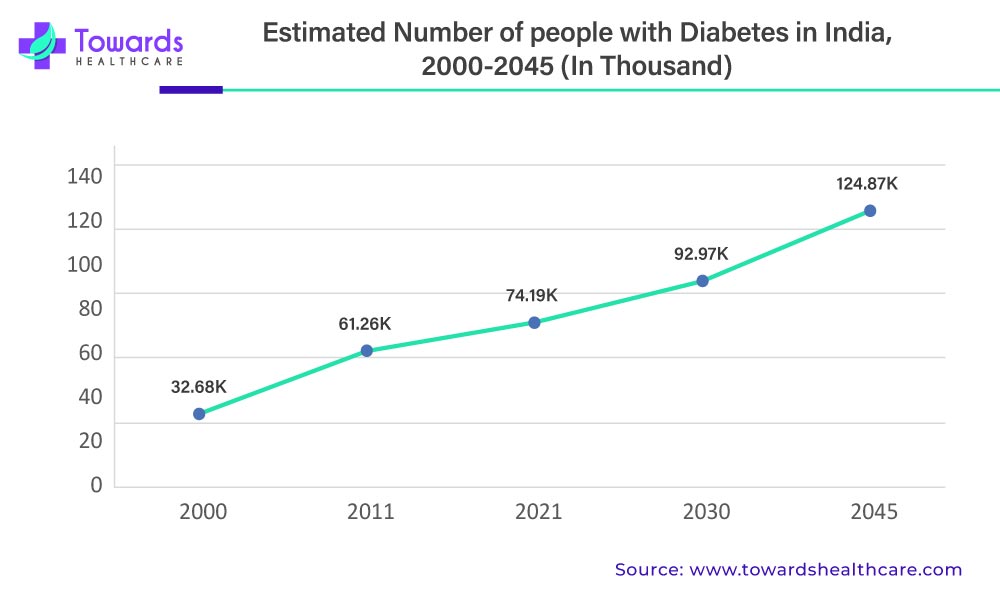 In the last ten years, the global Insulin pump market share has advanced significantly and will anticipate that trend to continue exponentially. Even though the number of individuals with diabetes is still growing, the global insulin market has already seen spectacular development.
An insulin pump might be a pleasant reprieve for diabetics who are sick of taking needles. Insulin is necessary for everyone with type 1 diabetes and many people with type 2 diabetes to manage their disease. Using an insulin pump or injecting with a syringe or pen are the two major ways to administer insulin. Insulin pens or several daily injections with syringes are unnecessary with insulin pumps. However, it can be difficult to fully comprehend how insulin pumps operate. As a result, we will go through the many types of insulin pumps as well as each component portion in this post. The insulin pump is a somewhat compact electronic gadget (around the size of a Samsung galaxy s5) that may be simply fastened to a belt or other items of clothing and it is connected to your body by way of an infusion set, which is essentially a skinny tube through which your insulin is administered.
Impact of Covid on the Insulin Pump Market
A recently identified viral condition called COVID-19, which is brought on by the SARS-CoV-2 virus, has been observed to damage not only the respiratory system but also the heart, kidney, digestive system, blood, and brain system. Patients with diabetes are more susceptible to infectious agents due to their weakened immune systems and inability to protect themselves from harmful germs. Furthermore, people with diabetes often have poor glycaemic control, which increases their risk of contracting a virus. Most diabetic individuals are reported to be obese, and obesity itself increases the chance of COVID-19 infection because of decreased metabolism and immune system weakness. Angiotensin-converting enzyme inhibitors are used to treat diabetes, and it has been found that coronavirus binds to target cells via this enzyme, which is expressed in the blood vessels and lungs. Diabetes individuals have higher levels of the ACE2 enzyme, which raises their risk of developing COVID-19.
The prevalence of diabetes boosts the demand
One of the drivers of the market's expansion is the rise in diabetes cases brought on by age, obesity, and bad lifestyle choices. Diabetes is mostly brought on by obesity, which also contributes to the rise of ocular problems linked to diabetes. Around 22.9 million people worldwide were estimated to have diabetes in 2017, compared to 476.0 million for the prevalence, 1.37 million deaths from the disease, and 1.37 million disability-adjusted life years (DALYs) linked to diabetes. According to the WHO, 650 million persons were classified as obese in 2017 out of approximately 1.9 billion who were overweight. Obesity and being overweight are risk factors for type II diabetes, which is becoming more common. For instance, according to Diabetes Canada, one in three Canadians had diabetes or prediabetes in 2019. Less than half of Canadians can identify half of the early diabetes warning signs. Additionally, just 33% of Canadians are aware that diabetes can cause strokes as a side effect. 14.5% of the population in Japan had diabetes in 2019 (defined as having an A1C of 6.5 percent or higher or receiving treatment for the ailment), with 55.6% of those individuals taking medication, according to the Japanese Ministry of Health, Labor, and Welfare (including insulin injections). In 2019, there were 12.7% more persons with diabetes.
Major competitors in the global market for insulin pumps are employing a variety of strategies to compete successfully. To deliver technology-driven products, they are increasing their investments in research and development operations. Additionally, partnerships, mergers, acquisitions, and the adoption of cutting-edge technology are some other tactics used by the major players in the global insulin pump market.
Technological Development & Product approval featuring market in coming years
The advancement of technology in medical devices used to treat diabetes, such as continuous glucose monitoring (CGM) and insulin pumps has increased and the competition to produce the most advanced products will increase demand for CGM and insulin pumps, creating possibilities for market competitors shortly. For instance, in January 2019, a research team at KTH Royal Institute of Technology in Stockholm, Sweden, developed and launched a glucose monitoring device that is 50 times smaller than the needles used in current continuous glucose monitoring (CGM) systems. The new microneedle patch is designed to test glucose directly in the skin, which is nearly painless because there are no pain-detecting nerve receptors there.
Due to the increasing use of diabetes pumps in emerging and developing countries, market participants must focus on the R&D of technologically improved goods and the introduction of new products.
The transmitters segment is estimated to be valued at US$ more than 180.25 Mn in 2022 and is expected to reach more than US$ 1,117.38 Mn by 2030 at a CAGR of 21.7%. Transmitters are an integral part of continuous glucose monitoring devices. A transmitter works along with a receiver to collect readings from the sensor and displays the results on a continuous glucose monitor. The transmitter receives a tiny electric current from the sensor and sends out a short-range radio signal. It is flat, small, and compact as well as waterproof. A transmitter has a battery, which is either permanent or can be replaced periodically. The signal from the transmitter is received by a battery-powered handheld receiver that displays glucose monitoring results.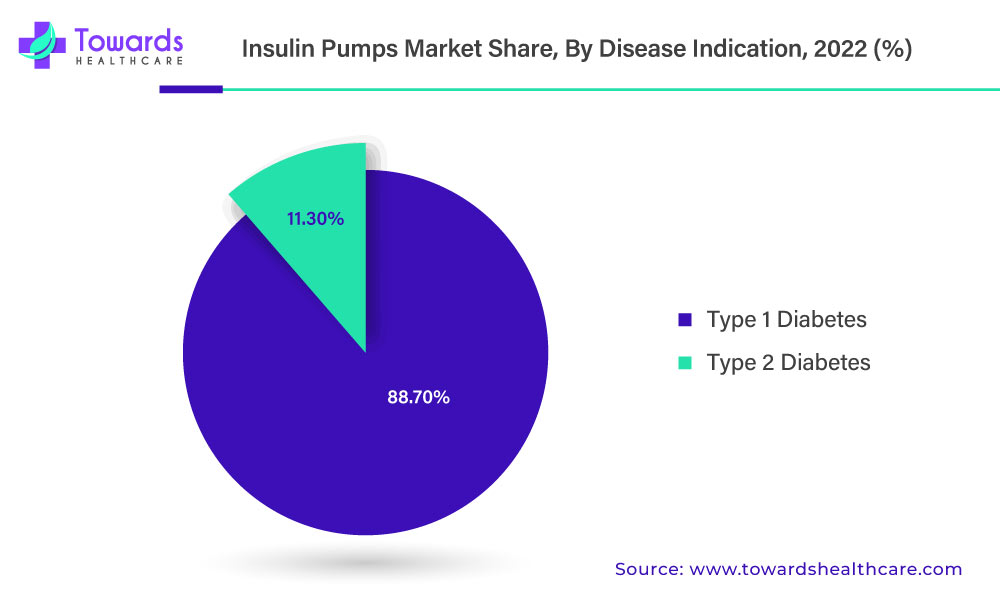 The type 1 diabetes segment is estimated to be valued at US$ 136.41 Mn in 2022 and is expected to reach US$ 539.56 Mn by 2030, growing at a CAGR of 18.8% during the forecast period. Type 1 diabetes is caused by an autoimmune reaction, in which the body's defined system attacks the insulin-producing beta cells in the pancreas. As a result, the body can no longer produce the insulin it needs and most patients with type 1 diabetes use insulin injections daily and adjust insulin administration based on pre-prandial and postprandial self-monitored blood glucose (SMBG) values. The type 2 diabetes segment is estimated to be valued at US$ 1,073.97 Mn in 2022 and is expected to reach US$ 5,267.31 Mn by 2030, growing at a CAGR of 22.0%.
North America carries the largest revenue
Due to the presence of significant players in the insulin pump industry, North America dominated the market and held the greatest revenue share of around 46.7% in 2022. Additionally, it is anticipated that the market in the region would be driven by the rising incidence of obesity, high treatment costs, technological advancements, and new releases. Due to a rise in the number of elderly people, who are more susceptible to diabetes, Europe is also anticipated to gain a sizable market share throughout the projection period. Additionally, the region's increased demand for insulin pumps is being fuelled by advancements in its healthcare system and the use of cutting-edge medical items.
Competitive Landscape:
The global insulin pump market is consolidated with a few major market players operating worldwide. The key players of the insulin pump market - Tandem Diabetes Care, Inc., Medtronic plc, Insulet Corporation, and Roche Holding AG - are also profiled with their financial information and respective business strategies.