The global blood pressure monitoring devices market size was to be worth USD 1.47 billion in 2022 and is likely to be USD 3.35 billion by 2032, growing at a CAGR of 9.1% between 2023 and 2032.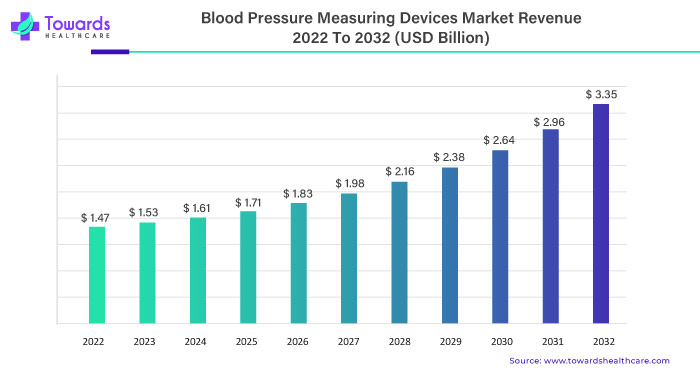 Unlock Infinite Advantages: Subscribe to Annual Membership
According to the stats published by World Health Organization (WHO), approximately 1.28 million adults (between 30 and 79 years of age) have hypertension. Of these, as little as 42% of adults are diagnosed and treated correctly and the remaining population is unaware of this condition. The majority of this population resides in low to middle-income countries of the world. Despite this substantial number of untreated cases, the rising awareness among doctors and the general population regarding health illnesses associated with hypertension is expected to drive the demand for the required devices.

COVID-19 and blood pressure monitoring devices market
In fiscal 2019, there was still a high demand for blood pressure monitors in China, Europe, and Asia. Demand in North America decreased as a result of trade tensions between the US and China, while demand in Japan declined as a result of a hike in the consumption tax and other causes. The fourth quarter was impacted by COVID-19 all around the world.
Due to the increased need for health management to mitigate the consequences of COVID-19, there was a spike in the demand for blood pressure monitors and thermometers on a global scale in 2020. Additionally, because of the restrictions on non-essential movement away from the house, online channel sales increased significantly.
The COVID-19 epidemic brought about new difficulties, hastening the introduction of telemedicine throughout the world. On the other hand, patients with chronic conditions like diabetes, hypertension, or other illnesses must routinely visit hospitals or clinics and receive continuing care. But by doing so, these patients run the chance of contracting COVID-19, which would probably prevent them from going to their scheduled therapy appointments.
OMRON is developing a remote patient monitoring service that will let patients use our blood pressure monitor, ECG monitor, and/or body composition monitor with a scale to take their vital signs at home and instantly share the data with their doctors and nurses. This enables patients to receive appropriate medical advice from their doctors without leaving their homes or going to a hospital The organization is concentrating on putting forth cutting-edge telemedicine strategies that can be modified for the impending "new normal."
| | | |
| --- | --- | --- |
| Strategy | 2019 | 2020 |
| Product development/ launch | 5 | 7 |
| Merger/ acquisition/ expansion | 2 | 2 |
| Partnership/ agreement/ collaboration | 2 | 4 |
Remote Patient Monitoring (RPM)
In August 2020, OMRON installed VitalSightTM, a remote patient monitoring system for high blood pressure, at Mount Sinai Hospital in New York, one of the best and most prestigious medical facilities in North America. Utilizing a specialized communications hub or the "OMRON connect" health management app, patients with hypertension can use the telemedicine program VitalSightTM to send their daily blood pressure analyses and body composition information measured at home directly to the hospital's EMR system. This makes it possible for patients' doctors and nurses to communicate with one another regarding the patient.
By using this RPM approach, medical professionals can keep track of their patients' everyday circumstances and choose a therapy that will be more effective for each patient. Patients are thus able to regularly communicate with their doctors about their health, which motivates them to take an active role in their care. This encourages medical compliance and uniformity of care. OMRON has been expanding its data service business in the United States in response to the introduction of telemedicine reimbursement under Medicare, the government health insurance program for American citizens, or 5-year legal residents who are 65 or older. The company plans to keep offering cutting-edge RPM-based hypertension treatment options in North America, where about one in two people suffer from high blood pressure.
Online hypertension consultation support service
In Japan, online consultation is viewed as a complement to in-person consulting. Only 12 million of the 43 million hypertensive patients are currently receiving treatment that effectively lowers their blood pressure, while the other 29% are taking medication but not getting enough blood pressure control (12.5 million). While 11% (4.5 million) of those who have hypertension do not seek treatment even when they are aware of their condition, 33% (14 million) are unaware they even have it. According to those who are aware that they have hypertension but are not receiving medicine or having their blood pressure controlled adequately, hospital appointments are difficult for elderly people, while those in their prime lack the time to see a clinic. These are a few of the reasons that have caused them to stop taking their medicine for hypertension.
To address these issues, OMRON established "telemedEASE BPTM," an online hypertension consultation support service, in May 2019 in partnership with an incorporated association called telemedEASE. This system offers a one-stop-shop for online hypertension management, enabling patients to manage their condition from the convenience of their home or office, including monitoring their blood pressure, making appointments with doctors, receiving diagnoses and prescriptions, receiving medication, and even paying medical bills. The rapid expansion of COVID-19 has contributed to the widespread acceptance of telemedicine consultations in Japan, raising hopes for regulatory relief.
Rising aging population
Due to longer life expectancies and falling fertility rates, the world population's age distribution has been changing dramatically over a lengthy period. The percentage and number of elderly people in the population are gradually rising as a result of individuals living longer lives. There will be 727 million persons on the earth who are 65 or older in 2020.
In the next 30 years, the number of senior people is predicted to more than double, crossing 1.5 billion in 2050. Every region will witness growth in the senior population between 2020 and 2050. Worldwide, the percentage of people 65 and older is likely to rise from 9.3% in 2020 to about 16% in 2050.
It was once believed that a rise in blood pressure was an inevitable consequence of aging. However, it is now well acknowledged that the causes of changes in blood pressure with age are complex and multifaceted and that becoming older may only increase the likelihood that environmental or lifestyle factors will have an impact.
Increasing adoption of patient monitoring solutions
Over 26 million people are affected by heart failure (HF), which continues to be one of the main causes of morbidity and mortality worldwide. This population is expected to increase by 50% by 2030, which will place further pressure on the global healthcare system and highlight the need for innovation in HF care.
The goal of remote patient monitoring (RPM) is to close any gaps in present heart failure treatment. Numerous techniques can be used to increase RPM. One tactic is to use an implantable biometric sensor to track the presence of HF. Examples include intracardiac pressure measurements using hemodynamic sensors (such as CardioMEMS) or intrathoracic impedance measurements using cardiac implantable electronic devices (CIEDs). Other applications include wearable biosensors, scales, and blood pressure cuffs as biometric sensors.
The number of HF admissions has significantly decreased as a result of the use of invasive biosensors in RPM techniques. The benefits of invasive RPM must be weighed against the risks and expenses of implanting an intrusive device, though. These factors were emphasized in a consensus statement on invasive biometric sensing that the Heart Failure Society of America (HFSA) released in 2017. It was noted that although "further research into the efficacy of these devices in everyday care is required," they "may be effective in particular individuals or when utilized in structured programs."
On the other hand, non-invasive biometric sensors used in RPM approaches are generally safer and less expensive than invasive technologies. They can therefore be utilized to treat a greater proportion of the HF population. On the other hand, there is conflicting evidence on their clinical value. The 2017 HFSA consensus statement on noninvasive biometric sensing RPM techniques noted the dearth of supporting data and stated that additional study was required to fully assess the implications.
RPM is a field that is continuously developing today and is being used in cardiology procedures. RPM techniques, particularly those that rely on noninvasive biometric sensing, might all benefit from improvements in data collection, monitoring, analysis, and clinical practices. Additionally, the regulatory environment, which includes rewards for RPM projects and sanctions for HF readmissions, supports such improvements. A greater desire to handle patients outside of the conventional office environment has arisen as a result of COVID-19's impact on practice patterns.
Lack of awareness regarding hypertension treatment in developing countries
High blood pressure is most prevalent in low-income nations. Over 30% of individuals in many African nations are thought to have high blood pressure, and this percentage is on the rise. Additionally, this area has much higher blood pressure averages than the rest of the world.
People with high blood pressure are frequently ignorant of their illness and lack access to medications that could help them control their blood pressure and reduce their risk of death and disability from heart disease and stroke. This is especially true in developing countries. Detection, treatment, and management of hypertension are serious global public health issues.
Integration of AI & ML with RPM
Only cigarette smoking is a more preventable cause of death than hypertension, which causes more cardiovascular mortality than any other modifiable risk factor. Hypertension is the leading global cause of mortality and disability-adjusted life years. Despite the availability of numerous drugs, there are significant gaps in the awareness of hypertension, the uptake of antihypertensive therapy, and the effectiveness of blood pressure control. Recent publications and treatment recommendations on precision medicine for high BP have been published, highlighting challenges with disease architecture, problems with management, and the requirement for change.
Despite the significant biologic variance, accurate blood pressure monitoring is necessary for the challenge in clinical practice diagnosis and management of hypertension. The accuracy of this reading is improved by the use of standardized procedures and proper observer training, although it is frequently inconsistent, affected by a range of factors, and prone to error. The method of therapy hasn't altered much over the past 50 years, and personalization of care hasn't gone beyond considering a patient's African heritage and serum renin levels. Significant physiological, molecular, and genetic research advancements are also not being incorporated into routines for screening, diagnosis, and care.
Over 50% of patients require several clinic visits spaced at different intervals to try dose switching, titration, or modifying medications till an adequate result is obtained, side effects subside, or further progress is not required. More and more responsibility for managing hypertension must be transferred to the patient or AI-powered intelligent systems due to the high prevalence of hypertension relative to the number of primary care or specialized doctors. However, several obstacles prevent the use of AI to completely transform the treatment of hypertension.
The study of AI is currently in its infancy, with two hypothetical levels—artificial broad intelligence and artificial superintelligence—and an initial level known as artificial narrow intelligence. Artificial narrow intelligence, which has applications in text, audio, and image-based categorization and grouping, is a representation of pattern recognition in a precisely specified single job utilizing medium to big data sets. The ability to reason, argue, recall information, and solve problems in the same way as humans do constitutes the second stage of artificial general intelligence. The third and greatest level, artificial superintelligence, is a hypothetical concept that denotes cognitive ability superior to that of mankind as a whole.
Machine learning has been used to study the diagnosis of hypertension, prediction of systolic BP from retinal fundal pictures, prediction of hypertension from clinical data in EHRs, and prediction of absolute risk reduction in cardiovascular events from data from clinical trials. These papers comprise a more limited subset of ML studies on cardiovascular illnesses in general and provide details on particular studies, performance metrics looked at, and the data set on which ML was applied.
Over the past few years, there has been significant innovation in the BP monitoring devices field and patents have been applied and granted.
Global blood pressure monitoring devices market competitiveness based on the type
Digital blood pressure monitors accounted for the largest share of the global blood pressure monitoring devices market in 2022. This trend is expected to continue throughout the forecast period. Chronic illness management is a crucial market for RPM technologies, which currently account for the majority of healthcare spending, as the world's population ages and life expectancy rises in the face of shrinking money and resources. Given the increased interest from tech companies in the healthcare sector as well as interest in the reimbursement of remote patient monitoring systems, RPM is expected to result in significant change.
Because they enable doctors to monitor patients without having to physically interact with them, connected health and RPM are more important than ever during the COVID-19 pandemic. This helps to stop the transmission of the novel coronavirus. By preventing those with less critical illnesses from entering hospitals, they assist make room for those with more significant illnesses. Hospitals around the nation are utilizing connected health and RPM to great effect during the pandemic.
Due to the COVID-19 pandemic's rapid spread over the past year, sales of glucose meters, oxygen meters, and blood pressure monitors have grown dramatically. The prolonged lockdown and patients' overall unwillingness to visit hospitals are anticipated to fuel the segment's growth.
Despite the above, ambulatory blood pressure monitors are expected to witness the highest growth in sales during the forecast period. A relatively recent development in blood pressure measurement technology is ambulatory blood pressure monitoring (ABPM). With ABPM, a doctor can take your blood pressure while you're out and about, as opposed to forcing you to squirm on the doctor's examination table.
The ABPM is particularly helpful in establishing whether a person has hypertension when blood pressure readings taken in a doctor's office are highly variable or otherwise perplexing. People with "white coat hypertension," which is brought on by anxiety before a doctor's appointment, have been evaluated with ABPM. With ABPM, blood pressure is monitored continuously for a lengthy period, typically 24 hours.
A case might be made that ABPM should be the standard for diagnosing and treating hypertension because it can be challenging to obtain accurate resting blood pressure measures in the doctor's office. In a draught statement released in December 2014, the US Preventive Services Task Force (USPSTF) suggested using ABPM as the "reference standard" for confirming a diagnosis of hypertension in a doctor's office. In other words, the USPSTF advises using ABPM a lot more often than it is already.
Some of the factors propelling the global ABPM devices market include the rise in demand for non-invasive blood pressure measuring techniques and the transition from a physician-centered to a patient-centered approach. The expensive cost of ABPM equipment and a lack of knowledge about ambulatory blood pressure in developing nations are predicted to hinder the worldwide market.
Compared to the office and self-measured BP monitoring, ABPM is more cost-effective equipment with better health outcomes. Self-measured blood pressure monitoring exhibited comparable healthcare expenditures and interventions as office BP monitoring. As a result, ABPM is the most economical method for diagnosing hypertension across all sexes and age groups.
Global blood pressure monitoring devices market competitiveness based on end-use
Hospitals and clinics accounted for the largest consumption of blood pressure monitoring devices in 2022 and the trend will continue throughout the projected period. Entities that offer inpatient and outpatient care services, as well as related goods, make up clinics and hospitals (organizations, sole traders, and partnerships). In hospitals and clinics, blood pressure monitors are used as the part he patient monitoring services. The American Heart Association (AHA) describes remote patient monitoring (RPM) as a subclass of telemedicine that permits rapid patient-generated information transfer from patients to medical teams and back to the patients. The RPM system is made up of portable devices for monitoring vital signs like blood pressure, heart rate, temperature, blood glucose, cardiac rhythm, respiratory, and so forth in remote or home-care settings. It also includes a system for securely transmitting pertinent data to the care provider for evaluation and recommendations.
To keep track of patient data such as prescriptions, diagnostic, and analytical test results, as well as medical reports, many hospitals utilize an electronic patient data management system (PDMS). Hospitals with cutting-edge technology can also be found with modern PDMS, which helps to collect data in real-time from heart monitors, pulse oximetry, blood pressure, and other devices. This helps physicians fully optimize patient care, which saves a lot of time and prevents readmissions. The idea of an "ICU without walls," in which a patient is admitted to a hospital close to their family and is given physiological comfort by treating patients as though they are in ICU through remote monitoring, is one that many modern hospitals seek to implement.
As seen above, the home healthcare market segment is expected to witness the fastest growth. Over the forecast period, the demand for home healthcare services is anticipated to be driven by the growing trend of nuclear families and the aging population around the world. In addition, rising healthcare costs, particularly for chronic illnesses, are a significant factor in the market's expansion. The need for nursing care at the end of life is anticipated to be driven by elderly people's preference for the convenience of home.
The COVID-19 pandemic's effects on the world market for home healthcare have been conflicting. Devices and services, the two market segments, have had various effects. The sales of some home healthcare equipment, including blood pressure monitors, pulse oximeters, blood glucose monitors, and temperature monitors, have benefited from COVID-19. Due to increased awareness of the potential dangers in case of infection, people all around the world are buying more of these products. The home medical device sector has seen increased sales as a result of the epidemic.
Global blood pressure monitoring devices market competitiveness based on regional demand
North America, Europe, and Asia Pacific together accounted for over 85% of the market demand for blood pressure monitoring devices in 2022. Not much change is anticipated in the position of the leading regions within this market, however, Latin America, and Middle East & Africa are anticipated to witness the fastest growth during the projected period.
An increase in the elderly population in Latin America and a rising preference for home and distance health monitoring are driving the demand for portable medical devices. AccuHealth, the first telehealth monitoring company in Latin America, has started a project in Chile to monitor and stabilize patients with chronic diseases using predictive information technologies. An easy and secure telemedicine system that helps provide real-time critical information and enables improved health management was also introduced by the company for the treatment of obesity.
The coronavirus epidemics in Brazil and Mexico will raise the demand for remote monitoring equipment. Brazil reported 584,562 coronavirus cases as of June 2020, and 32,568 people died as a result of the illness, according to Worldometers. There is a strong need for remote patient monitoring devices that track patients' vital signs due to the frequency of infectious diseases. Therefore, this connected care technology is crucial for treatment and care during a pandemic like COVID-19.
With the aging of the local population, chronic disorders like diabetes and hypertension are becoming more widespread. Growth will also be boosted by an increase in the prevalence of viral diseases like COVID-19. African countries with the most coronavirus cases as of June 2020 were South Africa (35,812), Egypt (27,536), Nigeria (10,819), Algeria (9,626), and Ghana (35,812). (8,297).
In a similar vein, Saudi Arabia has 579 COVID-19-related fatalities and 91,182 COVID-19 cases. The high prevalence of infectious diseases has increased demand for remote patient monitoring technologies, which are now widely acknowledged as crucial tools for enhancing the quality of care for managing chronic diseases. The physical activity of elderly patients can be tracked and measured using remote patient monitoring devices by healthcare professionals and caregivers. In the coming years, it is anticipated that each of these elements will support market expansion in the area.
Global blood pressure monitoring devices market: Consumer perspective analysis
Recognizing the potential of telemedicine, hospitals, clinics, solo practitioners, and healthcare start-ups are rapidly changing their business models to provide value-based healthcare services. On the other hand, the preferences and behavior of consumers of healthcare are always shifting. A new wave of consumerism is fuelling the trend in healthcare toward remote patient monitoring. Key players and trends are being noticed in the remote patient monitoring sector.
Consumers in the healthcare sector are putting more and more emphasis on using digital technology to monitor and enhance their health and well-being and to have access to more practical treatment alternatives.
Consumers use technologies to access their medical records, track their health, learn about costs and health issues, and make decisions based on that information.
Consumers are using virtual consultations more frequently than ever. Virtual visits grew from 15% to 19% from 2019 to 2020 as a result of the COVID-19 epidemic.
Patients are taking a more active role in making healthcare decisions. To evaluate vital signs and concentrate on managing their health and fitness, consumers are turning to remote patient monitoring tools like pulse oximeters, blood glucose monitors, and smart wearable technology.
Companies such as Apple and Fitbit, for instance, have embraced the newest wave of consumerism by transforming everyday electronics into tools for remote tracking.
Global blood pressure monitoring devices market: Competitive landscape
OMRON held a 39.4% market share in the market for blood pressure monitoring devices globally in 2020. Aside from OMRON, the fragmentation of the worldwide market is a result of the existence of several market participants. Some of the other major participants in the market include A&D, Spacelab Healthcare (OSI), and Welch Allyn (Hill-Rom) among others.