Any same-day medical operation performed in an outpatient environment is considered Ambulatory Care. This term refers to any medical care that is not provided in a hospital or institution where admission is required.
Ambulatory service centers (ASC) are also known as outpatient care facilities. These are outpatient medical care institutions that offer consultation, diagnostic, treatment, and intervention services. Ophthalmology, orthopedics, gastroenterology, plastic surgery, pain management, obstetrics, and many other disciplines are available at ASC.
In 2016, roughly 35 million ambulatory surgical visits and 20 million surgical operations were conducted in hospital outpatient departments (HOPDs), including 15 million surgeries performed in ambulatory surgery facilities, according to the Centers for Medicare and Medicaid Services (ASCs). In addition, Medicare payments to ASCs climbed 24% from $2.9 billion in 2007 to $3.6 billion in 2012.
The global ambulatory EHR market size was estimated at USD 5.8 billion in 2021 and is expected to surpass around USD 9.6 billion by the end of 2030 with a registered CAGR of 5.76% over the forecast period 2022 to 2030. Hence, the increase in demand for digital ambulatory services mainly post-COVID is anticipated to fuel the expansion of the ambulatory healthcare services market. The North American market accounted for 38% revenue share in 2022.
We May Further Break Ambulatory Care Into Four Smaller Sub-Categories:
Wellness - This is usually what comes to mind when you think about going to the doctor. The majority of ambulatory wellness services are used for preventive and basic medical treatment. They include doctor's clinics, such as general care, as well as mental health and weight reduction counseling centers.
Diagnosis - Diagnostic services can be offered independently or as part of a health or treatment plan. X-rays, lab and blood testing, MRIs, and screening for numerous cancers are among them.
Treatment - Same-day surgical centers, drug misuse clinics, chemotherapy, and other sorts of therapy are among them.
Rehabilitation - Rehabilitation includes post-operative treatments, occupational and physical therapy, and drug and alcohol rehabilitation.
Factors Fueling the Market Growth
The increasing elderly population and rising incidence of chronic diseases, increased demand for less invasive operations, and technological developments are the primary factors driving the growth of the ambulatory healthcare service market.
Chronic illness prevalence is rising globally, owing to an aging population and the increased lifetime of patients with chronic disorders. Along with a growth in the number of patients suffering from particular diseases, the prevalence of multi-morbidity, or the presence of various diseases in the same person, is increasing. Sedentary lifestyles are increasing obesity rates and the prevalence of numerous ailments. Chronic illness prevalence is anticipated to climb by 57% by 2020, according to the World Health Organization (WHO).
Hurdles Faced During the Market Expansion
Creating A Secure Communication Route
Due to the increased use of automated EHR technology and the trend toward healthcare unification and medical information interchange, the landscape of medical security and privacy has grown. Increased electronic exchange of patient records boosts accessibility and efficacy while raising data liability and risk due to its broad reach. The widespread sharing of patient data increases the chance of security breaches by introducing security and privacy risks.
Approximately one-third of data theft in the health business culminates in clinical identity fraud, which is mostly caused by a lack of control environment surrounding health information, out-of-date rules and processes, or a failure to follow those that currently exist.
Open Doors For The Ambulatory Care Service Markets
The Advancement of the Cloud System has Created New Commercial Opportunities
Due to the development of the software platform, healthcare firms all around the world now have new company skills and prospects. Cloud-based solutions are increasingly preferred by providers and consumers over on-premise systems. Some advantages of cloud-based solutions for medical organizations include improved patient information exchange, lower start-up costs, on-demand resource availability, simple installation and scalability, and quick installation.
Complex Systems Can Be Implemented In Simple, Useable Ways
The extensive usage of cloud technology in the healthcare sector gives organizations the much-needed freedom to expand abroad. The ability of networks to handle more complex data is allowing for the growth of interconnections. Large amounts of data will be maintained in the cloud, simplifying mobile user architecture and allowing for the deployment of sophisticated technologies in a user-friendly way. These advantages are expected to provide significant development potential for portable EHR systems in the future years.
What Is The Ill Effect Of COVID-19 On Ambulatory Healthcare Services?
Ambulatory care in the United States was affected shortly after the COVID-19 outbreak began. Clinics closed early in the pandemic due to concerns about SARS-CoV-2 transmission and because the US authorities advised postponing needless and non-emergency care. Reduction in ambulatory visits followed immediately. Due to the decrease in visits, health systems and practitioners were able to focus on infection control and surge capacity. Early pandemic delays or interruptions in receiving evidence-based preventive and behavioral health interventions, on the other hand, may result in the development of more advanced or lethal disease conditions.
Does There Exist A Difference Between Hospitals And Ambulatory Care?
Due to the increasing need for ambulatory healthcare services, several hospitals have established outpatient facilities to meet the public's healthcare demands. A hospital-owned outpatient center may be located within the hospital or elsewhere.
Patients on Medicare save costs when they seek ambulatory care from ASCs. Ambulatory healthcare, when provided under the authority of a hospital, is subject to the institution's policies, including fees and price structures. This usually results in greater patient expenditures than when the same ambulatory healthcare service is delivered at a separate ASC.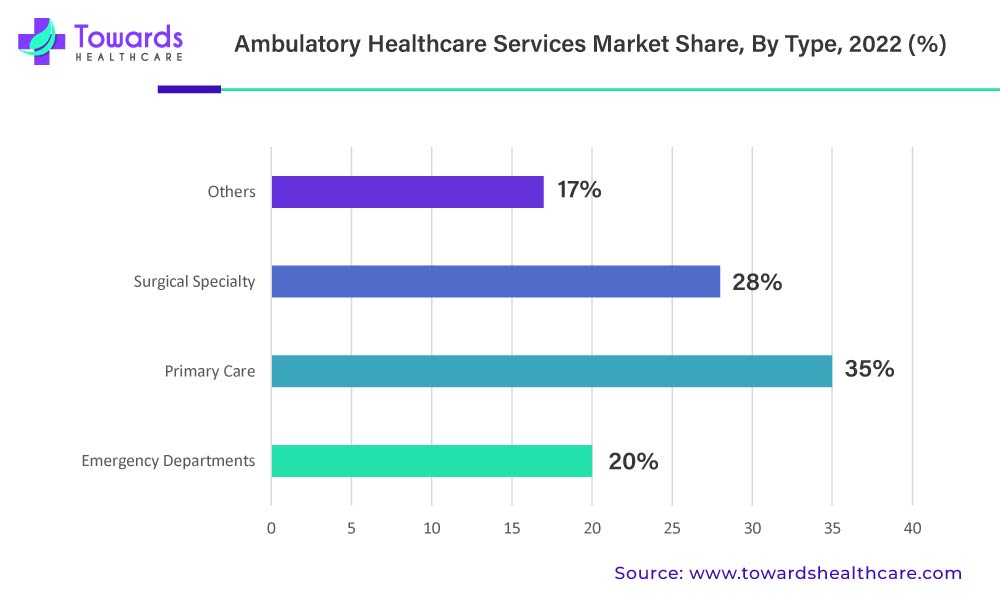 Unlock Infinite Advantages: Subscribe to Annual Membership
The ambulatory services market is divided into four types: primary care offices, emergency departments, surgical specialties, and medical specialties. Primary care offices dominated the market in 2018 as a result of better treatment quality and the use of new technology such as computerized prescription systems and Electronic Health Records (EHRs). The use of EHR in rural regions, as well as drug procurement, has enhanced primary and follow-up treatment, minimizing manual mistakes. Collaborations between big government and commercial organizations to give low-cost access to various treatments are projected to drive growth in the ambulatory services industry.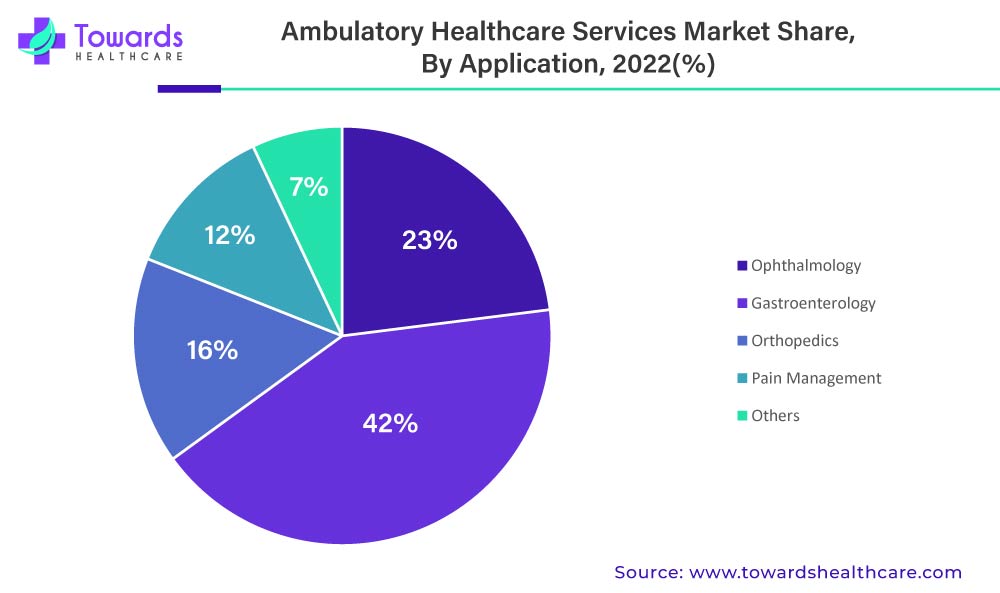 Under Application, the Gastroenterology Segment is expected to have the largest market share over the forecast period.
One of the primary reasons driving market expansion is the increasing frequency of gastrointestinal illnesses. Sedentary lifestyles are becoming more popular, which is increasing the number of patients suffering from digestive problems. Rising incidences of digestive illnesses are likely to produce a large demand for ambulatory healthcare services throughout the predicted period. According to Medicare statistics, around 21% of ambulatory surgery centers in the United States billed for gastroenterology in 2018. As a result of the increasing frequency of digestive illnesses, there may be a significant need for emergency care and ambulatory services throughout the projection period.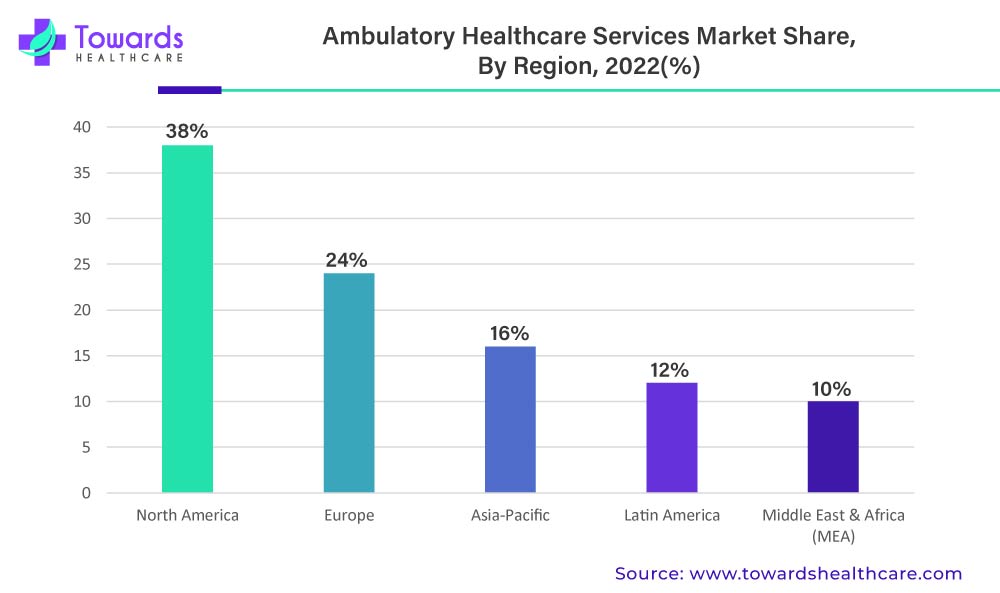 In 2022, North America led the worldwide market, accounting for over 38% of the market. This is due to the rapid acceptance of technologically improved items. Government efforts and mergers and acquisitions are expected to propel the regional industry even further. Envision Healthcare, for example, bought Sunshine Radiology, LLC in January 2017. This expanded the company's capacity to serve 80 healthcare ambulatory facilities and over 55 hospitals in Florida.
Key Developments
LHC Group Inc. and SCP Health launched a new strategic agreement focused on offering higher-acuity care in the home in July 2021. LHC Group and SCP Health, two very known organizations with deep Louisiana roots, want to develop the framework for a range of plug-and-play home-based care solutions that can be easily scaled across the United States by joining forces.
Manulife Hong Kong established cooperation with Hong Kong Baptist Hospital (HKBH) to enhance its health solutions and network of healthcare professionals in July 2021. To fulfill the rising need for accessible, high-quality, and inexpensive medical services, the new cooperation will provide superior outpatient treatment through HKBH's first Ambulatory Medical Centre (AMC).
Sunvera Group ("Sunvera"), a management services organization that supports ophthalmology practices across multiple subspecialties as well as ophthalmic-focused ambulatory surgery centers, announced a new partnership with TruVista Surgery Center in June 2021, expanding its network of progressive organizations that provide the highest level of specialty eye care.
United Surgical Partners International and Tenet Healthcare Corporation have created a joint venture in the United States to acquire 244 ambulatory surgery centers (ASCs), 20 imaging centers, and 16 short-stay surgical hospitals.
Midwest Center for Day Surgery and Surgical Care Affiliates, Inc. (SCA) formed a collaboration. This agreement boosted SCA's standing in Chicago as a low-cost, high-quality surgical provider.
Last Thoughts On Ambulatory Healthcare Services
Ambulatory healthcare services have increased in significance in US healthcare facilities, as has the requirement for simplified and automated compliance processes. Compliance is equally as critical in ambulatory healthcare as it is in hospitals. Working from numerous ASCs or hospital outpatient facilities increases a doctor's capacity to make revenue and give prompt treatment alternatives to patients where and when they are needed.