The global dental services market accounted for USD 432.1 billion in 2022 and is expected to hit US$ 699.7 billion by 2032, growing at a compound annual growth rate (CAGR) of 4.93% from 2023 to 2032, as increasing awareness of cosmetic dentistry.

Unlock Infinite Advantages: Subscribe to Annual Membership
The significant increase in demand for cosmetic operations has impacted every dentist in practice today in some way
Oxford Finance LLC, a specialty finance firm that provides senior debt to healthcare services and life sciences companies worldwide, announced the closing of a $107 million senior credit facility to a dental services organization, Specialty Dental Brands, focused on orthodontics, pediatric dentistry, and oral surgery.
Cosmetic dentistry focuses on enhancing your smile's aesthetics and appearance. Veneers, dental bonding, and teeth whitening are common cosmetic dental procedures. The American Dental Association has not provided a precise definition of cosmetic dentistry, sometimes known as aesthetic dentistry (ADA). Dentists define it, nonetheless, as a dental technique that enhances a patient's smile and sense of self. Beautiful teeth and a powerful smile are important for a variety of reasons, including aesthetics and general health. Your oral health is impacted by a smile or lack thereof. Additionally, your sense of self-worth and how the outside world sees you both suffer. That is because a person's grin is typically the first thing that people notice about them. The growing public awareness of maintaining dental hygiene and dental aesthetics, coupled with the rise in dental problems, is what is driving the market's expansion. Approximately one-fourth of people in the U.K. have had cosmetic dental work done, according to the British Academy of cosmetic dentistry. According to the NCBI, oral health affects a person's social life as well as their dental look. It is not just the absence of oral disease or any dysfunction. According to a poll done in the U.K. in 2018, more women choose aesthetic operations as a result of motivational factors like self-esteem, life satisfaction, and self-related physical attractiveness. All these women have one thing in common: they were heavily exposed to the media.
Does Covid affect Dental care?
The COVID-19 epidemic has had a tremendous impact on the healthcare system, particularly the dental industry. When the virus first expanded across the United States in March and April, many dentist offices closed save for emergencies. Even after they reopened, changes were still evident. A study of dentists by the American Dental Association during the week of August 10 found that 98.9% of them were open, but that only 47.6% reported "business as usual" and 51.3% reported "lower patient volume than usual."
According to data from the American Dental Association's Health Policy Institute (HPI), the dental industry was at a standstill as a result of COVID-19 since dental clinics were only allowed for emergency cases in the early phases of the pandemic. In March 2020, the American Dental Association (ADA) issued a public advisory urging people to postpone elective dental procedures. The ADA lists the procedures that are required to be postponed as oral exams, radiography, routine cleanings, cosmetic surgeries, and orthodontic procedures without pain medication. Dental or facial traumas, painful caries, oral bleeding, and abnormal tissue biopsies, emergency dental services were offered.
The increase in the geriatric population & trend toward cosmetic dentistry drive the market growth
Statistics show that between 2000 and 2010, the senior population in the United States grew by 15%. In the year 2060, there are predicted to be 92 million elder people, and their body show changes like tooth breaking, and tooth pain, and includes the mouth's bone structure and gum ridges. As people age, their mouths shrink, which can lead to problems like edentulism, loose dentures, dry mouth cavities, periodontal disease, dry mouth cavities, and even oral cancer. Most patients diagnosed with oral cancer are 62 years old on average. Nowadays people are more conscious about their beauty and they are investing more in beauty, the teeth are also an important part of beauty as it includes teeth whitening, and gum countering. Dentist demand will rise in the future as the world's population grows, as will the possibility that people will keep their teeth and require more care later in life. It is yet unclear whether fluoride success translates to later-life decay prevention, or whether the population's taste and desire for age-defying treatments like aesthetic dental care will grow with time. A future workforce with a divided requirement for dental providers is a possibility.
Digital transformation in dental medicine future of dental services
One of the most important game-changers of the twenty-first century in terms of solving present and future challenges in dentistry and oral healthcare is the digital transformation in dental medicine, which is based on electronic health data. Personalized (dental) medicine, artificial intelligence (AI) and machine learning (ML), rapid prototyping (RP), augmented and virtual reality (AR/VR), personalized (dental) medicine, and telehealth are the estimated top five trends and innovations of this new digital era with the potential to significantly influence the course of dental research.
Development of technologically advanced solutions opportunity for the dental services market
Cosmetic dentistry works on research and development and working on new dental devices and materials for superior results. With the dramatic growth in the demand for minimally invasive procedures, patient compliance has increased. To prevent or minimize blood loss and gum lifting during surgical procedures like teeth whitening, dental lasers are now used more regularly. Adhesive dentistry, which uses composite materials to strengthen teeth and enhance their appearance without compromising the tooth's structural integrity, is another area of dentistry that has gained attention. As a result, more people are utilizing these procedures. Thus, the focus on the Development of new and advanced technology and dental materials is expected to create new opportunities for cosmetic industry market players
Segmentation Outlook:
The largest portion of the dental services market share was accounted for by the endodontic procedures sector. Over the past 20 years, there have been significant developments in technology, materials, and endodontic treatment procedures. They include of innovations in bioceramics, rotating Ni-Ti files, digital radiography, improved irrigation techniques, and CBCT three-dimensional imaging, among others. These changes have led to a difference in the level of care provided by a specialist vs. a general dentist for teeth with complex anatomy and morphology. The decline in dental health among Americans is anticipated to fuel this market's expansion.
The dental services industry's largest share was in the preventive dental services segment. Due to increased consumer knowledge, there was a significant increase in the demand for preventative dental services such as teeth cleaning and fluoride treatments. However, COVID-19 has resulted in the closure of dental offices and a reduction in operation hours, except for emergency treatments, which have restricted preventive measures and routine care. However, the pandemic offers an opportunity for the dental industry to move away from surgical procedures and toward non-aerosolizing, prevention-focused approaches to care. It might benefit oral healthcare access in the future if legal restrictions were lifted during the pandemic.
North America provides lucrative opportunities for the dental services market
In 2022, North America owned a share of more than 40% of the global market for cosmetic dentistry. This is linked to technical developments and a rise in the number of people choosing cosmetic dentistry operations. Additionally, factors including the region's high acceptance of and openness toward aesthetic procedures and rising appearance consciousness are likely to fuel market expansion.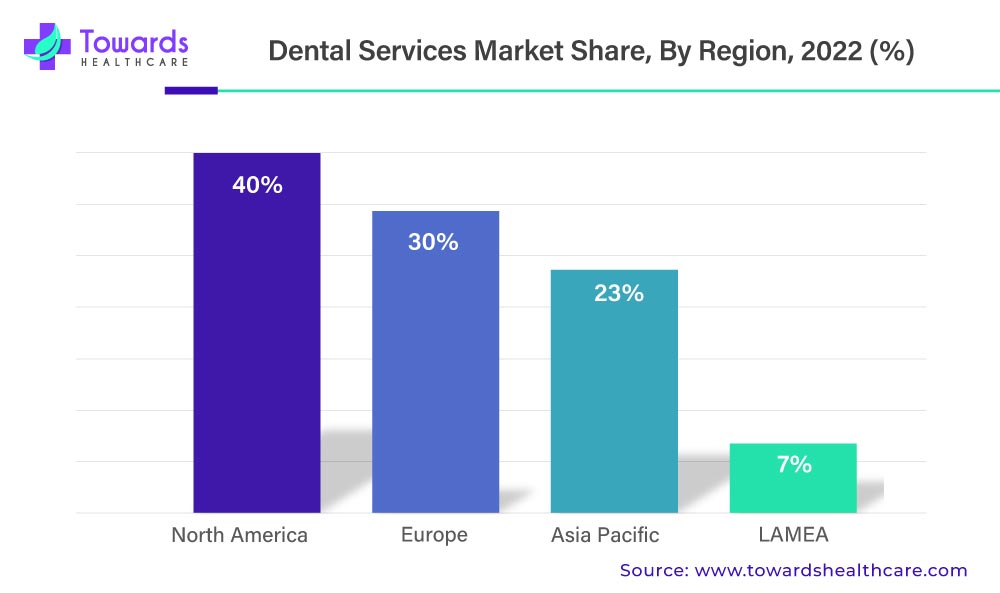 Furthermore, North America is anticipated to develop at the fastest rate during the forecast period. The key causes of this include things like high personal discretionary income. Personal income increased by USD 1.97 trillion (10.5%), while disposable personal income (DPI) increased by USD 2.13 trillion in April 2020, according to the U.S. Bureau of Economics. Additionally, important growth factors are the rising costs of healthcare, the accessibility of licensed specialists, the quality of the healthcare system, and the ease with which aesthetic services can be obtained.
Leading players in the dental services market
As of 2020, the top companies in the US dental services market are Heartland Dental, Pacific Dental Services, Aspen Dental, and Smile Brands. Over the past few years, these businesses have been concentrating on collaborations and growth The key rivals in the US dental services industry include Aspen Dental, Smile Brands Inc., Coast Dental, InterDent (Gentle Dental), Heartland Dental, Pacific Dental Services, Affordable Care, Western Dental, Great Expressions Dental Centre's, and Dental Care Alliance.