The respiratory devices market size is estimated to grow from USD 20.66 billion in 2022 at 8.74% CAGR (2023-2032) to reach an estimated USD 47.76 billion by 2032 because rising prevalence of respiratory disorders.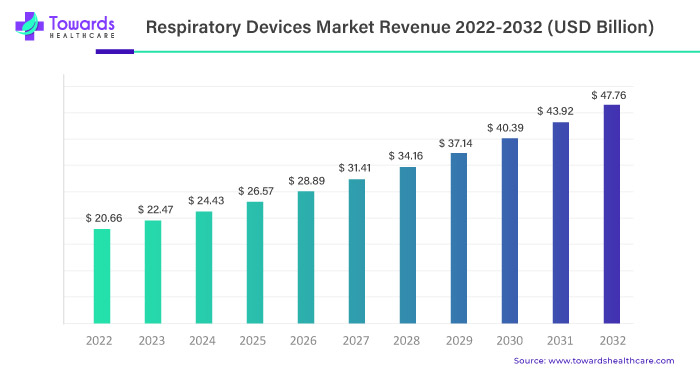 Unlock Infinite Advantages: Subscribe to Annual Membership
According to the Medical Technology Report 2021, the sector's novelty engine got back on track, with R&D spending up 17% to USD 23.8 billion, the highest annual growth rate since before the financial crisis.
Over several years, the quality of respiratory drugs has been impressively leveled up and there is an extensive range of respiratory disorders that can be benefited from such advanced devices. Respiratory tools aid in the elimination of mucus from the respiratory tract as well as the enhancement of pulmonary functions. Numerous devices are easy to use and provide the user with more flexibility than they would otherwise have. The emphasis on respiratory devices and quality of life has increased dramatically, particularly since the COVID-19 Pandemic. Although there exists a lot of unknowns for people.
Choosing the best device for individuals' specific medical conditions may be a bit hard. An individual suffering from chronic lung disease may require an entirely different respiratory device than an individual suffering from other respiratory diseases. However, the use of advanced technology and the availability of a variety of products have made it easier. Some of the respiratory devices include nebulizers, air cleaners, suction machines, portable oxygen cylinders, pulse oximeters, portable emergency oxygen systems, home oxygen concentrators, and others.
US FDA Medical Device Approvals
During the pandemic crisis, regulators experienced difficulty in coping with added obligations, and acceptable device approval procedures slowed. In line with this, data from H1 2021 show a substantial decline in premarket authorizations (PMAs) (12) and 510(k) approvals (1,360) compared to H1 2020.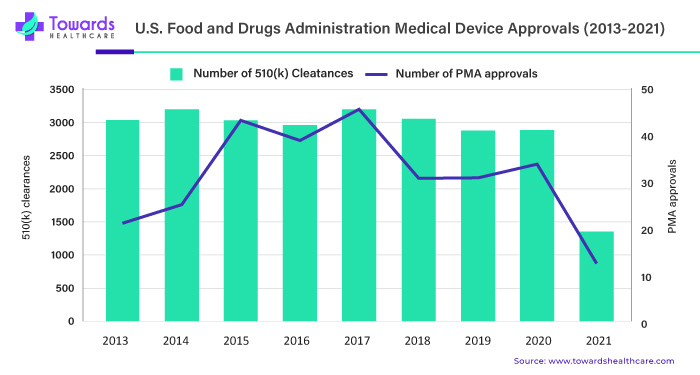 By adopting the FDA's recommended Total Product Lifecycle (TPLC) approach, one of the sector's legislative objectives should be to render quicker launches a long-term reality. According to an FDA paper published in February 2021, "the FDA's traditional paradigm of medical device regulation was not designed for adaptive artificial intelligence and machine learning technologies."
The Growing Importance of Sustainability in MedTech:
Sustainability should be a top priority for MedTech. According to a 2020 Health Affairs analysis, the global health sectors produced 4.6% of all greenhouse emissions (double that of the aviation industry), using medical device supply chains demonstrating significant opportunities to foster more sustainable practices. (In 2018, alone, device reprocessing reduced hospital waste generation by 7,100 tonnes in the United States, Europe, and Canada.)
Several leading medical technology companies have adopted sustainability practices:
In February 201, Phillips accomplished carbon neutrality throughout its businesses, with nearly all of its electricity generated sustainably, 90% of its waste from operations recycled, and 15% of its revenue coming from circular revenues.
In November 2020, Medtronic, Boston Scientific, Illumina, Edwards, and Becton Dickinson became part of the S&P Dow Jones Sustainability North America Index. As a result of its expansive Health for Humanity sustainability initiative, Johnson & Johnson gathered around 1.6 million medical devices and reprocessed 670,000 in 2020.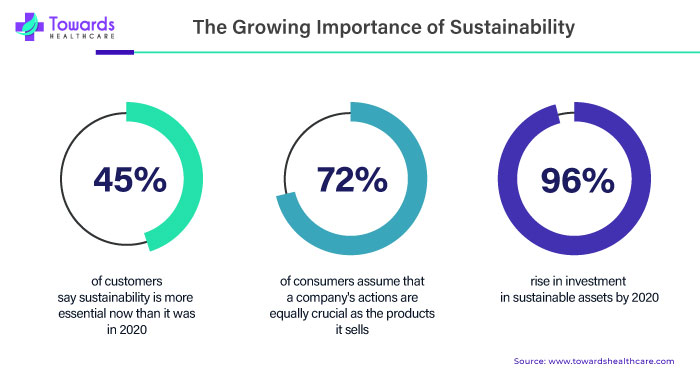 As devices encompass more digital and electronic items, waste issues expand beyond single-use plastics and evolve into increasingly serious ones. From production methods to packaging and product recycling in the the final year of their shelf life, there are numerous fields where MedTechs can concentrate on lowering not only CO2 but also the wider environmental impacts of their goods.
The Role of Growing Number of MedTech Mergers and Acquisitions
MedTech companies completed 288 M&A transactions in the fiscal year ending June 2021, the most in a single year since 2007.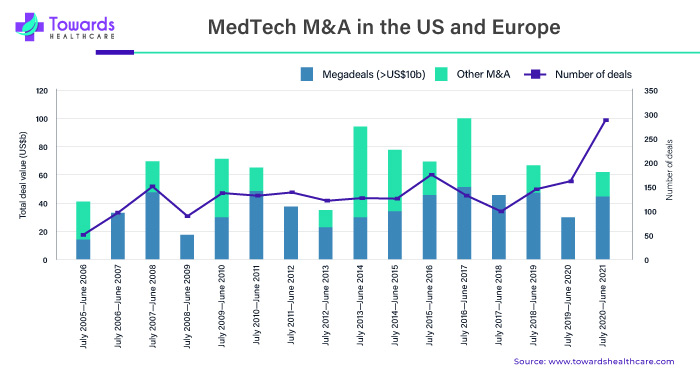 "MedTechs are making substantial investments in distant medical capacities. Baxter agreed to buy connected care specialist Hillrom for $10.5 billion in September 2021. Patients constantly desire to get medical treatment at their residence or nearby," CEO Jose (Joe) Almeida told Ernst & Young LLP, "whereas medical facilities and other healthcare facilities are turning to digital health tools to broaden accessibility, enhance effectiveness, and reduce costs." Baxter and Hillrom have joined forces to address the challenges of a constantly shifting global healthcare landscape.
Some of the M&As in the US and Europe, July 2020- June 2021
Acquiring Company
Location
Acquired Company
Location
Value (US$m)
Buyer's Deal Driver

Siemens

Healthineers

Germany
Varian Medical Systems
US-California
16,400
Build scale (oncology)
Steris
Ireland
Cantel Medical
US - New Jersey
4,600
Portfolio expansion (multiple)
Philips
Netherlands
BioTelemetry
US - Pennsylvania
2,800
Build scale (patient monitoring)
Roche
Switzerland
GenMark Diagnostics
US - Southern California
1,800
Portfolio expansion (diagnostics)
DiaSorin
Italy
kuminex
US - Texas
1,800
Portfolio expansion (diagnostics/ research & other equipment)
Boston Scientific
US - Massachusetts
Preventice Solutions
US - Minnesota
1,225
Portfolio expansion (diagnostics)
Boston Scientific
US - Massachusetts
kumenis (surgical business)
Israel
1,070
Build scale (surgical laser solutions)
Avantor Performance Materials
US - Pennsylvania
Ritter
Germany
1,050
Portfolio expansion (diagnostics/ research & other equipment)
Dentsply Sirona
US - North Carolina
Straight Smile
US - California
1,040
Build scale (dental)
Hellman & Friedman
US - Northern California
Cordis
US - Florida
1,000
Portfolio expansion (cardiology)
Tecan Group
Switzerland
Paramit
US - California
1,000
Portfolio expansion (surgical tools/diagnostics)
Steris
Ireland
Key Surgical
US - Minnesota
850
Build scale (hospital/surgical tools)
Hologic
US - Massachusetts
Mobidiag
Finland
808
Build scale (diagnostics)
Patricia Industries
Sweden
Advanced Instruments
US -
Massachusetts
780
Build scale (research and other equipment)
Agilent Technologies
US - Northern California
Resolution Bioscience
Finland
695
Build scale (research and other equipment)
Respiratory Disorders are on the Rise
Rising cases of respiratory disorders such as respiratory cancers, asthma, COPD, tuberculosis, and others across the globe are prominently generating demands for respiratory devices, which ultimately results in the respiratory devices market growth. Here are some of the facts related to the respiratory disorders:
Around 7.7% US population which is equal to around 25 million people was detected with Asthma in 2021, which was reported to increase from 7.4% or 20.3 million US population in 2001.
As stated by the Global Asthma Report 1 in 10 children across the globe have asthma symptoms, many of which have no access to vital asthma treatment.
In the UK, respiratory conditions are the 3rd largest cause of death and one person gets diagnosed with a respiratory condition every minute.
COPD affects one in every ten adults worldwide and is one of the three leading causes of death. COPD killed 3.22 million people in 2019. COPD is the leading cause of death in Latin America, Sub-Saharan Africa, India, China, and Southeast Asia.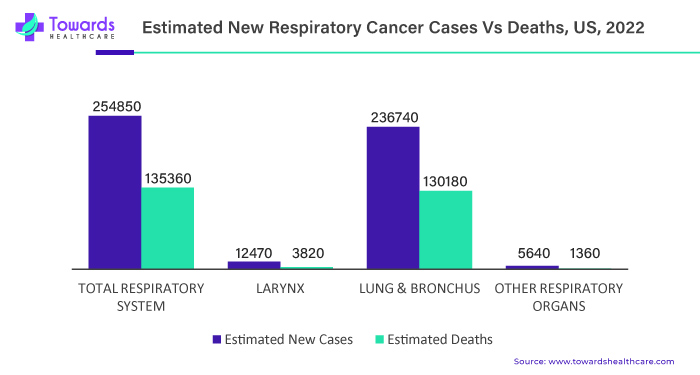 In addition, rising tobacco smoking, air pollution, and allergens are some of the major risk factors that are resulting in respiratory disease conditions. Tobacco smoking is considered one of the world's largest health problems. In 2021, around 28.3 million US adults (approximately 13.1% of males and 10.1% of females) smoked cigarettes. In 2020, 22.3% of the global population used tobacco: 36.7% of males and 7.8% of females. Thus, rising tobacco consumption and air pollution result in severe respiratory health conditions and increases the demand for the respiratory device, which in turn bolsters the respiratory devices market growth.
High Purchase Prices and Maintenance Costs
The high cost associated with advanced respiratory devices such as oxygen concentrators, ventilators, continuous positive airway pressure (CPAP) machines, and several others acts as a barrier to the growth of the respiratory devices market. As a result of the high cost of product, it limits the extensive adoption of such devices especially in medical facilities with low resources.
In cases of severe respiratory distress, including in patients undergoing surgeries requiring general anesthesia or patients with acute respiratory distress syndrome (ARDS) ventilators are essential life-supporting tools. These exhaustive devices can be highly expensive. On top of it, for proper operation and patient safety, ventilators need routine maintenance, calibration, and servicing. The price of maintenance agreements, replacement parts, and certified technicians also increases the overall cost of the device, which in turn hinders market growth. During the COVID-19 pandemic, there was a massive increase in the demand for ventilators. As a result, the cost of mechanical ventilators—basic but effective equipment—rose sharply, from an average of $25,000 to more than $50,000. Several countries with limited healthcare facilities and low medical budgets suffered from an insufficient number of ventilators due to their high costs. In addition, Obstructive sleep apnea is a breathing disorder that is frequently treated with continuous positive airway pressure (CPAP) machines. CPAP machines can be expensive, especially for patients without medical coverage, despite being less expensive than ventilators. The price includes the CPAP machine itself, as well as filters, masks, and, hoses. CPAP machines also require routine maintenance and eventually need to be replaced, which further increases the overall cost of the device.
Product Offerings:
Some of the product's offerings by some major market players are listed in the table given below:
Company
Products
Olympus Corporation

Ultrathin Bronchoscope: BF-MP190F
Radial Ultrasound Miniature Probes
Peripheral TBNA Needle PeriView FLEX
Peripheral Brush and Forceps
GuideSheathKit 2
Video Bronchoscopes – BF-MP190F

Medtronic

Puritan Bennett 980 Ventilator Series
Shiley Endobronchial Tube
Puritan Bennett Re/X800 Expiratory Bacterial Filter

GE HealthCare

Aerogen Pro Nebulizer Replacement Kit
Aerogen Pro Pediatric T-piece with Silicone Plug, 15mm
Neonatal Flow Sensor Cable

Koninklijke Philips N.V.

Pro-Flow Plus Nasal/oral cannulas
Pressure transducers
zRIP DuraBelt startup kits
Body position sensors

Geographical Landscape:
North America dominated the respiratory devices market due to the robust healthcare infrastructure, the presence of prominent market players, and rising healthcare expenditure. Regulatory bodies such as the US FDA are engaged in establishing regulatory guidelines for producer planning to validate and market their respiratory or any other medical devices. For instance, in March 2023, the FDA recommended two guidelines for transitioning from specific COVID-19 pandemic regulations and activities to standard operations. In addition, medical device manufacturers in North America are increasingly introducing innovative products and establishing strategic partnerships to boost productivity. For instance, in August 2023, GE Healthcare received approval from the US FDA for their "Portrait Mobile Wireless Solution" that continuously captures a patient's respiratory rate. On the other hand, GE Healthcare in March 2020, partnered with Ford Motor Company, to speed up ventilator production — an effort intended to provide doctors with critical medical equipment for treating patients with COVID-19, a respiratory disorder caused by the new coronavirus.
Furthermore, Asia Pacific is projected to be the fastest-growing region in the respiratory devices market over the forecast period. Market players across the region are developing advanced solutions in the respiratory field. For instance, in February 2023, Olympus a Japanese medical device manufacturer received FDA approval for their single-use sinus debrided system CELERIS, which is used in sinus/rhinology procedures. Moreover, enhanced access to healthcare, contract-based manufacturing, swift technological advancements, rising R&D capacity, and government initiatives such as 100% foreign direct investment & schemes for medical device manufacturing in countries like India are crucial factors gaining traction in the respiratory devices market. In an attempt to promote the implementation of technology in healthcare, the Chinese government executed 5G Telecom Adoption and eHealth rules (e-Hospital and e-Diagnostic). The country will keep up with its data utilization and availability policies, as well as inspire corporations to collaborate closely with SMEs. The medical device marketplace in Australia has matured, with significant growth in digital health devices and techniques incorporating modern components, IT robotics, imaging, design, and adaptive diagnostic technology platforms.
Recent Developments:
In April 2023, Masimo received FDA approval for a monitoring set of pulse oximeters, respiration rate from the pleth, named Rad-G with Temperature. Rad-G with Temperature makes it simpler for care teams to quickly assess patients anywhere patient assessment is required by using a single, portable, compact device to measure vital signs.
In May 2021, Medtronic a medical device manufacturer launched a U.S. commercial pediatric airway monitoring system called SonarMed. Using acoustic technology, the system checks for endotracheal tube (ETT) obstruction and examines position in real-time, providing doctors with the essential data they need to make smarter, life-saving choices for their smallest patients.
In March 2020, GE Healthcare partnered with Ford in order to fast-track ventilator manufacturing to support doctors in the treatment of COVID-19 patients.
Major Market Players
Medtronic
Philips Healthcare
GE Healthcare
Masimo
Nihon Kohden Corporation
Welch Allyn, Inc.
Novelda AS
Smiths Medical
MGC Diagnostics Corporation
Dragerwerk AG & Co. KGaA
Market Segments
By Device Type
Capnography
Peak Flow Meters
Pulse Oximeters
Spirometers
Gas Analyzers
Polysomnography
Others
By Indication
Sleep Apnea
COPD
Asthma
Infectious Disease
By End User
Hospitals
Clinics
Homecare
By Geography
North America
Europe
Asia Pacific
LAMEA