Artificial intelligence in life sciences industry size was estimated at USD 1.56 billion in 2022 and it is expected to reach around USD 9.80 billion by 2032 with a registered CAGR of 20.21% from 2023 to 2032.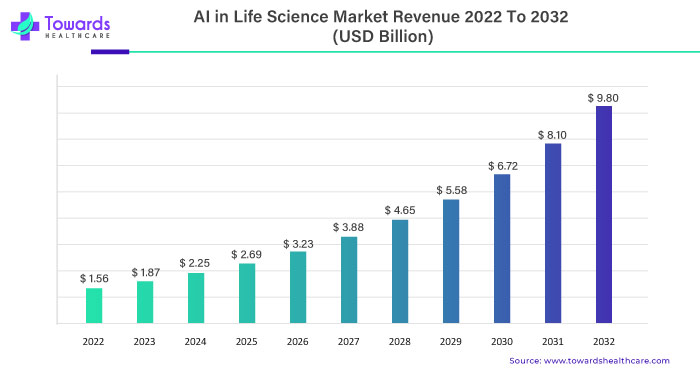 Unlock Infinite Advantages: Subscribe to Annual Membership
AI is revolutionizing the life sciences industry by creating breakthroughs from massive biological data using machine learning, integrating clinical records and different types of genomic data, discovering new medicine or drug targets, identifying new classes of cell types, performing diagnostics, and customizing clinical procedures in precision medicine. Artificial intelligence is comprised of several technologies, the most important of which are machine learning, deep learning, neural networks, natural language processing, and computer vision. There is a strong link between them, but the key technology is machine learning. Given that this technology may be exempt from patentability under some legislation, it is vital to develop additional policies to preserve intellectual property rights. As a result, various factors must be considered when preserving this technology and deciding how to preserve it.

Artificial intelligence is a branch of computer science encompassing a wide range of methodologies to improve machines' ability to make data-driven judgments and accurate forecasts of events. AI is increasingly being examined and integrated into various scientific domains, particularly in the setting of Big Data. Due to their complexity and highly interdisciplinary character, life sciences offer several advantages for AI to impact R&D activities in various ways. The multiple areas where the life sciences industry uses AI are pharmaceutical research, pharmacology, drug discovery, Epidemiology, clinical investigations, Designing Clinical Trials, introducing robotic surgery, developing the next generation of radiology tools, Telemedicine, and clinical trials.
Factors influencing AI in the Life Science Industry
The rapid emergence of novel technologies such as artificial intelligence and its applications across various industries has resulted in increased demand for AI in the life sciences industry. The growing need to control costs and improve operational efficiencies in drug discovery and clinical trials is fueling the global growth of the AI in life sciences industry.
The rapidly emerging data-driven AI, technological advances in deep learning, and the growing need for robotic autonomy are expected to drive demand for AI technology in the life sciences industry. The inefficiency of the drug discovery process, caused by factors such as high research and development costs, low clinical trial success rates, and a growing focus on rare diseases, is driving the adoption of AI in life sciences to improve efficiency and cut costs. Machine learning technology has the potential to improve candidate recruitment functions, data storage, and data analytics, which is expected to influence the growth of the industry in the coming years. Furthermore, machine learning can help with tasks like calculating ideal sample sizes, using medical records to reduce errors, and facilitating candidate recruitment to create the clinical trials process more efficient. The majority of AI applications in the field of life sciences are expected to grow shortly, attracting significant investment from major players in the life sciences industry.
Hurdles in AI in the Life Science Industry
AI in the life science industry faces a major regulatory hurdle. Artificial Intelligence and machine learning include innovative new computing technologies and a large amount of data that pose a regulatory challenge such as assuring the safety and quality of the products or therapies designed by AI, and ensuring that AI solutions developed are sustainable and eco-friendly that the recommendations are not in conflict with societal priorities such as social justice, protecting the privacy of patients and their data. Existing patient privacy rules, for instance, do not protect patient data when it is shared and used by organizations other than healthcare providers, such as technical or consumer marketing firms. As a result, international and national legislation must be adapted or created to regulate the safe use and protection of AI-related intellectual property rights.
Due to heterogeneity and unstructured format, a large amount of data remains untapped. Although AI appears to be a promising approach for advancing life science, some challenges remain. According to a recent Pistoia Alliance survey, the main barriers to AI implementation are a lack of skills (44%) and access to data (52%). Many players are still unaware of the depth of the compiled data. As a result, there is an urgent need for education. To meet this challenge, highly skilled and trained data experts are required. Furthermore, adding hygienic data to AI platforms is a fundamental requirement for obtaining high-quality data. Only data that is consistent, clean, and follows Equal principles produces reliable results. To completely exploit the value of artificial intelligence, it is necessary to create a concrete framework and begin incorporating ethics to ensure data privacy and fairness. It should also start with the conceptualization of the algorithms that power artificial intelligence.
Opportunities
The rapid growth of data-driven AI, the increasing need for robotics autonomy, and advances in deep learning are all driving forward AI in the life sciences industry. The increasing use of AI in the analysis of small systems-of-interest-specific datasets is significantly improving drug discovery and development, as well as the development of personalized medicines. Furthermore, the rising demand for therapeutics to treat complex diseases such as cancer is propelling the AI in life sciences industry forward. The drug discovery process is becoming more inefficient as a result of various factors such as high development costs, low clinical trial success rates, diminishing return on investments, and an increased focus on rare diseases. AI adoption has the potential to reduce the extensive progress involved in clinical trial research. AI can improve predictive analysis to quickly determine the ideal candidate for clinical trials.
COVID-19 & AI in Life Science Industry
The sudden emergence of the COVID-19 pandemic has disrupted the operations, sales, and marketing of numerous industries, including healthcare, automotive, manufacturing, and many others. Despite the detrimental impact of COVID-19 on the rest of the sector, some, such as healthcare and pharmacy, grow at an exponential rate during the period. Healthcare spending and investment in research and development of appropriate drugs for the rapid and early recovery from COVID-19 virus infection has also according to the same, the COVID-19 outbreak had the least impact on life science research, which is involved with drug development and clinical trials. As a result, the market for artificial intelligence (AI) in life sciences has shown significant growth throughout the pandemic period and is projected to continue in the next years. benefited the drug development and research department in the healthcare industry.
Segmental Outlook
AI in the Life Science Industry is segmented based on Offering, Deployment, and application. Based on the offering, it is further segmented into software, hardware, and services. The software segment holds the major industry share in 2021. The increasing penetration of software due to the increasing demand for storing, managing, analyzing and sharing data in drug discovery and development and clinical trials has led to this segment's growth. The increasing demand for big data analytics is driving the demand for AI software in the global Ai in the life sciences industry. Furthermore, the software produces recurring revenue streams for industry participants over time and has thus become the greatest revenue contributor to AI in the life sciences market globally. Services, on the other hand, are predicted to be the fastest-growing segment during the forecast timeframe.
The dearth of expertise among life science specialists in the operation of AI-based hardware and software is increasing the demand for third-party service providers who supply technically qualified professionals to operate expensive AI systems. During the forecast period, this aspect is driving demand for the services sector in the worldwide AI in the life sciences industry.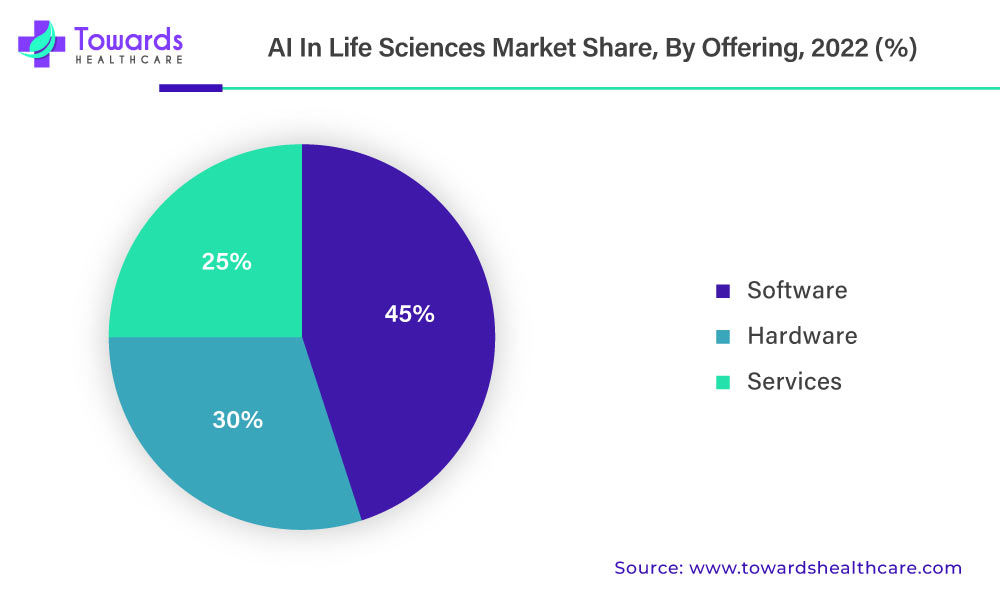 Based on deployment, the industry is further segmented into on-premise and cloud. The cloud segment holds the major industry share in 2022. The increasing internet penetration, the development of innovative cloud-based services, soaring investments in the advancement of IT and telecommunications infrastructure, and the ease of operation associated with cloud-based servers are the major factors driving the growth of the cloud segment in the AI in the life science industry. This area is predicted to be the fastest-growing segment over the projection period, owing to significant investments in digital technology adoption by leading biotech and life sciences firms.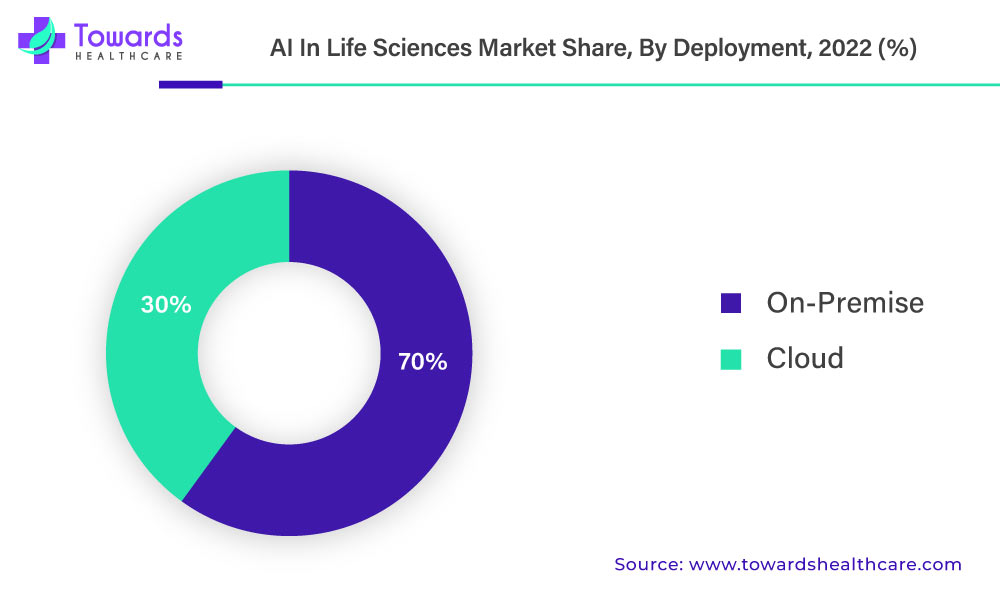 Based on application, Ai in the life sciences industry is further segmented into medical diagnosis, drug discovery, precision, and personalized medicine, biotechnology, clinical trials, and patient monitoring. The drug discovery segment dominated the industry in 2022. The rising incidence of several chronic and gene-related disorders is dramatically increasing investment in medication discovery and development. Leading pharmaceutical and biotechnology companies are continually involved in drug discovery efforts to produce new and innovative treatments for the treatment of many chronic diseases such as cancer, diabetes, cardiovascular disease, musculoskeletal disease, and infectious diseases. Furthermore, the increasing demand for advanced and new therapies among patients has resulted in this segment's domination in the global industry.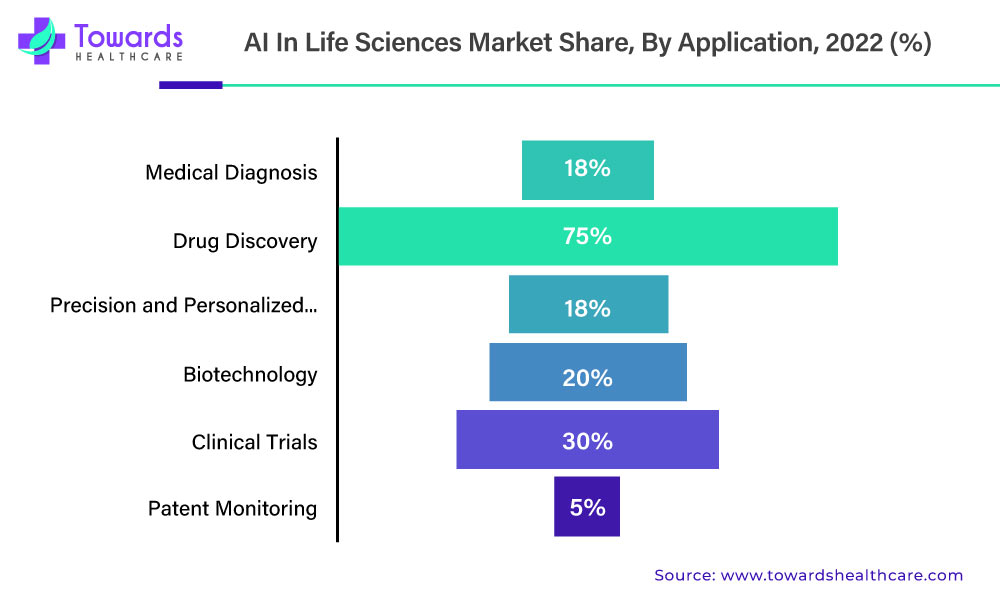 On the other hand, clinical trials are expected to be the most opportunistic segment. The increasing number of drug discovery activities is increasing the number of clinical trials globally, resulting in the generation of massive amounts of data. The generation of such massive amounts of data, as well as the increasing availability of these data in the public domain, is hastening the adoption of AI-based software among various academic and research institutions. As a whole, the clinical trials segment will gain traction quickly during the forecast period.
North America to Soar AI in the Life Sciences Industry
North America dominated AI in the life science Industry in 2021. The United States is the leading nation in AI in the life sciences industry. This rise can be attributed to increased demand for AI technology across all life sciences applications. Furthermore, the United States is a hub for several leading pharmaceutical and biotech firms. The huge investments made by US-based pharmaceutical companies in drug discovery and clinical trials have resulted in a significant demand for AI in life sciences. The majority of newly developed drugs are owned by the United States. According to the Pharmaceutical Research and Manufacturers of America (PhRMA), pharmaceutical companies worldwide spent approximately US$80 billion on research and development in 2018. It was stated that pharmaceutical companies invested approximately 19% of their revenues in research and development. The numerous pharma companies and clinical research firms in the United States are increasingly investing in the adoption of AI technologies, which will sustain North America's dominance in the global AI in the life sciences industry for the foreseeable future.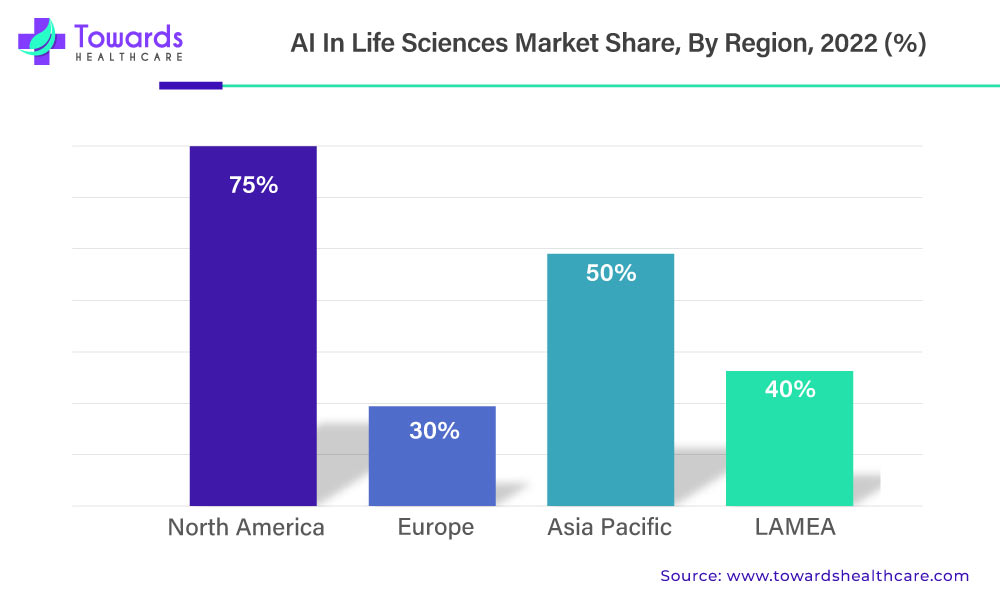 Asia Pacific on the other hand is expected to grow at the fastest rate accounting for increasing investments by various research firms in the adoption of AI software and hardware to improve operational efficiency. The inclusion of several top research organizations in the region is driving industry growth.
Competitive Landscape
Market participants in the AI in the life science industry are increasingly focusing on improving research studies of different body parts using AI and ML. Furthermore, research and development activities are key strategies used by market players to maintain their market position on a global scale. Some of the prominent players include IBM Corporation, Atomwise, Inc., Nuance Communications, Inc., NuMedii, Inc., AiCure LLC., APIXIO, Inc., Insilico Medicine, Inc., Enlitic, Inc. Sensely, Inc., Zebra Medical Vision.
Key Developments
Pharmaspectra and IBM Watson Health announced a strategic collaboration in September 2020. The new collaboration between the two companies aimed to streamline IBM Watson health's product portfolio by increasing its focus on innovations and new strategies that help and support IBM's life science clients through digital transformation.
NuMedii Inc. launch the world's first atlas of single-cell sequencing for idiopathic pulmonary fibrosis (IPF) in July 2020 with the research collaboration with Yale School of Medicine, Brigham & Women's Hospital, and Baylor College of Medicine assistance. The new study aimed to improve knowledge of pulmonary fibrosis by utilizing artificial intelligence.
The University of Kentucky will collaborate with Atomwise, a leading user of artificial intelligence (AI) for small molecule discovery, to investigate potential therapies for COVID-19 disease in June 2020.
IBM and EBSCO announced a strategic collaboration in March 2020 to improve clinical decision support for healthcare providers and health systems.