The 503A U.S. compounding pharmacies market size is estimated to grow from USD 3.99 billion in 2022 at 6.11% CAGR (2023-2032) to reach an estimated USD 7.18 billion by 2032, increasing demand for personalized, convenient, and accessible care.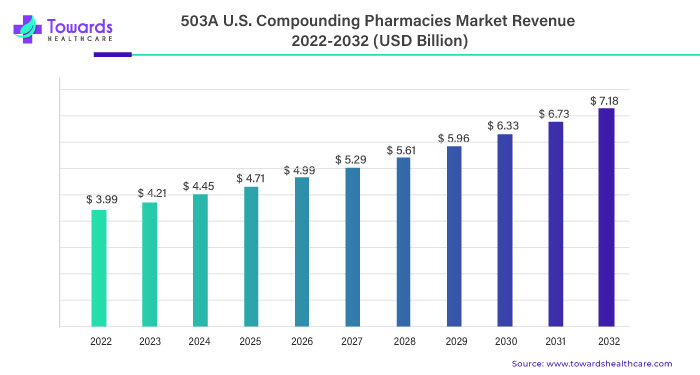 Unlock Infinite Advantages: Subscribe to Annual Membership
The FDA has elected 503A compounding pharmacies as those pharmacies that compound medicines as per prescriptions particular to patients and must adhere to USP and other regulations as mandated by state boards of pharmacy. 503A facilities are not allowed to manufacture in large batches and they are meant to produce and dispense for home use only. The government has employed some regulations for compounders to strictly follow while compounding pharmacies. Regulations suggested for 503A include USP <795> and <797> along with state board of pharmacy regulations.
Such type of compounding can be done in community pharmacies, hospital pharmacies, and in physicians offices. The United States Pharmacopoeia (USP) offers environmental standards for 503A compounding pharmacies in the United States, recommending that compounded medications be produced in specified spaces that are suitably constructed to facilitate the sterile or nonsterile processes, which comprises offering correct storage for those preparations and the right circumstances (e.g., regulated temperature, light, ventilation, security, and moisture).
Some of the Conditions that Drug Compounders Must Meet Under Sections 503A of the FDCA
Quality standards Exempt from current good manufacturing practice (CGMP) requirements, but not from other quality requirements, such as the prohibition on preparing, packing, or holding drugs under insanitary conditions
503A compounder
Who may compound
Licensed pharmacist in a state-licensed pharmacy or federal facility, or licensed physician
Type of drugs compounded
May compound nonsterile drugs or sterile drugs.
Prescriptions
Compounding must be based on the receipt of a valid prescription for an identified individual patient
Registration with the Food and Drug Administration
(FDA)
No registration requirement
Inspections
No requirement for the FDA to inspect; while the FDA may choose to inspect, a pharmacy or physician's records may be exempt from inspection in certain cases
Quality standards
Exempt from current good manufacturing practice (CGMP) requirements, but not from other quality requirements, such as the prohibition on preparing, packing, or holding drugs under insanitary conditions
How and Why 503A Pharmacies are Booming
503A facility expansion in the U.S. is facilitated by the widespread use of branded off-label prescription counterparts. Even when a patient's prescribed medication is unavailable or has been discontinued, these pharmacies can still provide it. Previously, 503A has focused on developing different topical cream treatments for pain management and altering the way other pharmaceuticals are administered. Compounding pharmacies that are 503As are not subject to the same production-related rules as 503Bs. These facilities are only allowed to dispense for home use and are not allowed to compound large quantities, which could lower the cost of the product.
The Role of Growing Need for Personalized, Convenient, and Accessible Care
The growing need for personalized, convenient, and accessible care exclusively stimulates the growth of the 503A U.S. compounding pharmacies market. There has been a huge surge in the demand for treatments associated with chronic diseases in recent years. Chronic illnesses like cancer, heart disease, and diabetes are major detrimental and fatal conditions in the United States. The $4.1 trillion in annual healthcare costs for the United States are also largely attributed to them, reported as of July 2022.
In addition, cardiovascular diseases significantly impact the United States, causing approximately 1 in 3 deaths, which amounts to more than 859,000 individuals each year. Cancer also poses a significant health challenge, with approximately 1.7 million people being diagnosed with the disease annually. Furthermore, diabetes is a prevalent condition affecting a large population, with an estimated 37.3 million Americans currently living with the disease. These statistics highlight the magnitude of these health concerns and the need for effective prevention, diagnosis, and treatment strategies to improve public health outcomes. This significantly thrives the demand for personalized, convenient, and accessible care.
Moreover, a surge in the demand for extensive medical requirements as a result of the increasing aging population across the U.S. flourishes the market growth.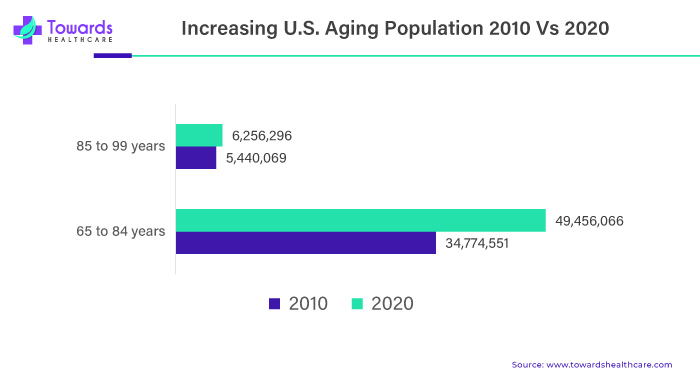 Compounding pharmacies can provide access to specialized medications that may not be commercially available or suitable for every patient. This customization helps individuals maintain a healthy lifestyle and prevent adverse reactions or complications associated with standardized medications. The increasing awareness of the importance of a healthy lifestyle and a growing focus on preventive healthcare are significant driving factors for the rise of compounding pharmacies. As more people recognize the value of maintaining good health and taking proactive measures to prevent illness, there is a growing demand for personalized healthcare solutions.
Regulatory Compliance is a Key Barrier to Entry in the 503A U.S. Compounding Market
Regulatory compliance is a major barrier for new entrants and smaller compounding pharmacies in the US market. The industry is heavily regulated by authorities like the FDA to ensure the safety and quality of compounded medications. To comply with regulations, pharmacies must make substantial investments in infrastructure, quality control systems, staff training, and documentation. This can be particularly difficult for newcomers and smaller players with limited resources.
FDA has provided federal laws and policies for compounding pharmacies in section 503A and section 503B of the Federal Food, Drug, and Cosmetic Act. One of the FD&C Act provisions that apply to human drug compounding is given in the table below:
Scenario
Applicable Federal Requirements

Drugs compounded in accordance with all conditions of section 503A

Drugs subject to all provisions of the FD&C Act that apply to conventionally-manufactured drugs, except:

Current good manufacturing practice requirements (section 501(a)(2)(B))
Labeling with adequate directions for use (section 502(f)(1))
Premarket approval requirements (section 505)
In addition, the FDA interprets that 503A pharmacies, traditional compounding pharmacies, are restricted from compounding drugs for "office use" by healthcare entities without patient-specific prescriptions. Office use refers to healthcare facilities obtaining and stocking compounded drugs for internal use. However, these entities can obtain compounded drugs for office use from 503B outsourcing facilities, specialized compounding pharmacies authorized to produce large quantities of drugs without individual patient prescriptions. This distinction ensures adherence to quality and safety standards in compounded medications.
Thus, meeting the stringent requirements set by regulatory authorities demands substantial investments in infrastructure, personnel, and ongoing compliance efforts. Established compounding pharmacies with a track record of regulatory compliance have a competitive edge, while new entrants or smaller pharmacies face challenges in meeting these regulatory standards.
Oral Medications are at the Forefront and Rectal Medications are to Boom in the Upcoming Years
A new idea in healthcare is personalized medicine, which tailors treatments to each patient's particular needs and circumstances. Oral compounding pharmacies are essential in providing patients with individualized pharmaceuticals that are suited to their particular needs, such as precise doses or formulas free of allergens, in order to meet this need. In addition, improvements in pharmaceutical compounding technology and equipment have increased the process' effectiveness and precision. Thanks to automated processes and cutting-edge compounding equipment, compound pharmaceuticals are now produced more effectively and of higher quality.
Furthermore, oral systems for drug delivery are becoming more and more common due to their benefits over conventional drug administration techniques, including their larger surface area, precise medication, and appealing color and flavor. Thin-film medications are said to be preferred by both patients and doctors because they are more patient-friendly and yield excellent results. Oral medications are portable and simple to store, and they have a high rate of patient compliance. They also provide precise and accurate dosage while accomplishing the desired results. As a result, the market has seen a noticeable growth. Due to their high acceptance and incredible benefits, oral medications have experienced explosive growth in the market.
On the other hand, rectal medications are projected to exhibit the fastest growth over the forecast period in the 503A U.S. compounding pharmacies market. One of the many conditions that may benefit from compounded medications is inflammatory bowel disease, along with hemorrhoids, anal fissures, and other conditions. Some people may not be able to use commercially available medications due to allergies, intolerances, or specific medical requirements. Moreover, compounding pharmacies can alter medications to meet these particular needs by providing alternatives like rectal suppositories, lotions, or ointments. Patients who experience rectal issues might require medications in specific dosages, concentrations, or combinations that are uncommon in commercially produced goods. Compound medications can offer precise answers for these patients, potentially enhancing patient compliance and treatment efficacy. When Crohn's disease or ulcerative colitis affects the rectum, compounding chemists can create specialized anti-inflammatory drug formulations to more effectively target the affected area.
Other Segments in the Therapeutic Area Accounted for the Largest Market Share
By the therapeutic area, the others segment accounted for the largest revenue shareholder in the year 2022. Others include oncology, hematology, dentistry, and others. Cancer sufferers are more difficult to live with than the cancer itself. The International Diabetes Federation (IDF) estimates that there will be 537 million adult diabetics worldwide in 2021, and that figure will rise to 643 million by 2030. The main contributors to the rise in newly diagnosed Type 1 and Type 2 diabetes cases are obesity, a poor diet, and a lack of exercise. Anti-diabetic medicine consumption is on the rise, as evidenced by the fast-rising incidence, prevalence, and cost of treating diabetes patients globally. Over time, technological developments and improvements have grown, which has resulted in a number of changes to pharmaceuticals or formulations being created. Compounding pharmacies for autism provide drugs that are either not readily accessible commercially or may need particular formulas.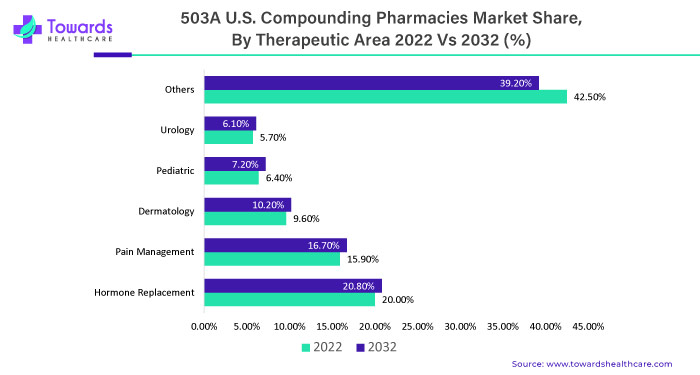 On the other hand, hormone replacement accounted for the fastest-growing segment over the forecast period. With an aging population in the United States, people are turning to HRT to decrease side effects including hot flashes and pain and, in certain circumstances, to slow the progression of cancer. In the United States, the rising prevalence of breast cancer has raised the demand for hormone replacement treatment.
Recent Developments
In June 2023, Wedgewood Pharmacy, a veterinary compounding pharmacy announced its merger with a pharmacy services and prescription management veterinary company to avail rapid services to their customers
In January 2023, Optum introduced a pricing comparison tool named PriceEdge, which was made directly available to the customer. To guarantee that members always pay the least for their prescription medications, direct-to-consumer pricing for conventional generic medications is combined with insurance pricing. Every Optum Rx customer has access to Price Edge.
In November 2020, B Braun established a strategic partnership with Grifols to combine Grifols' automated compounding portfolio with B Braun's Safe Infusion Systems to guarantee the security of automated drug delivery.
Major Market Players:
Triangle Compounding
Fagron
B. Braun SE
Pencol Specialty Pharmacy
Vertisis Custom Pharmacy
Optum Inc
Pavilion Compounding Pharmacy, LLC.
Village Compounding Pharmacy
McGuff Compounding Pharmacy
Wedgewood Pharmacy
Market Segments:
By Product
Oral
Liquid Preparations
Topical
Rectal
Ophthalmic
Nasal
Otic
By Sterility
By Therapeutic Area
Hormone replacement
Pain management
Dermatology
Pediatrics
Urology
Others
By End-User
Oral
Hospitals and Clinics
Specialty Clinics
Other
By State
Florida
California
Chicago
New Jersey
Pennsylvania
Rest of the U.S