The global behavioral rehabilitation market size accounted for USD 154.67 billion in 2022 and is estimated to surpass around USD 221.33 billion by 2032, expanding at a CAGR of 3.58% from 2023 to 2032.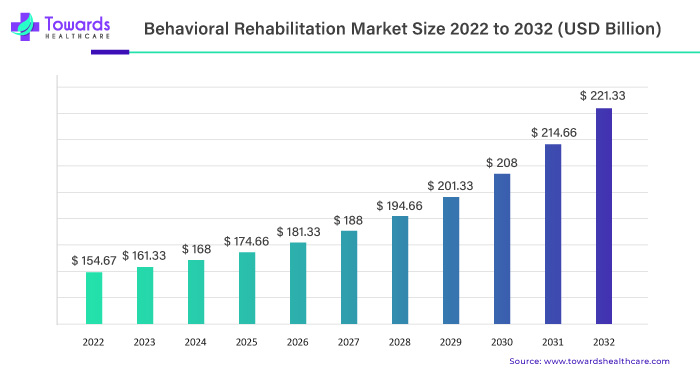 Unlock Infinite Advantages: Subscribe to Annual Membership
Behavioral rehabilitation is a psychotherapy strategy used to treat certain learned behaviors that are harmful to an individual's well-being. It entails the prescription of psychotherapy, medicine, and various support services, such as reinforcement, punishment, and modeling, to change an individual's psychological conditioning and reduce the occurrence of self-destructive and unhealthy behaviors.
After an acquired brain injury, behavior rehabilitation focuses on changes in how people feel and express themselves. Behavioral rehabilitation teaches people how to manage inappropriate behaviors that may cause issues with family members, friends, coworkers, and others. It is intended to develop a new intervention that will prevent new mood episodes and only prevent new mood episodes but will also improve memory, attention, executive functioning, and quality of life.
Factors influencing the behavioral rehabilitation Industry
The rising prevalence of behavioral disorders is propelling the industry forward. The frequency of behavioral problems and addictions has increased as a result of technological advancements and fast urbanization, particularly among young adults aged 16 to 25. One of the primary causes of the rise in behavioral problems is the easy availability of harmful substances. Addiction to gaming, online gambling, and pornography has grown in tandem with the internet's increasing penetration. As a result, the rising frequency of behavioral disorders is generating unmet demand, which will drive industry expansion throughout the projection period.
People's perceptions about behavioral rehabilitation are changing, which is fueling the global expansion of the behavioral rehabilitation industry. The public or societal acceptance of behavioral disorders has increasingly increased, inspiring people to seek treatment for behavioral addictions. Individuals suffering from behavioral disorders are no longer afraid to communicate their psychological health issues, which is driving the acceptance of behavioral rehabilitation treatment alternatives.
Hurdles in the behavioral rehabilitation Industry
The impact of stigma on people with behavioral disorders is projected to hinder the global behavioral rehabilitation market's expansion. The stigma associated with behavioral disorders, for instance, has a detrimental influence on people and directly impacts individuals and their families. Social stigma and discrimination can exacerbate mental health issues and prevent people from seeking care. Furthermore, stigma can inhibit people with mental illnesses from seeking treatment, sticking to treatment regimens, and functioning productively in communal settings.
People's lack of understanding of behavioral problems is projected to obstruct the global behavioral rehabilitation industry's expansion. For instance, behavioral disorders involve a pattern of disruptive actions that are frequently difficult to diagnose due to a lack of awareness. According to Mental Health America (mahanatinal.org), the number of persons with a mental disease who have unmet treatment needs has climbed every year since 2011. In 2019, more than 24.7% of adults with a mental disorder reported an unmet treatment requirement.
The industry development is being also hindered by a shortage of patient enrollment. Many people are afraid to seek treatment for addictions and behavioral problems, which is hampering the market growth. In the United States, for instance, more than half of the overall affected population did not receive treatment for behavioral disorders in 2011. Low awareness about the consequences of addictions and a lack of information are two factors that influence patient enrollment in behavioral rehabilitation programs. Such factors may constrain industry expansion during the predicted period.
Opportunities in the behavioral rehabilitation Industry
The introduction of online counseling (or telerehabilitation) is predicted to generate major growth prospects for behavioral rehabilitation industry participants. BHI-TWP will begin offering TeleBehavioral Health 301 and 401 courses in January 2022. The 301 series will emphasize how TeleBehavioral Health abilities can be utilized to improve the mental health of certain populations, as well as the development of TeleBehavioral-specific tools and protocols. The 401 series will bring together national experts from throughout the country to discuss highly relevant complicated topics surrounding the design and implementation of effective TeleBehavioral Health programs.
The rising use of behavioral rehabilitation treatment methods is likely to provide lucrative growth prospects for global behavioral rehabilitation industry players. Golden Years Behavioral Health Group, for instance, announced in October 2020 the addition of its recently certified behavioral health outpatient services to give counseling and assistance to community members in need of addiction, mental health, and other behavioral health services.
COVID-19 & Behavioral Rehabilitation Industry
The covid-19 pandemic had a slightly negative impact on the industry. Many pharmaceutical companies and biotech companies are focusing their R&D efforts on developing antiseptic goods and vaccinations to accommodate rising client demand. As a result, most pharmaceutical and biotech companies have focused their research and development divisions on developing new compounds or leads for the treatment of coronavirus disease. Many nations have already approved a COVID-19 vaccination. For instance, the World Health Organization (WHO) issued a global emergency use validation of the Pfizer/BioNTech COVID-19 mRNA vaccine in December 2020. According to a study published in Nature Reviews Neurology in January 2021 by Katya Numbers et al., people with mental disorders such as dementia are at high risk of COVID-19 infection since cognitive symptoms make it difficult to follow safeguarding procedures and living arrangements in care homes, facilitating viral spread.
Moreover, dementia patients are more likely to have severe illness effects than individuals who do not have dementia. According to the Lewy Body Society, people with dementia and related diseases have a more difficult time following official rules aimed to prevent the virus's transmission, such as hand washing, maintaining the recommended physical distance, monitoring COVID-19 symptoms, and staying at home. Since of short-term memory loss and cognitive impairment, people with more severe dementia may not grasp or remember the guidelines. According to the Office for National Statistics UK 2020, dementia and Alzheimer's disease were the most common pre-existing diseases among COVID-19 deaths in the United Kingdom.
Furthermore, as a result of the COVID-19 pandemic, many families were facing substantial financial hardship, increasing their proclivity to forego treatment alternatives. Moreover, the pandemic may have a detrimental impact on new product releases, which are the most important component in industry growth. For instance, Biogen reported in April 2020 that it has postponed Alzheimer's and dementia medicine application to the FDA, citing the difficulty of data processing and the impact of COVID-19 on its R&D resources.
Segmental Landscape
The behavioral rehabilitation industry is segmented based on disorder type and application. Furthermore, based on disorder type, it is segmented into mood disorders, anxiety disorders, personality disorders, substance abuse disorders, and attention deficit disorders. Based on application, segments include outpatient, inpatient, and residential.
Disorder Landscape for the Behavioral Rehabilitation Industry
The anxiety segment holds the major industry share of about 35% in 2022 and is expected to remain dominant throughout the projected time frame. Anxiety disorders are one of the most prevalent types of mental illnesses. Feelings of fear or dread, feeling tense or jumpy, restlessness or irritability, anticipating the worst, and being on the lookout for indicators of danger are some of their emotional manifestations. Factors such as increasing incidence and availability of behavioral rehabilitation therapies, as well as increased awareness, are projected to drive market expansion. Anxiety disorders are treatable, and there are various effective therapies available. Treatment enables the majority of people suffering from anxiety disorders to live normal and productive lives. This issue is increasing the demand for therapeutic solutions. According to the world health organization, about 3.6 percent or 264 million individuals worldwide have an anxiety disorder. Additionally, 4.6 percent of females and 2.6 percent of males are globally affected by anxiety. The prevalence of anxiety disorders in the adult population of the United States was 19.1 percent in 2020, which means that 19.1 percent of adults had an anxiety disorder during that period. However, only about 37% of patients receive treatment. According to the National Institute of Mental Health (NIMH), lifetime rates are significantly higher at 31.1 percent. The availability of antidepressants, as well as developments in the field of anxiety treatment as a result of ongoing research & development, are likely to fuel the expansion of this segment during the projected time frame.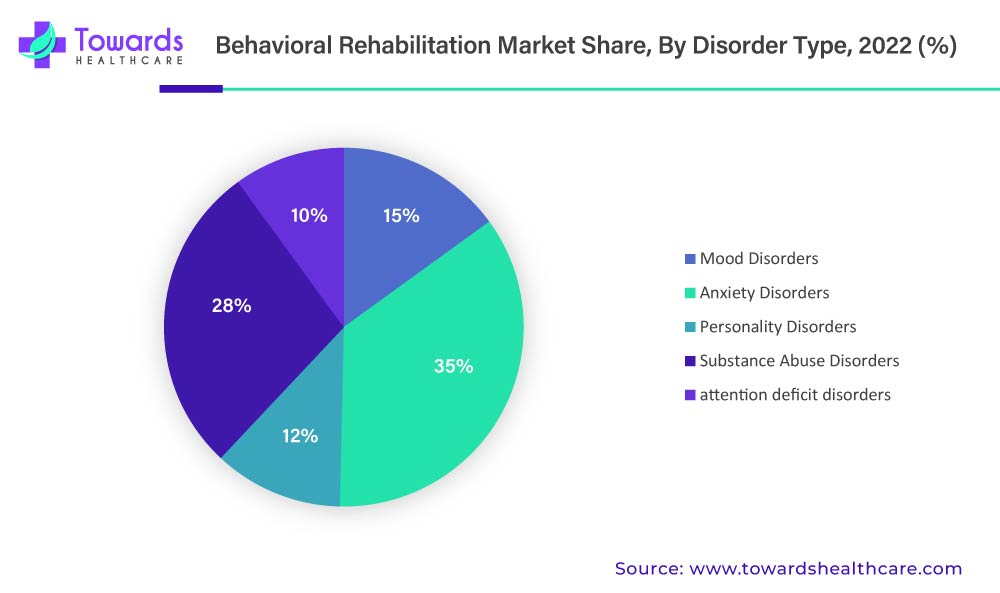 The substance abuse disorder segment, on the other hand, is expected to grow at a faster rate during the projected timeframe. This is due to the increased penetration of illegal companies and rising unemployment, which leads to drug addiction among people. Abuse of drugs is a key source of mental problems, and increased knowledge about this is expected to boost the expansion of this segment. Furthermore, the government's inability to combat the illegal drug trade, particularly in developing and poor countries, is predicted to increase the number of drug users, fueling demand for behavioral rehabilitation services around the world. Rising substance abuse awareness and the social acceptability of rehabilitated patients are major factors driving the demand for rehabilitation services. In addition to these factors, increased government initiatives to combat substance misuse are predicted to drive the segment's growth at the fastest rate during the projection period.
Application Landscape for the Behavioral Rehabilitation Industry
The outpatient segment holds the major industry share in 2022 and is expected to remain dominant throughout the projected time frame owing to the benefits it delivers to patients. Outpatient treatment allows patients to return home after routinely attending treatment programs. Outpatient care is advantageous for people who are in the early stages of a mental health issue due to its flexibility. However, the treatment of substance misuse patients under this form of care is deemed ineffective. This happens because the patient can return to their home and friends after undergoing therapy and consuming narcotics.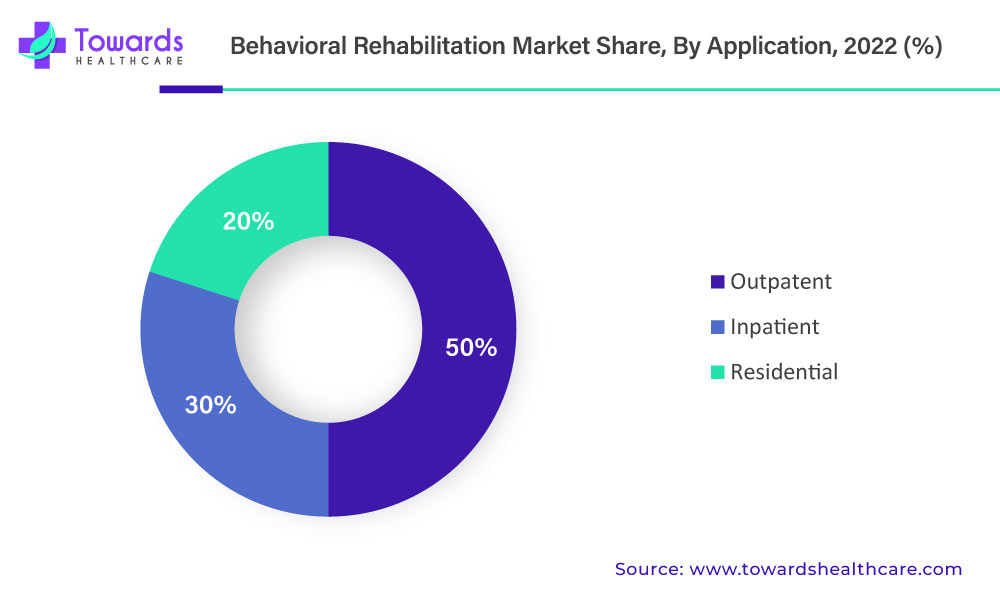 North America to Soar the Behavioral Rehabilitation Industry
North America holds a major industry share of more than 41% in 2022 and is expected to hold its dominant position over the projected timeframe. North America is characterized by the rising incidence of mental health disorders such as anxiety, depression, and attention deficit disorders. According to the National Alliance on Mental Illness (NAMI), around 20.6% of adults in the United States suffered mental illness in 2019 (51.5 million people). In the same year, around 44.8% of US people with mental illness received therapy. According to NAMI, one in every five US adults suffers from mental illness each year. By combining physical and behavioral patient data into a single record and providing integrated care, physicians can act as a catalyst for improved health outcomes for patients and communities. Growing public awareness of the availability of behavioral rehabilitation services, increased public awareness of mental health illnesses, rising government initiatives to spread public awareness of rehabilitation services, and increased consumer spending on healthcare. All of these are important reasons that have fueled the expansion of the behavioral rehabilitation industry in North America in recent years.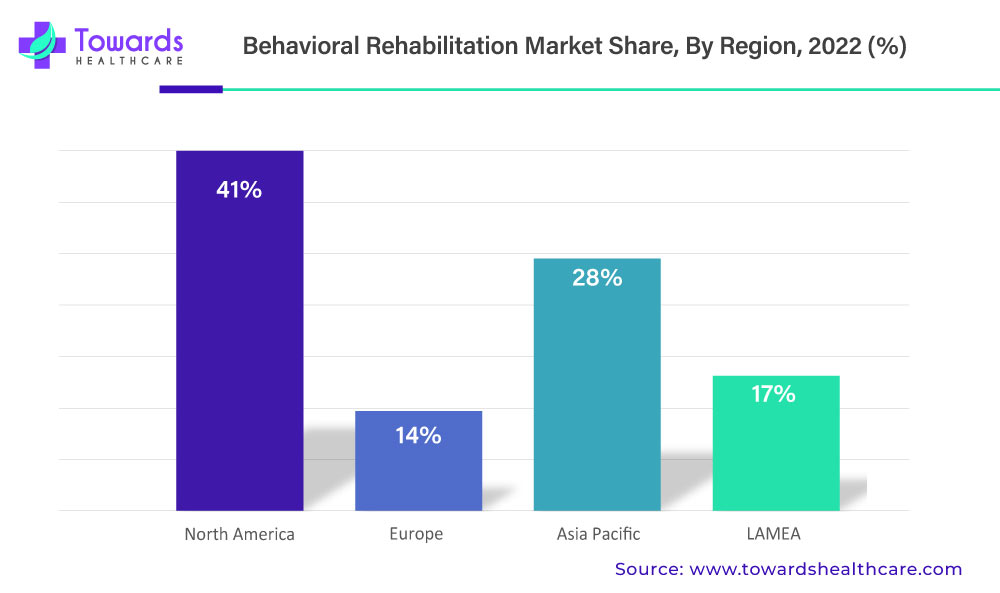 Asia Pacific, on the other hand, is estimated to be the fastest-growing industry during the projected timeframe. This is attributable to increased consumer awareness of mental problems, an increase in the number of rehabilitation clinics, increased consumer expenditure on healthcare, and rising rates of drug addiction among adolescents. The surge in illicit drug consumption among the young population is likely to drive market growth in the next years, as illicit drug use results in a variety of mental health conditions.
Competitive Landscape
The industry is moderately fragmented with various local players present. These participants are attempting to increase their market share through techniques such as investments, collaborations, acquisitions, and mergers. Companies are also investing in the development of new products. Furthermore, they are concentrating on keeping competitive pricing. Some of the prominent players include:
Key Developments
In May 2022, the Department of Health and Human Services (HHS) announced a nearly $ 15 million funding opportunity for a three-year federal grant to establish a Substance Abuse and Mental Health Services Administration (SAMHSA) program that will strengthen the delivery of behavioral health care to a nursing home and other long-term care facility residents.
Limbix secured around US$ 9 million in series funding in May 2020, which would be used to create digital treatments for youth suffering from depression.
Behavioral Health Group (BHG) announced the acquisition of Wellness Ambulatory Care in Knoxville, TN in November 2020, expanding its footprint and service line.
Acadia Healthcare announced the commencement of an innovative pilot program in June 2021 to lower the risk of suicide among persons seeking outpatient treatment for opioid use disorder.
In March 2018, UC San Francisco joined forces with the City of San Francisco and three other public and private partners to open a new facility to meet the city's inpatient mental health needs. The center will more than double the number of beds in the county that serve patients who do not require the acute care provided by UCSF but are unable to care for themselves.