The global asthma and COPD drugs market size was valued at USD 37.22 billion in 2022 and is expected to reach USD 61.54 billion by 2032, with a 5.01% CAGR from 2023 to 2032.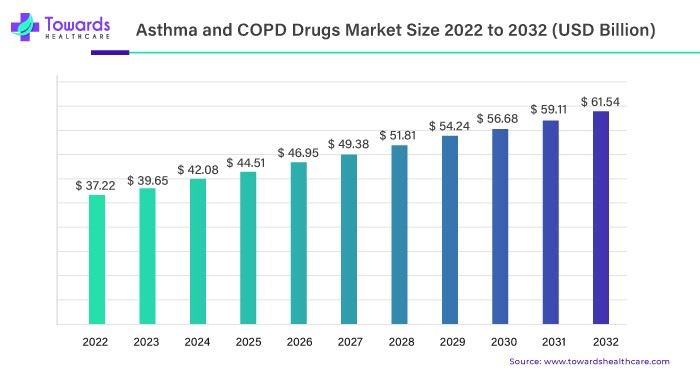 Unlock Infinite Advantages: Subscribe to Annual Membership
Asthma and COPD are common lung disorders caused by excessive airway constriction, making breathing difficult.
Asthma is a respiratory disorder characterized by bronchial narrowing and difficult breathing. Shortness of breath, chest tightness or pain, and a wheezing sound while exhaling are all symptoms of asthma. The term "Chronic Obstructive Pulmonary Disease" (COPD) refers to a group of respiratory disorders that primarily include emphysema and chronic bronchitis.
Asthma and COPD are diagnosed using X-ray imaging, a nitric oxide test, and a sputum examination. Bronchoconstriction is a common symptom of asthma and COPD, and it can be treated with corticosteroids, anticholinergic drugs, and long-acting beta-agonists. Asthmatic patients may experience sudden bronchoconstriction, also known as an asthmatic attack. Bronchodilators are agents that can be used to treat an asthma attack. Bronchodilators are delivered in an emergency with a specially designed pump to provide immediate relief.
Functional pulmonary testing (spirometry, body-plethysmography) is essential for the diagnosis, severity determination, and management of both asthma and COPD.
COPD is the third-leading cause of death worldwide, accounting for 3.23 million deaths in 2019, according to the World Health Organization (WHO). More than 80% of these fatalities occurred in low and middle-income countries (LMIC). Furthermore, the global geriatric population is driving market growth. According to the World Ageing 2020 report,in 2020 there will be approximately 727 million people aged 65 or older in the world. The number of elderly people is expected to be approximately more than double by 2050. Globally, the proportion of the population aged 65 and above increased from 9.3% in 2020 to 16% by 2050.
"Children who have experienced trauma, such as divorce, the death of a parent, or domestic violence, are more likely to develop asthma than other children", according to new research.
The Ill Effect Of COVID-19 On Asthma And The COPD Drug Market
According to a study published in the Journal of Medical Virology in March 2021 by Hashim T. et al., the COVID-19 pandemic had a negative impact on the mental health of asthmatic patients worldwide, particularly at the start of the pandemic in 2020. However, because asthmatic patients were thought to be more susceptible to the disease than others, many of them strictly adhered to the preventive measures and quarantine rules in order to avoid infection. The SARS-CoV-2 virus's primary targets are the lungs and lung parenchyma, and concerns have been raised about the outcome in patients with chronic respiratory diseases such as asthma.
One of the most common aggravation triggers in asthma and COPD patients have been viral respiratory infections. This is due to their ability to induce proinflammatory cytokines within airway epithelial cells, such as IL-1, IL-6, and IL-11. While it is unknown whether COVID-19 may cause an exacerbation in asthmatic and COPD patients, the similar initiation of pro-inflammatory cytokines (including IL-1 and IL-6) and subsequent lung inflammation in COVID-19 suggest that an exacerbation is possible in asthmatic/COPD patients. As a result, the primary goal of COVID-19 therapy in asthma and COPD patients is to reduce the risk of exacerbation, which could further affect pulmonary reserve. If COVID-19 asthmatic patients' asthma worsens, the ICS dose can be increased to 4 times the baseline.
Influencers Fueling The Market Growth
The global increase in asthma incidence drives the growth of asthma and COPD drug markets. For instance, according to a report published by the Global Asthma Network in 2020, asthma kills around 1000 people every day and affects 339 million people worldwide. Additionally, rising public awareness of respiratory diseases fuels the growth of asthma and COPD drug markets. Manufacturers' and researchers' Innovation in the treatment of asthma also contributes to market expansion. Furthermore, government initiatives to treat and improve the lifestyle of asthma and COPD patients boost the market growth. The growth of the market is also driven by the increased number of hospitals and developed healthcare infrastructure.
Besides all this, the rise in tobacco smoking habits among people, as well as the rise in air pollution, contribute to the growth of the asthma and COPD drugs market. However, the rising cost of treatment for asthma and COPD is expected to limit the market growth.
Hurdles Faced During The Market Growth
Future market expansion may be hindered by adverse effects associated with respiratory drugs, a decrease in free trade, and strict regulations.
Adverse Effects Of Respiratory Medications
The side effects of respiratory drugs are expected to limit market growth during the forecast period. Patients with asthma and COPD experience a variety of side effects from respiratory drugs. Dry mouth, headaches, constipation, fast heartbeat, muscle cramps, and shaking are the most common adverse effects. Thrush (a yeast infection in the mouth) and hoarseness can be caused occasionally due to inhaled steroid treatment. Due to this, doctors are progressively recommending alternative therapies to their patients, such as herbs and dietary supplements, yoga, relaxation, and acupuncture. In the forecast period, the rising preference for alternative therapies for the treatment of asthma and COPD have anticipated to restrain the expansion of the anti-asthmatic and COPD drugs market.
Open Doors For Asthma And COPD Drug Market
Asthma Treatment With Probiotics
Probiotics are gaining popularity in the anti-asthmatic and COPD drug markets for the treatment of asthma patients. Probiotics can boost the host immune system via the gut ecosystem and may be useful in the treatment of allergic diseases like asthma. For instance, Activated Probiotics, an Australian company that manufactures premium probiotic products, announced in November 2020, that they are expanding their range and developing probiotic products for the treatment of asthma.
Asthma Patients Can Benefit From Bioelectric Medicine
Bioelectric medicines for the treatment of asthma patients are progressively being developed by companies in the anti-asthmatics and COPD drugs markets. Bioelectronic Medicine uses miniaturized, implantable devices which can modify electrical signals that pass along nerves in the body, such as irregular or altered impulses that occur in many illnesses. ElectroCore, Inc., a bioelectronic medicine company based in the United States, received FDA approval in July 2020 for a nerve stimulator for asthma patients who were potentially affected by the novel coronavirus.
Market Scope And Categorization
Over The Forecast Period, The Asthma Segment Is Anticipated To Hold A Significant Market Share.
Asthma is a life-threatening condition that affects patients' regular breathing and is one of the world's most common diseases affecting the population. It is a chronic condition that stretches and narrows the lungs' air passages, causing attacks of breathlessness, bronchospasm, and reversible obstruction of airflow. Additionally, there is a significant increase in cigarette consumption, which contributes to asthma symptoms. Furthermore, the rise in industrialization has contributed to an increase in the number of cases of asthma, which may drive demand for asthma drugs in the forecast period.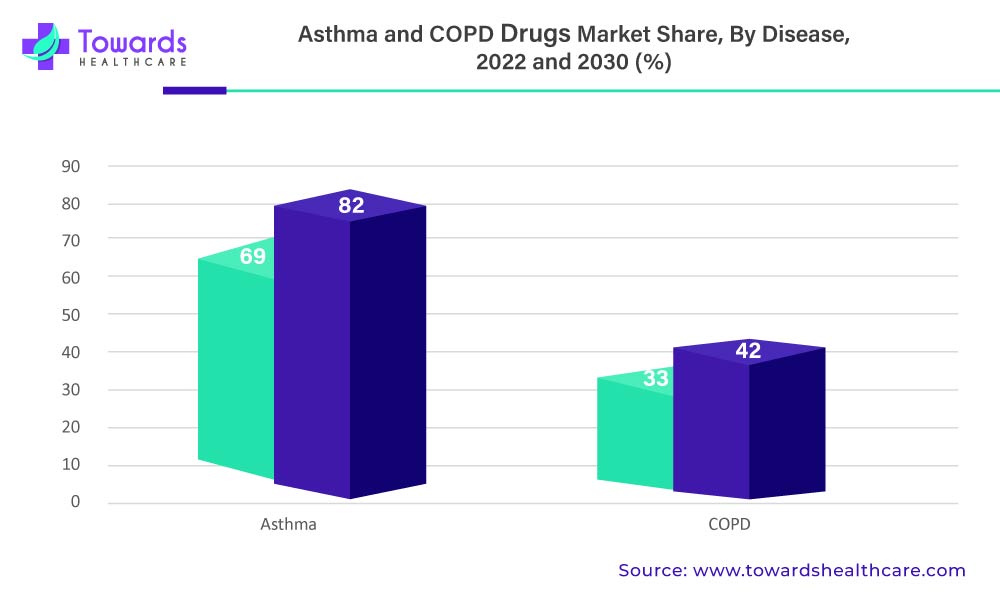 The above-mentioned graph denotes the Asthma And COPD Market By Disease, 2022 and 2030 (%)
In 2021, the combination drugs segment is anticipated to dominate the asthma and COPD drugs market. Using a combination of medications and drugs to treat a wide range of disorders has steadily increased over the last decade. According to several research studies, patients with COPD and asthma can now benefit from combination drugs. In 2021, the inhaled corticosteroids (ICS) segment will be the fastest-growing segment of the asthma and COPD drugs market. Inhaled corticosteroids (ICS) help to prevent asthma attacks while also improving lung function. They may also be used to treat other lung disorders such as COPD. When compared to other types of drugs, inhaled corticosteroids (ICS) are quite effective for the treatment of asthma.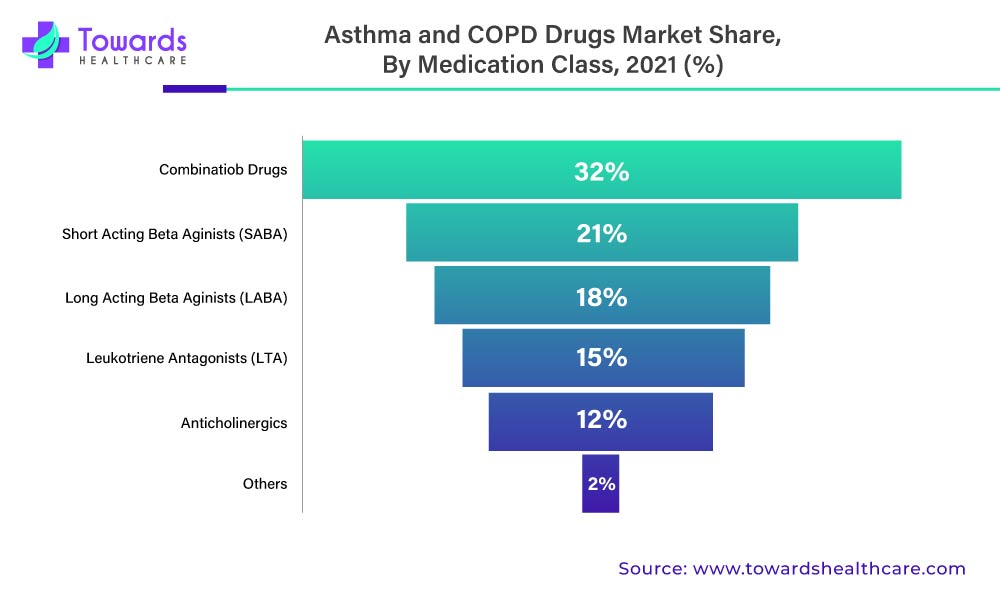 The above-mentioned graph denotes the Asthma And COPD Market By Medication Class, 2022 (%)
The general pharmacies distribution channel segment accounted for 65.3% of the total in the anti-asthmatics and COPD drugs market segmented by distribution channel in 2021. Heading forward, the online retailer's distribution channel market segment is anticipated to be the fastest growing segment in the anti-asthmatics and COPD drugs market.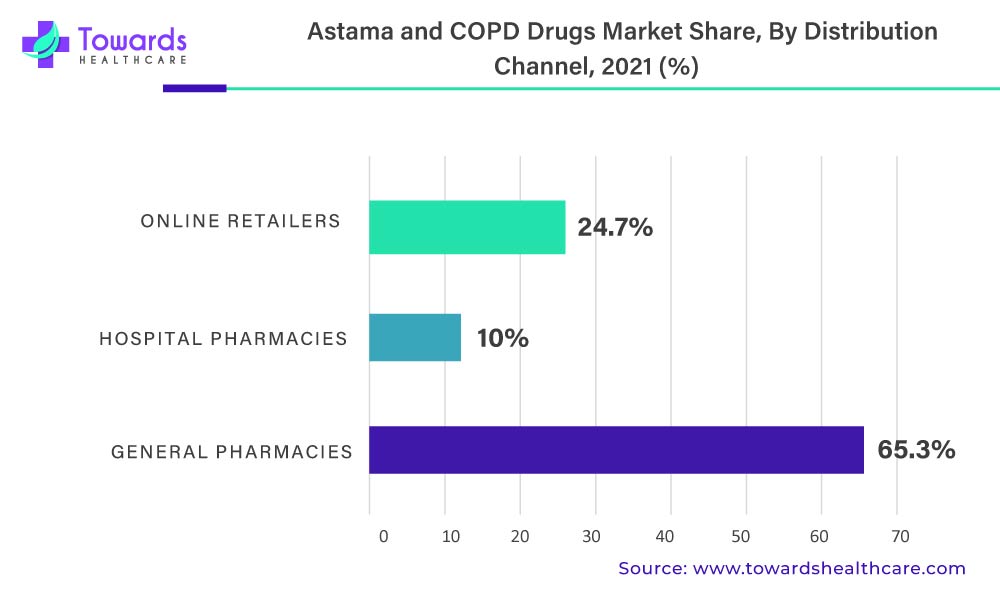 The above-mentioned graph denotes the Asthma And COPD Market By Distribution Channel, 2022 (%)
The market for anti-asthmatic and COPD drugs is also divided into inhaled, intravenous, subcutaneous, and oral administration routes. In 2021, the inhaled route of administration accounted for 73.1% of the total market in the anti-asthmatics and COPD drugs market.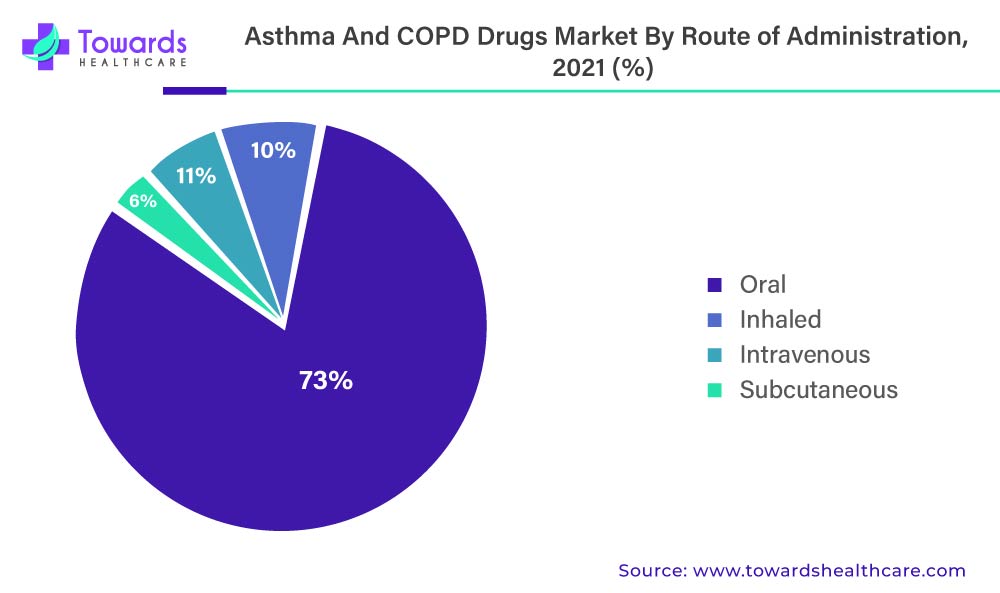 The above-mentioned graph denotes the Asthma And COPD Market By Route Of Administration, 2022 (%)
Over The Estimated Period, North America Is Anticipated To Be A King And Hold A Larger Market Share.
During the forecast period, the North American region is projected to dominate the Asthma and COPD drugs market. This expansion can be attributed to the rising prevalence of diseases such as COPD and asthma, the aging population, enhanced R&D activities, and the existence of key market players.
Asthma affects more adult women than adult men in the United States. According to the Centers for Disease Control and Prevention's 2020 report, approximately 25 million Americans suffer from asthma. This equates to roughly one in every 13 Americans, including 8% of adults and 7% of children.
In contrast, Europe is expected to grow at the fastest rate during the forecast period. The United Kingdom dominates the European market for asthma and COPD medications. The growing awareness of asthma and COPD among people is attributed to the growth of the asthma and COPD drugs market in Europe. For example, the United Action for Allergy and Asthma was founded in Europe in April 2017 to spread asthma awareness around the world. As a result, the market for asthma and COPD drugs in this region is expected to expand rapidly in the near future.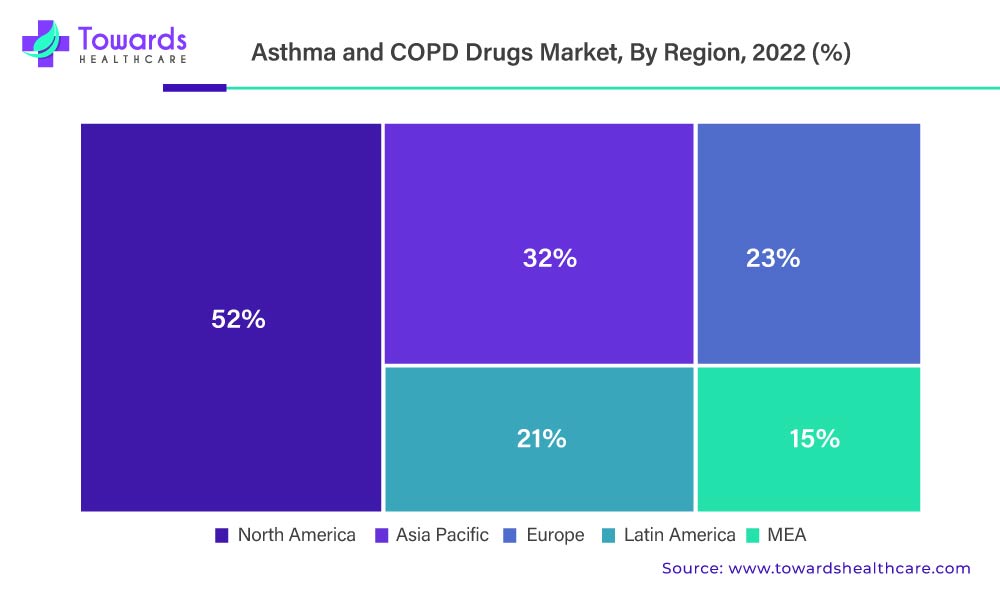 The above-mentioned graph denotes the Asthma And COPD Market By Region, 2022 (%)
Recent Events Occurring Across The Globe
Glenmark Pharmaceuticals launched the Tiotropium Bromide dry powder inhaler (DPI) Tavulus in Spain in October 2021 for the treatment of chronic obstructive pulmonary disease (COPD).
ChiesiFarmaceuticiSpA launched the PILASTER study in June 2021 to assess the efficacy and safety of two doses of CHF6001 (Tanimilast) as an add-on to maintenance triple therapy in patients with chronic obstructive pulmonary disease.
In August 2018, the European Commission approved Nucala for the diagnosis of young patients with severe eosinophilic asthma in Europe. Since the disorder is more prevalent in children and adults, its approval is predicted to help meet a significant unmet demand among Europeans. Furthermore, the region's treatment options for severe asthma in children are limited.
In February 2020, the European Medicines Agency approved GlaxoSmithKline PLC's regulatory submission requesting a new indication for Trelegy Ellipta, a once-daily, single-inhaler for the diagnosis of adult asthma.
In response to asthma drug shortages caused by the COVID-19 issue, the US Food and Drug Administration approved Cipla's generic asthma inhaler, the generic counterpart of the albuterol inhaler, in April 2020.
Major Rivals In The Market For COPD And Asthma Drugs Include:
GlaxoSmithKline plc
AstraZeneca plc
Boehringer Ingelheim GmbH
F. Hoffmann-La Roche Ltd.
Novartis AG
The above-mentioned graph denotes Major Rivals In The Market For COPD And Asthma Drugs
Asthma Drug Development
Short-Term Relievers/Short-Acting Agonists (SABAs).
These medications are designed to be used as needed to treat acute bronchospasm and wheezing, and their indication is not disease-specific, as they can be used to treat either asthma or COPD. It is worth noting that, rather than new molecules, the majority of the recent development in this class has focused on reformulations required to complete the phase-out of chlorofluorocarbons as part of international efforts to protect the ozone layer.
Long-acting bronchodilators
Unlike SABAs, longer-acting bronchodilators are approved not for the temporary relief of acute episodes, but as regularly dosed medications to prevent bronchospasm and alleviate symptoms of airflow obstruction. When compared to SABAs, this changes the development pathway.
LABAs were initially developed as stand-alone products; however, asthma treatment guidelines and the development of combination products, combining LABAs with corticosteroids have largely replaced the use of single-ingredient LABA products in the treatment of asthma.
Only one LAMA has been approved as a once-daily maintenance therapy for asthma: tiotropium delivered via a proprietary inhaler.
These medications are designed to treat the underlying airway inflammation rather than the airway smooth muscle and acute bronchospasm. As a result, the development pathway prioritizes clinical endpoints reflecting long-term asthma control over acute bronchodilator effects.
Inhaled corticosteroids (ICS)
While systemic steroids have long been used to treat asthma exacerbations or severe, difficult-to-control disease, the use of ICS has become a major part of asthma therapy due to their broad efficacy and relative safety.
The development of new drugs in this class appears to be delayed. However, as these are oral drugs with actions that extend beyond the airway, the preclinical and early clinical work would be largely conventional. Dose determination would begin with in vitro data to define likely exposure ranges, and animal data/models would be used to validate both actions (pharmacology proof of principle) and further refine clinical exposure targets/dosing.
ICS/LABA Therapy in Combination
For asthma, several LABA/ICS combinations have been developed. This, in part, describes a concern about the safety of LABAs in asthma without concomitant corticosteroids, while also providing increased convenience and a potential positive perceptible benefit (relief of bronchospasm) of combination that a patient would not perceive with a single ingredient ICS.
Anti-IgE and anti-IL-5 therapies are available.
Biologic therapies for asthma have been in development for many years, but clinical development has been difficult due to an incomplete understanding of the roles of various specific isolated targets in asthma. Nonetheless, such agents have been approved, and they provide new therapeutic options for eligible patients as well as new insights into the pathophysiology of asthma.
Combination drugs (such as a SAMA/SABA) are difficult to develop, and submissions must demonstrate the added benefit of each component to bronchodilation in accordance with the FDA's combination rule.